Start date: 1 January 2017
End date: 1 June 2018
Partners and collaborators: University of Leeds and ARK Foundation Bangladesh Funders: Joint MRC/DFID/ESRC/MRC/Wellcome/ DFID Health Systems Research Initiative
Description
Creating responsive health systems: improving the use of feedback from service users in quality assurance and human resource management in Bangladesh
Background
Responsiveness is a widely recognised key objective of national health systems. Responsive health systems anticipate and adapt to future health needs, and harness emerging opportunities to promote universal access to effective interventions. Effective interaction and engagement between the users of health services and service providers and managers is a vital component of responsive health systems.
Since 2009, the Ministry of Health and Family Welfare (MOHFW) in Bangladesh is implementing a national program to enhance service users' voice through allowing them to text any feedback via SMS texts. All texts go into a national web portal (http://app.dghs.gov.bd/complaintbox/), monitored by the MOHFW. Each text is to be followed up with a phone call to both the sender and local authorities. It is one of several patient feedback systems in the country - see our short animation:
<iframe width="1280" height="720" src="https://www.youtube.com/embed/77sE9-Zc8fU" frameborder="0" allow="accelerometer; autoplay; encrypted-media; gyroscope; picture-in-picture" allowfullscreen></iframe>
Aim & Objectives
This project aimed to assist the national policymakers to make Bangladesh's health system more responsive through: a) assessing the current system of collecting, and responding to, feedback from health service users at sub-district (Upazila) level, and b) designing a comprehensive health systems intervention to improve utilisation of user feedback in health service quality assurance and human resource management processes at Upazila level. In the project we addressed the following questions:
what are the strengths and weaknesses of the current system of collecting and responding to service user feedback at Upazila (sub-district) level?
which key macro (system), meso (organisational) and micro (individual) contextual factors affect patient feedback system? and
which comprehensive health systems intervention can be designed to improve the current system and make the Bangladesh's health system more responsive?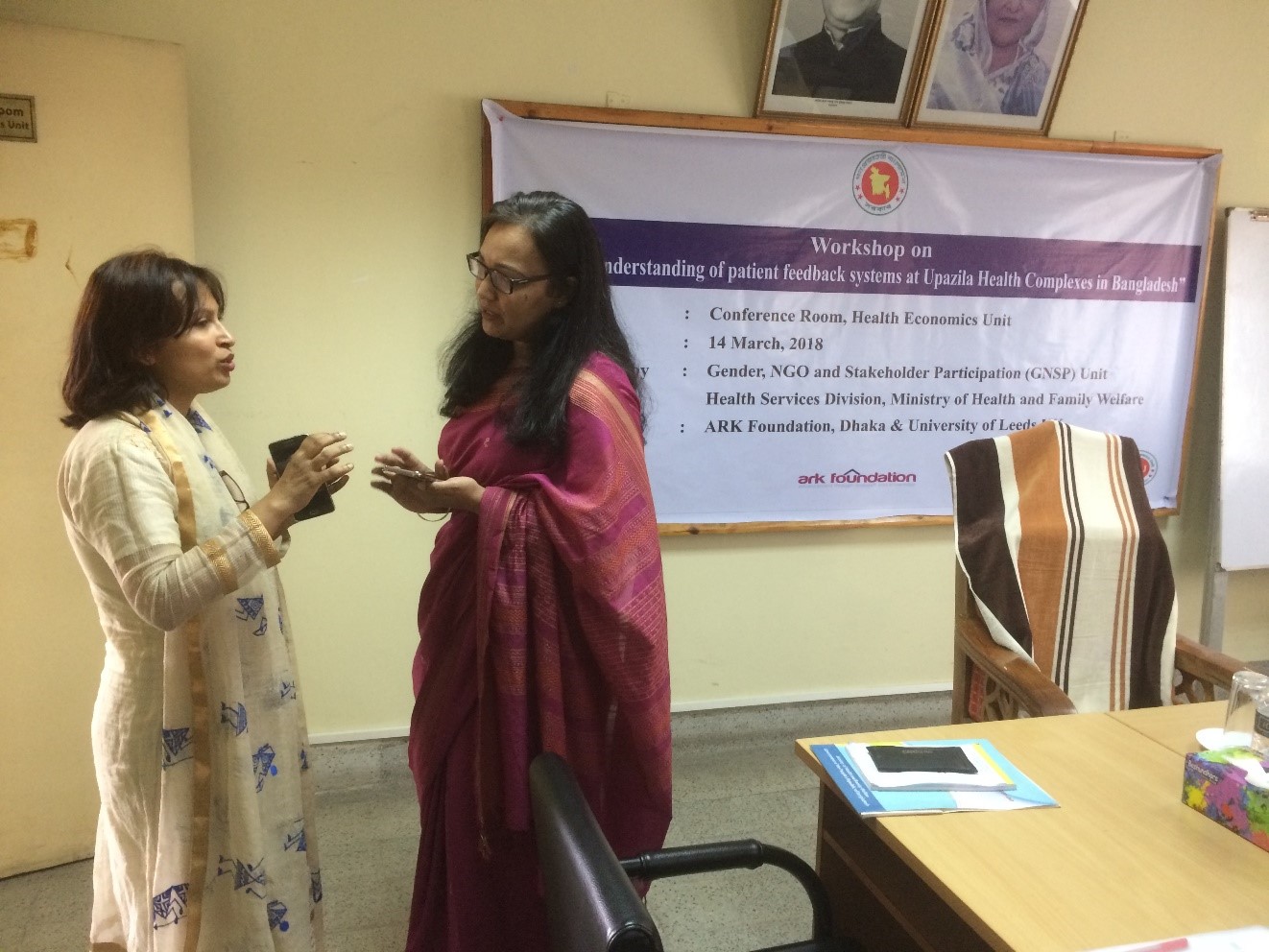 The project is a crucial first step of a longer-term plan to assist the Ministry of Health and Family Welfare in Bangladesh to improve health systems responsiveness, building on close links between the ARK Foundation and the MOHFW.
---
Methods
The study was conducted in two purposefully-selected Upazila Health Complexes (UHC) in Comilla district, a peri-urban setting about 100km south-east of the capital, Dhaka, with a population of 5.4 million.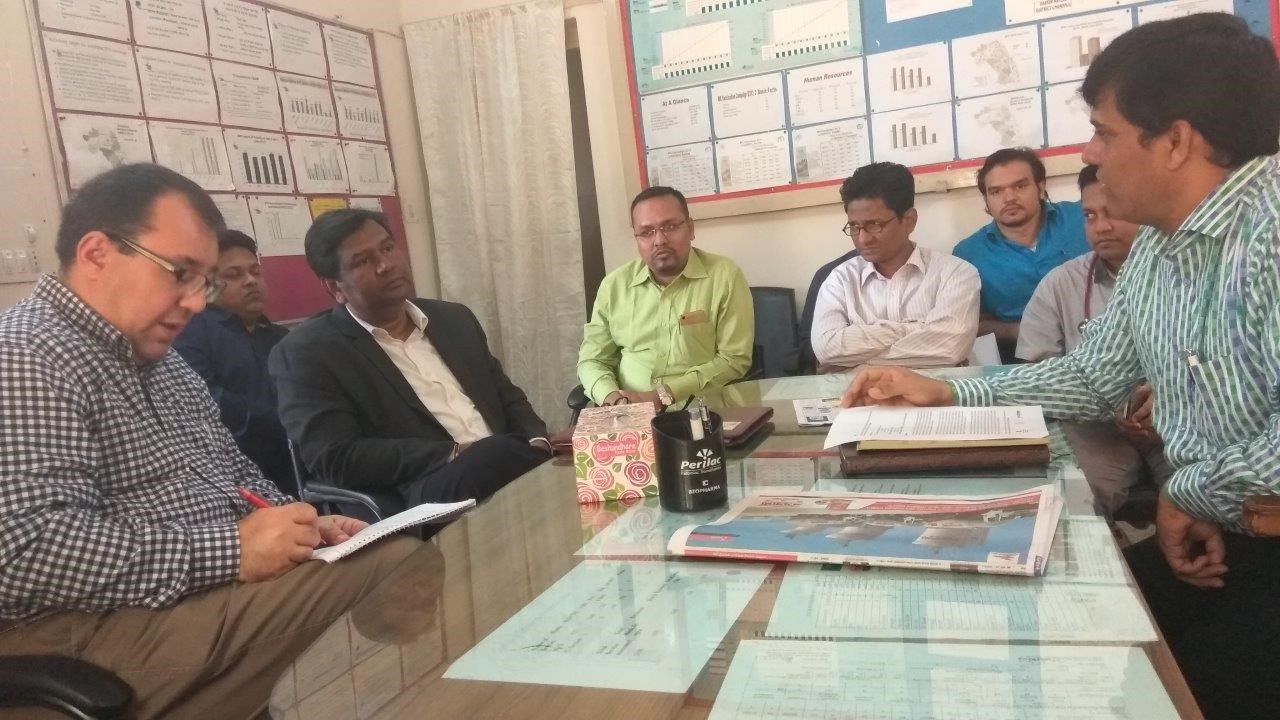 This study was a multi-disciplinary and mixed-method health systems research, using realist evaluation. Different qualitative and quantitative methods included in-depth interviews with key stakeholders including service users; analysis of secondary data on user feedback from the web portal and UHC records; non-participant observations of feedback environment; and review of key policy and practice documents.
---
Project outputs
Peer-reviewed publications
• Mirzoev T. and Kane S. (2017). What is health systems responsiveness? Review of existing knowledge and proposed conceptual framework. BMJ Global Health 2(4)

• Ebenso, B., Huque R., Azdi Z., Elsey H., Nasreen S. and Mirzoev T. (2017). Protocol for a mixed-methods realist evaluation of a health service user feedback system in Bangladesh. BMJ Open 7(6).

• Mirzoev T. and Kane S. (2018). Key strategies to improve systems for managing patient complaints within health facilities - what can we learn from the existing literature? Global Health Action, 11:1, 1458938
Stakeholder workshops
Stakeholder workshops were organised by the Ministry of Health and Family Welfare in Dhaka, in February 2017, March 2018 and then June 2018. These were aimed to raise initial awareness about the study, and subsequently to share validate emerging results and engage with key stakeholders in developing the intervention to improve health systems responsiveness.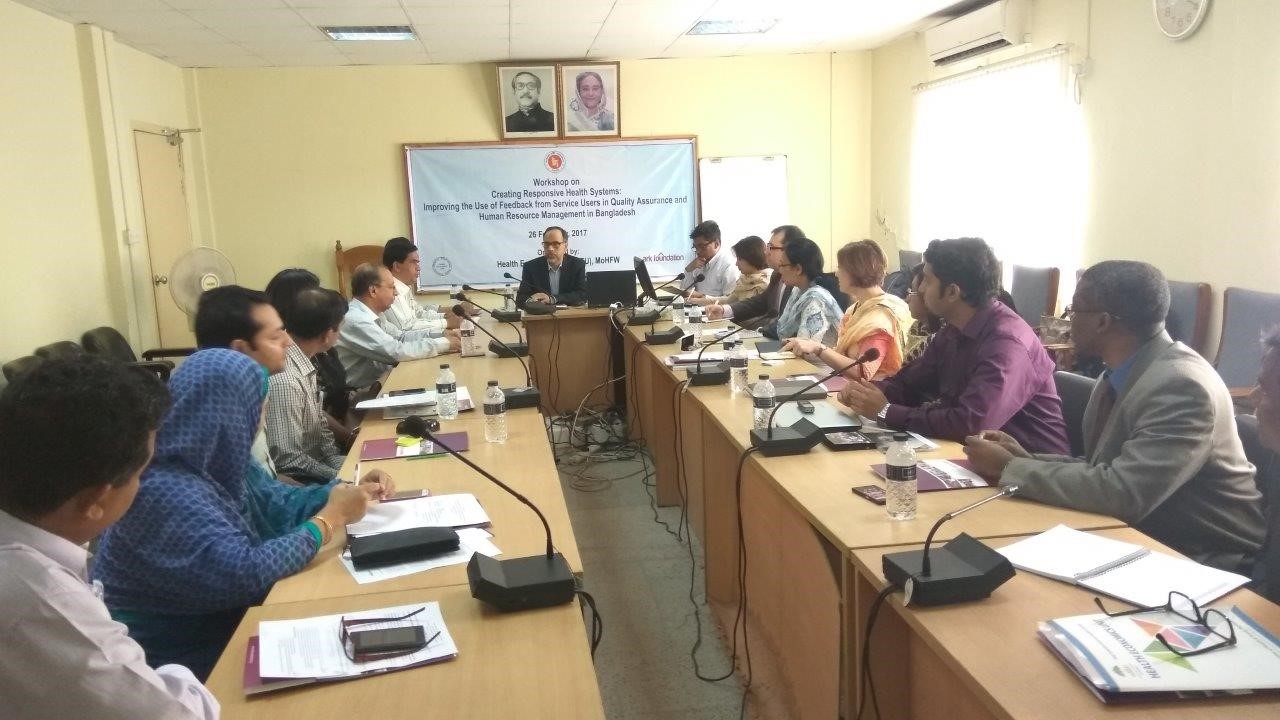 The ARK Foundation is currently working with the Voice and Accountability Unit of the Directorate General Health Services of the MOHFW on developing staff guidelines and awareness raising materials for improving patient feedback systems.
---
Project Partners
Nuffield Centre for International Health and Development, LIHS, University of Leeds:
Advancement through Research and Knowledge (ARK) Foundation. Bangladesh: