EXSEL at Leeds
Student Excellence Scheme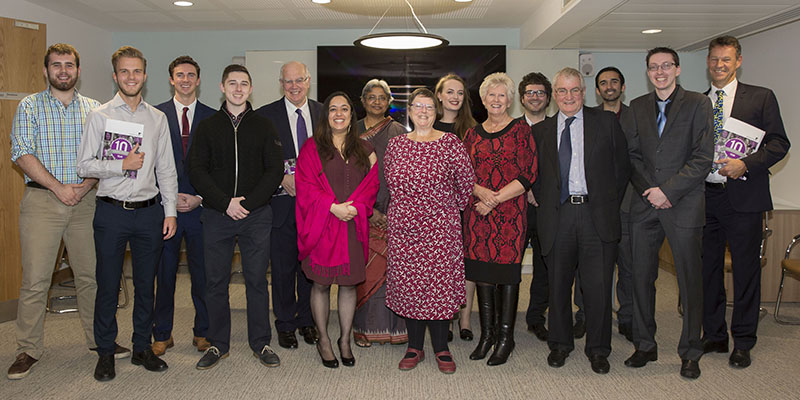 Excellence in Scholarship, Enterprise and Leadership is a unique scholarship scheme which nurtures undergraduate medical students who have ambitions to become academic clinicians.
As an EXSEL MBChB student at Leeds you will be awarded a bursary to support your undergraduate studies. Additional funding is available to support research and travel during summer vacations You will meet monthly with the two EXSEL directors and other EXSEL scholars to review, discuss and showcase your work.. Under the supervision of the EXSEL Directors and research mentors, you will develop valuable research and personal skills.. You will develop contacts and a portfolio of project work that will support your future clinical career.. When travelling to undertake EXSEL projects you will act as an ambassador for the Leeds School of Medicine.
The EXSEL scheme links closely to Leeds' undergraduate INSPIRE programme (sponsored by the Academy of Medical Sciences) and our excellent postgraduate academic training programme.
Excellent scholars
As an EXSEL scholar, you would undertake research and then disseminate your experimental findings, attending conferences, producing posters and submitting articles for publications. You would also develop mentoring, leadership and enterprise skills by participation in University and charitable events. The scholarship scheme would encourage you to network in the University and beyond, and form international links.
This is an innovative scheme which highlights a key principle of the School of Medicine - nurturing medical students to harness academic excellence. I am very proud of the achievements of the scholars to date and look forward to supporting more remarkable scholars in the years to come.
Directors
The scholarship scheme was devised by Professor Shervanthi Homer-Vanniasinkam and Dr Simon Howell, who act as directors. The directors aim to develop links with universities and other medical institutions throughout the world.
Professor Homer-Vanniasinkam, BSc, MD, FRCSEd, FRCS is a Consultant Vascular Surgeon at Leeds Teaching Hospitals NHS Trust and Clinical Sub-Dean at the University of Leeds School of Medicine. An eminent academic clinician, she acts as a role model for the scholars.
Academic mentors and research supervisors
Day-to-day supervision of the research conducted by an EXSEL scholar would normally be provided by members of a research team, led by an eminent research leader such as Professor Mark Hull, Professor Darren Shickle, Mr Dermot Burke, Professor Alistair Hall or Professor Eileen Ingham.
Mentoring is a key component of the EXSEL scheme
As an EXSEL scholar you would have an academic mentor to provide advice on the direction of your research and publications, and a student mentor to help you acquire life skills. This demonstrates how important it is to reflect on and share experiences. In addition to being a mentee, each scholar also mentors a more junior EXSEL scholar and many will volunteer to become WAMS mentors.
Our sponsors
The scholarship scheme would not have been possible without generous donations by Heart Research UK, Wyeth Pharmaceuticals and the alumni and friends of the University of Leeds.
Heart Research UK
Heart Research UK has sponsored our scholars for a number of years and continues to do so today. This visionary charity was founded in 1967 by Leeds heart surgeon Mr David Watson MBE, who realised that patients were dying unnecessarily because of the lack of research into heart disease, especially surgical techniques.
Having funded six of the first eight successful UK heart transplants, Heart Research UK funds ground-breaking medical research into the prevention, treatment and cure of heart disease.
It has been helping hearts by supporting clinical and surgical projects and young researchers on their first steps into research. In the last 10 years the charity has funded over £10.6m on research projects in hospitals and universities across the UK as well as £1.2m on community-based lifestyle projects that aim to prevent or reduce the risks of heart disease.
Further information
Please email us for more information about the scheme.