Studying with us
Overview
Radiography is an exciting profession that combines science, technology and patient care, and is at the heart of modern healthcare, playing a vital role in patient diagnosis and treatment. As a radiographer, you are at the forefront of emerging and developing technology such as digital imaging, magnetic resonance imaging, computed tomography and ultrasound.
At the University of Leeds we aim to ensure that you qualify over and above the standards required by the Health and Care Professionals Council (HCPC). This is demonstrated each year with 95% of our graduates going into work or further study. We're able to achieve this thanks to our partnerships with four NHS trusts in Yorkshire, offering experience in departments varying from single room cottage hospitals to major trauma centres. During your training you will spend 40% of your time working with patients and radiographers in hospitals across the region.
In addition to first-class placement opportunities, you will benefit from comprehensive training in technical knowledge and professional skills, delivered by some of the foremost clinical tutors in the country.
As a diagnostic radiography student at Leeds you will benefit from:
Being taught by practising diagnostic radiographers working at the forefront of imaging technology.
World-leading research carried out at the School informs our approach to teaching and learning.
Access to cutting-edge imaging technology and world-class clinical skills teaching facilities.
Being introduced to patients in the clinical environment in your first semester of study.
Opportunities to progress directly onto the Diagnostic Imaging MSc course, where you can specialise in ultrasound, breast imaging, CT or MRI scanning.
Optional modules that allow you to explore areas of personal interest and develop additional skills.
Optional Modules for Radiography students
One of the more popular and unique features of the course is the ability to choose a number of optional and discovery modules to focus your studies around areas of interest to you and enhance your future career as Diagnostic Radiographer.
In years one and two you will undertake a discovery module from a range offered within the wider university. You choose one per year on a subject you wish to explore and develop new skills, and which will fit around your other radiography studies. The module can be related towards health, or potential something completely different.
In the thrid year you also have the chance to select two optional modules which we offer from within the radiography portfolio. Currently these include modules on forensic or paediatrics. There are also options to undertake a placement at a hospital in another country, or to focus on an area of practice which is of most interest and relevance to you. This might be in an area (or modality) of radiography, or even potentially in other parts of the hospital or health care.
Current optional modules available in year 3:
The aim of these optional and discovery modules is to allow you to tailor some of your learning around the other subjects which are essental to becoming a Diagnostic Radiographer. By focussing your studies on your own interests it will potentially influence your own future career development and enhance your already excellent employment prospects from the course.
Dynamic approach to teaching
On the Diagnostic Radiography course our dynamic approach to teaching and learning is informed by the leading research we carry out at Leeds – a top ten Russell Group university ranked highly for research impact and power. This approach incorporates bespoke one-to-one learning to guide your academic progress and personal development, ensuring that you achieve your potential.
At Leeds our teaching and assessment is based on best educational practice and we will help you to develop your core consultation and practical skills by encouraging patient contact and early exposure to clinical settings.
Our teaching and learning methods include:
Case-based learning which will allow you to apply your knowledge to real-world scenarios.
Inter-professional learning to ensure development of good leadership and teamworking skills with other professional groups.
Blended learning, combining a number of self, group and technology-enhanced approaches.
Integrated use of technology-enhanced learning via Secta Table for virtual dissection, 3D reconstruction and age-simulation suits (GERT).
Quality assessment
At Leeds, our medical school has six ASPIRE-to-Excellence Awards which recognise the quality of our assessment, student engagement and social responsibility.
The course is accredited by the Health and Care Professions Council (HCPC) and the Society of Radiographers (SCoR).
Our imaging facilities
The excellent facilities at Leeds have been designed to support your learning experience. We use the imaging facilities of a local hospital's general x-ray room, which allows you to gain experience working with patients in a clinical environment. You can also make use of bespoke x-ray tube simulation software in order to safely experiment with imaging technology and develop your understanding of how x-ray images are produced.
In addition, you will have access to clinical skills facilities within the newly redeveloped medical school building, which is also home to the Medical Teaching Centre and the Health Sciences Library.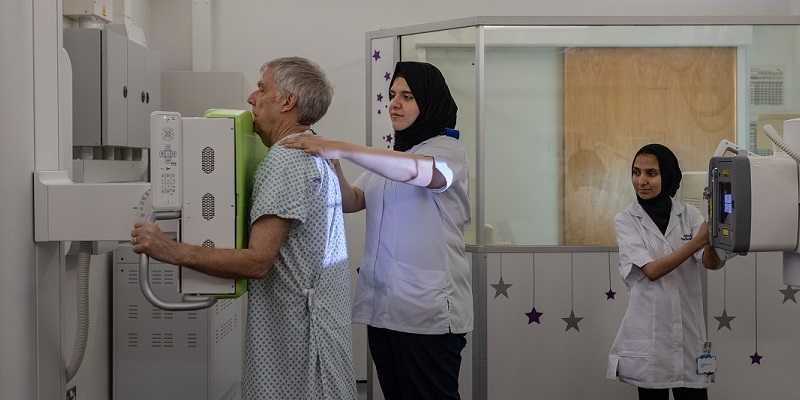 Technology enhanced learning
At Leeds we believe technology can significantly enhance our students' teaching and learning experience. We have recently taken delivery of a Sectra Table, a 55" touchscreen monitor that will allow you to undertake virtual dissections and carry out 3D reconstructions, which will enhance your understanding of how imaging informs what's going on inside the body. You will also have access to cutting-edge age simulation suits (GERT) so that you can experience age-related conditions such as the mobility, hearing and vision difficulties many of your patients face daily.
Clinical placements
While you study radiography you'll have the chance to work across different NHS trusts and private providers, meaning you'll gain experience in a number of clinical settings.
Through our partnerships with the major Leeds teaching hospitals, as well as local and regional general hospitals, general practices and the community, we can offer you a broad range of clinical placements from year one.
Placements abroad
As a radiography student at Leeds you will have the opportunity to benefit from our relationships with international partners. Our students have undertaken short work placements in countries such as Denmark, Sweden and Malta where they have gained insight into radiography practice abroad.
Learn more about these opportunities on the clinical placements and medical electives pages.
Leaders in patient and carer involvement
As a healthcare scientist it's crucial that you are able to communicate effectively and work in partnership with patients, carers and their family members.
Almost 10 years ago the School of Medicine took a novel approach to the engagement of patients in the teaching of medical and allied health students. Teaching in diverse settings in addition to the clinical environment has increasingly been undertaken, with the patient being seen as a teacher rather than just a passive 'subject'. The programme works with patients in a variety of modules to enhance your understanding from a patient's perspective. We also utilise simulated patient scenarios, which will allow you to objectively work through a situation in a safe environment before being introduced to more challenging situations.
The Patient Carer Community at Leeds, which is run by a team based at the Leeds Institute of Medical Education, allows you the opportunity to speak to individuals who are caring for someone with a medical condition or disability. Patient contact begins in year one of our Cardiac Physiology programme and the Patient Carer Community is fully involved from the start.
Welcoming environment
Student life can provide many challenges, so we aim to provide you with a welcoming, friendly and supportive environment from the first day of your studies.
Each of our Radiography students is assigned a personal tutor who will work with you to address any issues and help you to make the most of your learning opportunities.
We also know that for many, studying at university will the first time some of you will have lived away from home. This change can be daunting but our trained advisors will be available to help you, with 24/7 advice available on the Leeds University Union website.
<iframe width="560" height="315" src="https://www.youtube.com/embed/GwkOCSJzeyI?rel=0" frameborder="0" allow="autoplay; encrypted-media" allowfullscreen></iframe>
Excellent career prospects
95% of our radiography students go on to work and / or study within 15 months after the course.
UK radiographers and particularly those from Leeds are recognised as being amongst the best in the world. Successful radiography graduates must apply for registration with The Health and Care Professions Council (HCPC).
Long-term career prospects include management, research, postgraduate specialist practice and teaching. A radiography degree is a recognised vocational qualification.
The HCPC is a regulatory body whose main aim is to protect the public. The professional title of 'radiographer' is protected by law. This means anyone using the title 'radiographer' must be registered with the HCPC.
We are international
Over 13,400 international students decide to study with us every year and our campus is one of the most diverse and multi-cultural in the world. We want you to enjoy your time here and we'll help you to settle in and make the most of your experience at Leeds.
<iframe width="560" height="315" src="https://www.youtube.com/embed/umiYsxbcRYg" frameborder="0" allow="accelerometer; autoplay; encrypted-media; gyroscope; picture-in-picture" allowfullscreen></iframe>