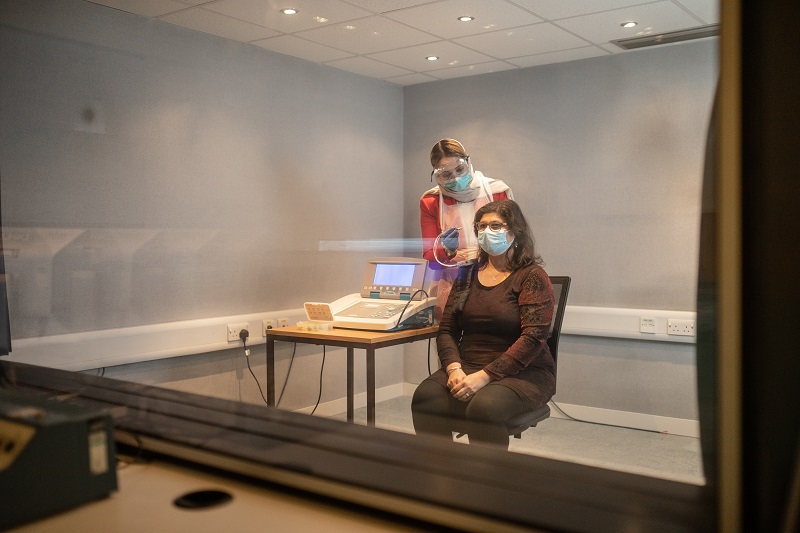 As an audiology student at the School of Medicine you will have access to dedicated teaching facilities and the necessary resources to support and enhance your learning experience.
Dedicated audiology labs
The School of Medicine has its own dedicated audiology laboratories on campus, equipped with cutting-edge technology used in the diagnosis and rehabilitation of hearing and balance conditions.
These facilities comprise three state-of-the-art teaching labs featuring sound-proofed booths and equipment used to fit hearing aids and to make physiological, psychophysical and electroacoustic measurements. Our students are also able to use innovative technology to test peoples' ability to simultaneously perform sound-localisation and postural control tasks.
The clinical teaching laboratories at Leeds have been designed to ensure that you have an outstanding teaching experience and are intended to help you develop the skills necessary to work with patients at one of our NHS Trust partners across Yorkshire and the Humber. Substantial investment continues to extend and enhance our facilities in line with technological advances in the area.
<iframe width="853" height="480" src="https://www.youtube.com/embed/NhyqEXL4wXM" title="YouTube video player" frameborder="0" allow="accelerometer; autoplay; clipboard-write; encrypted-media; gyroscope; picture-in-picture" allowfullscreen></iframe>
Our other facilities
In addition to our specialist laboratories you will have access to the School of Medicine's other teaching and clinical practice facilities, including the Medical Teaching Centre (MTC) which is the hub for classroom-based teaching within the School and is equipped with the latest technology to aid teaching and learning. You will also use the Clinical Practice Centre at St James's University Hospital, which provides access to state-of-the-art clinical skills training equipment and is a safe environment for you to gain practical skills before applying them in a real-world scenario.
The Health Sciences Library in the recently refurbished medical school building will also be available to you, along with the University's many other libraries and study spaces.