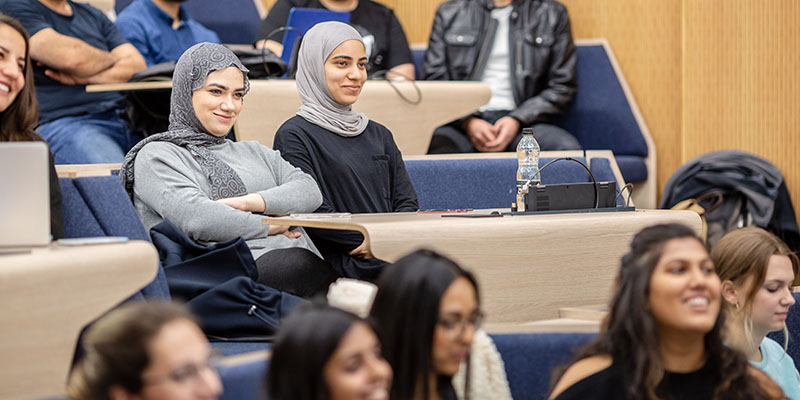 Cardiac physiologists are involved in the diagnosis and treatment of patients with heart disease. They work in a challenging and stimulating environment, combining caring and analytical problem solving in order to provide excellent patient care and support.
The Healthcare Science (Cardiac Physiology) BSc at Leeds is the only programme of its kind in the UK that sits within a School of Medicine, giving students access to academics with a wide range of backgrounds and who have the ability to provide innovative teaching linked to ongoing research.
How you'll benefit from our teaching
During your studies we'll provide bespoke one-to-one learning to help you achieve your potential, and to guide your academic progress and personal development. Our approach to teaching and learning on the Cardiac Physiology course is also influenced by the latest research carried out at the University.
At Leeds our teaching and assessment are based on best educational practice. We encourage early exposure to clinical settings and patient contact to help the development of your core consultation and practical skills.
At Leeds, our medical school has six ASPIRE-to-Excellence Awards which recognise the quality of our assessment, student engagement and social responsibility.
Our wide range of teaching and learning methods include:
Blended learning, mixing a range of self, group and technology-enhanced approaches.
Inter-professional learning to ensure development of good leadership and teamworking skills with other professional groups.
Case-based learning which will allow you to apply your knowledge to real-world scenarios.
Integrated uses of technology-enhanced learning via Secta Table (for anatomy and physiology), age-simulation suits (GERT) and 4D technology for ECG interpretation.
The course is accredited by the National School of Healthcare Science (NSHCS).

Cutting-edge cardiac physiology labs
As a cardiac physiology student at Leeds you will have access to two dedicated cardiac physiology labs at our clinical skills facility, located in the newly redeveloped medical school building alongside the Medical Teaching Centre and the Health Sciences Library. You will also be able to use Clinical Practice Centre at St James's University Hospital which allows you to develop clinical skills in a hospital environment before going on placement.
We have recently taken delivery of a Sectra Table, a 55" touchscreen monitor that will allow you to benefit from the collaboration and group discussions essential for team-based learning. You will also have access to age simulation suits (GERT) which will allow you to experience age-related conditions such as the mobility, hearing and vision difficulties that many of your patients face every day.
A broad range of clinical placements
When you study cardiac physiology at the University of Leeds you have the opportunity to work across a variety of NHS trusts and private providers. This will introduce you to, and give you the chance to explore, different clinical environments – an experience that sets our students apart from others.
We offer a diverse range of clinical placements from year one through our partnerships with the major Leeds teaching hospitals, local and regional general hospitals, general practices and the community.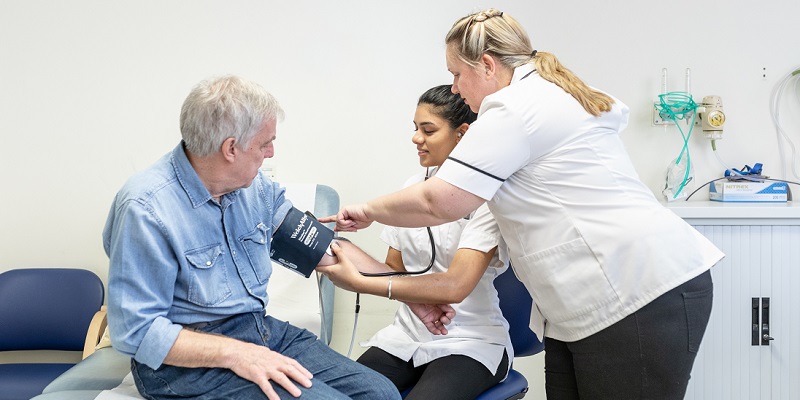 Leaders in patient and carer involvement
We know how important it is to ensure that, as a healthcare scientist, you are able to communicate effectively and work in partnership with patients, carers and their family members.
Patient contact begins in year one of our Cardiac Physiology programme and the Patient Carer Community is fully involved from the start. Our Patient Carer Community at Leeds is run by a team based at the Leeds Institute of Medical Education, and through it you can gain first-hand experience of speaking to individuals who are caring for someone with a medical condition or disability.
A friendly environment
As a Cardiac Physiology student you may face academic and personal challenges during your time at the University, and we aim to provide a friendly and supportive environment that can help you excel from the first day of your studies.
You will be assigned a personal tutor who will work with you to ensure you're able to address any problems and make the most of your learning opportunities at Leeds.
Studying at university may be the first time you will have lived away from home. This change can be daunting but our advisors are trained to help you, with 24/7 advice available on the Leeds University Union website.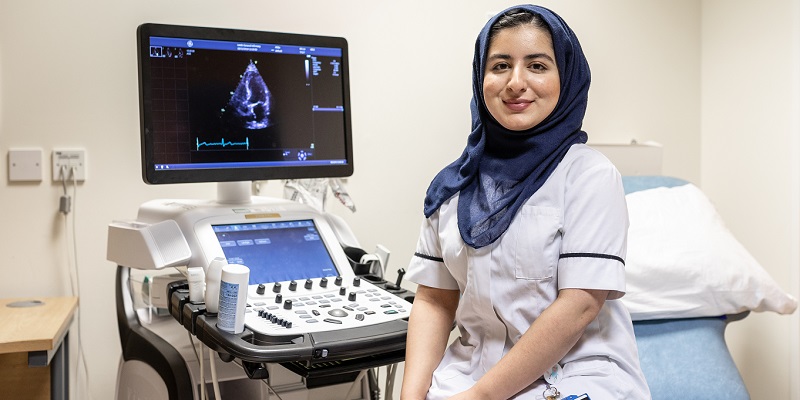 Excellent career prospects
87% of our cardiac physiology students go on to work and / or study within 15 months after the course.
Career opportunities in cardiac physiology are excellent both within the UK and worldwide, with demand driven by the continued challenges posed by cardiac disease in the western world. In the UK the demand for cardiac physiologists is much greater than the number practising and this situation ensures a bright future for registered cardiac physiologist professionals.
Cardiac physiologists are primarily employed by the NHS, albeit there are opportunities in the private sector and in industry, in product specialist and technical support roles.
While many cardiac physiologists work largely autonomously making clinical decisions and providing clinical reports, there are other opportunities available beyond conducting assessment and providing treatment. These roles include consultant, counsellor, advisor, educator, facilitator, researcher and therapist.
We are international
Over 9,000 international students choose to study with us every year – making the University of Leeds's campus one of the most diverse and multi-cultural in the world.
Wherever you're from we'll help you to adapt, settle in and enjoy your time here.