Studying with us
Studying with us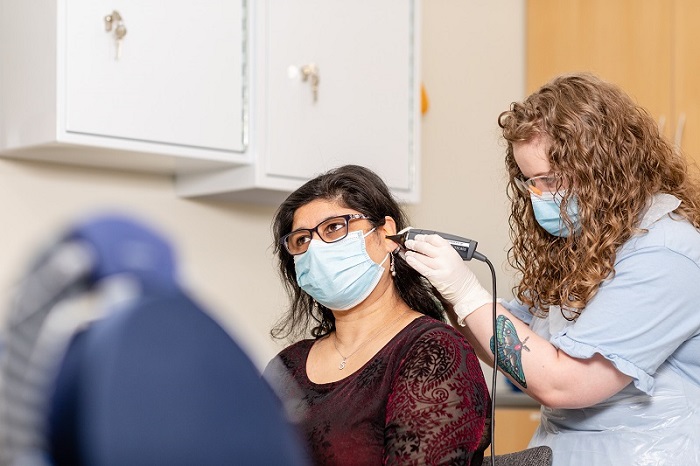 Audiologists are involved in the diagnosis and rehabilitation of patients with hearing and balance disorders.
As a Audiology (BSc) student at Leeds you will benefit from being taught by a wide range of clinical and academic experts at the forefront of research and teaching practice in their fields.
You will also have access to excellent clinical placements throughout the region and benefit from our strong links with the community.
<iframe width="1280" height="720" src="https://www.youtube.com/embed/NhyqEXL4wXM" title="YouTube video player" frameborder="0" allow="accelerometer; autoplay; clipboard-write; encrypted-media; gyroscope; picture-in-picture" allowfullscreen></iframe>
Our innovative teaching
Teaching and learning on the audiology course is shaped by our latest research, and we will guide your academic and personal development with one-to-one learning and frequent tutor contact.
The quality of assessment, student engagement and social responsibility on our courses is recognised by our international ASPIRE-to-Excellence Awards.
The course is accredited by the National School of Healthcare Science (NSHCS) and the Registration Council for Clinical Physiologists (RCCP). The programme is also approved by the Health and Care Professions Council (HCPC). This enables our students to apply for registration as a Hearing Aid Dispenser on graduation.
Teaching and assessment at the University is based on best educational practice and, while studying with us, you'll develop your key consultation and practical skills by early exposure to clinical environments and patient contact .
The teaching and learning methods you'll benefit from include:
Blended learning, which will involve a range of self, group and technology-enhanced approaches.
International approach to training with Leeds Audiology students enjoying opportunities to collaborate with students and professionals from other countries.
Inter-professional learning to encourage development of leadership and teamworking skills with other professional groups.
Case-based learning to help you apply your knowledge to real-life scenarios.
Integrated use of technology-enhanced learning via our Sectra Table (for anatomy and physiology learning), age simulation suits (GERT) and simulated patients.
Impressive audiology facilities
As an audiology student at Leeds you will use our dedicated audiology laboratories, equipped with the latest technology used in the diagnosis and rehabilitation of hearing and balance conditions. Alongside these dedicated facilities in the newly redeveloped medical school building are the Medical Teaching Centre and the Health Sciences Library.
You will also be able to use the Clinical Practice Centre at St James's University Hospital, which allows you to gain clinical skills prior to placement and in a hospital environment.
At Leeds we believe technology can significantly enhance your teaching and learning experience. We have recently taken delivery of a Sectra Table, a 55" touchscreen monitor that will allow you to benefit from the collaboration and group discussions essential for team-based learning. You will also be able to access age simulation suits (GERT) so that you can experience age-related issues including mobility, hearing and vision difficulties - conditions that many of your patients face on a daily basis.
Our clinical placements
We offer our audiology students a wide range of clinical placements from year one through our partnerships with the major Leeds teaching hospitals, local and regional general hospitals, general practices and the community.
These placements will provide you with the opportunity to work with a variety of different NHS trusts allowing you to experience an array of clinical environments – something that can set you apart from students at other institutions.
Leaders in patient and carer involvement
We recognise how important it is to ensure that, as a healthcare scientist, you are able to communicate effectively and work in partnership with patients, carers and their family members.
We teach in diverse settings in addition to the clinical environment, with the patient being seen as a teacher rather than just a passive 'subject'.
A team based at the Leeds Institute of Medical Education runs the Patient Carer Community, which allows you the chance to gain first-hand experience of speaking to individuals who are caring for someone with a medical condition or disability.
Patient contact begins in the first year of our Audiology programme and the Patient Carer Community is fully involved from the beginning.
<iframe width="1280" height="720" src="https://www.youtube.com/embed/7Y3UP0JWo1g" title="YouTube video player" frameborder="0" allow="accelerometer; autoplay; clipboard-write; encrypted-media; gyroscope; picture-in-picture" allowfullscreen></iframe>
An encouraging environment
During your time as an audiology student, you'll likely be faced with both academic and personal challenges, and we aim to provide you with a friendly, encouraging and supportive environment from the first day of your studies.
You'll also be assigned a personal tutor who will work with you to ensure you're able to make the most of your learning opportunities, and to help identify and address any problems.
Excellent career prospects
90% of our audiology students go on to work and / or study within 15 months after the course.
Career opportunities in audiology are excellent both within the UK and around the world. As approximately one person in 10 is affected by a hearing impairment the demand for hearing assessment and rehabilitation services is very high. Therefore, in the UK the demand for audiologists is greater than the number practising and this situation will ensure a continued future for registered audiology professionals.
The NHS employs the majority of audiologists in a range of settings and in a variety of roles. These settings include ear nose & throat departments, self-contained audiology centres, and educational establishments. Some audiologists also work as independent practitioners in private practice.
Audiologists select the assessment methods and rehabilitation that are most appropriate to patients and their needs, given the setting and available resources. As well as conducting assessment and providing treatment, audiology roles also include those of consultant, counsellor, advisor, educator, facilitator, researcher and therapist.
We are international
Our campus is one of the most diverse and multi-cultural in the world. Over 9,000 international students choose to study with us every year and, wherever you're from, we'll help you settle in and make the most of your time here at Leeds.