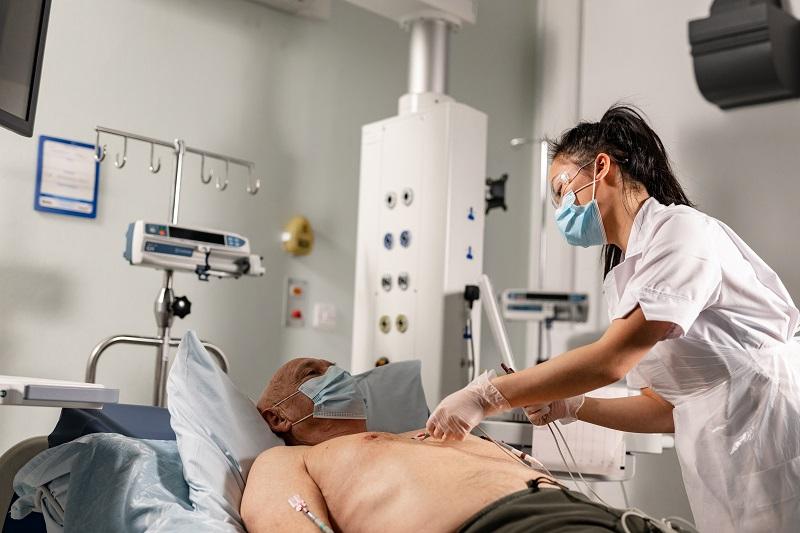 At Leeds you have the opportunity to work across different NHS trusts and private providers, exposing you to a variety of clinical environments – something that sets our students apart from others.
The breadth of specialities you will experience while on placement provides valuable insight and will allow you to develop a more rounded understanding of practices across NHS trusts. As a result of this approach, our students are better equipped and more able to adopt a flexible approach to working in different clinical settings following graduation.
You will spend a considerable amount of time on clinical placement starting in your first year (up to 10 weeks) and increasing in time in your second year (up to 15 weeks) and third year (up to 25 weeks).
Exceptional clinical placements
Placements are an integral part of your learning and we have an established circuit of high-quality NHS and private hospital environments in which you will receive clinical training from experienced cardiac professionals. Clinical practice is a fundamental and critical component of the programme and you will gain lots of work experience in clinical departments with our partner regional NHS trust hospitals.
Our placements provide the nationally required skillset and excellent support mechanisms for students at all levels. Departments are friendly and supportive environments where you will gain invaluable experience throughout the course.
<iframe width="560" height="315" src="https://www.youtube.com/embed/9_cSAeb87xc" frameborder="0" allow="accelerometer; autoplay; encrypted-media; gyroscope; picture-in-picture" allowfullscreen></iframe>
Placement locations
We have excellent established relationships with all our hospital departments and specialist units within the Yorkshire and Humber region, including those at Harrogate, Sheffield, York, Hull and Bradford. One of our key training partners is the Leeds Teaching Hospitals NHS Trust, one of the largest and most innovative in England. This trust combines high-quality clinical services with academic research, pushing the boundaries of healthcare.
All you need to know about our clinical placements
How our placements are structured
Clinical placements are arranged for you in NHS hospitals in the Yorkshire & Humber region . These total up to 10 weeks in Year 1; up to 15 weeks in Year 2 and up to 25 weeks in Year 3
What you will learn during your placement
Year 1: You will experience short placements in cardiology and cadio-respiratory departments. These placements are 2-4 week blocks, one usually in December and one usually around Easter time. You may also spend time during Semester 1 and semester 2 on placement. This sandwiching of placement with academic study will give you the proven advantage of enhanced learning, putting theory learnt in lectures into practice immediately.

Year 2: You will concentrate on cardiac physiology practice using the same sandwiching method of theory and practice. You will develop your skills during up to 15 weeks of practice development and clinical placement. Usually two days a week you will be on clinical placements throughout both Semester 1 and 2, plus block clinical placements often in December, March/April and June.

Year 3: During Semester 1 you may spend two days a week on placement finishing with a 2 week block placement in early December. Usually you will spend the whole of Semester 2 on clinical placement (with one day as a study day). By the end of Year 3 you will have gained the experience and qualification necessary to secure a Band 5 qualified Cardiac Physiologist job.
The cardiac physiology placement structure is quite good compared to other universities and courses. I feel like I can apply what I learn better due to weekly practice.
How it will benefit you by going on placements throughout the course
Usually our students go out on placement from semester 1 at the University of Leeds. Students will be able to start putting theory from the classroom into practice and start developing cardiac physiology skills, these become more advanced with each year of study. Other courses may not give you this opportunity to work with real patients so early.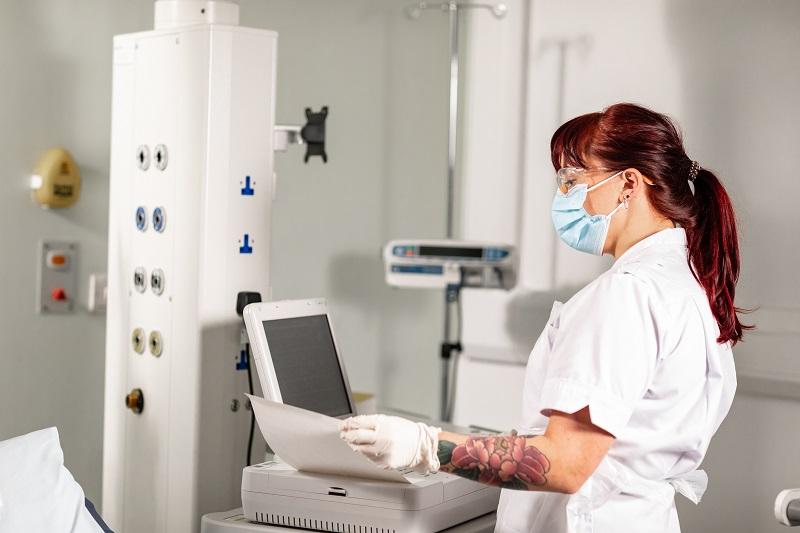 We guarantee that every student gets a placement
We pride ourselves in providing properly trained cardiac physiologists (our graduates) to our NHS partner hospitals who rely on us for their future staff. Therefore, they offer us the placements we need, as it is in their future interest. We also limit our course places to 20-25 students to ensure we can guarantee you a quality placement experience.
Where our placements are based
Due to the one on one training provided by this course, you may be placed anywhere in the Yorkshire and Humber region.
You have enough time to visit your placement allocation and plan the journey before you start. If the hospital is a long way to travel, you can book accommodation, which is more practical during block weeks than a long journey every day. Someone is always there to help if there are any problems.
Travel and additional accommodation costs
If your placement is in the Leeds General Infirmary (joined onto our building) you will not have additional travel costs. Outside of Leeds, we will give a contribution towards your travel costs, to every destination, for all three years of your course. A contributory payment towards all your expected travel costs will be given in advance. You will be expected to manage your pot of money, plan and book travel/accommodation yourself. If your placement is within a reasonable commute (e.g. Wakefield, Bradford, York) you will receive a contribution towards travel costs. If your placement is further afield (e.g. Hull, Scarborough, Scunthorpe) we will contribute towards your additional temporary accommodation and travel costs.
How to organise your accommodation
You have the freedom to plan and book your own accommodation and you will get a financial contribution towards it. If you wish to stay in a more expensive hotel than the recommended accommodation, you will need to top up the contributory amount from the University with your own money.