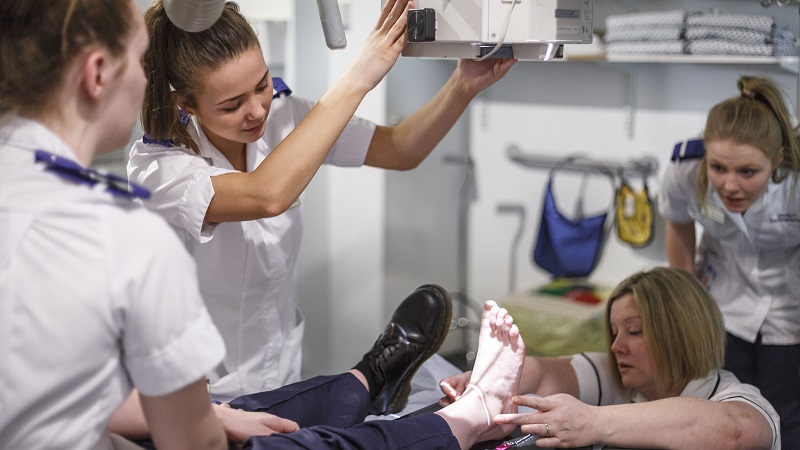 As a radiography student at Leeds School of Medicine you will have use of world-leading teaching facilities, state-of-the-art equipment and the resources necessary to support and enhance your learning experience.
Clinical skills room
Radiography students at Leeds benefit from the use of our clinical skills room, a general x-ray room rented from a local hospital trust and used instead of a simulated suite. This will allow you to work with patients in a controlled learning environment and with ongoing support, advice and tuition from clinical staff. You will be actively encouraged to apply your learning in the clinical setting and will receive one-to-one feedback on your progress.
As a third year student preparing for qualification you will have the opportunity to use this clinical skills room as an elective placement to gain experience in the management and organisation of an x-ray room. You will also mentor first year students in order to support their learning in the clinical environment.
Where necessary you can also make use of bespoke x-ray tube simulation software, allowing you to safely experiment with imaging technology and develop your understanding of how x-ray images are produced.
Our other facilities
In addition to our specialist laboratories you will have access to the School of Medicine's other teaching and clinical practice facilities, including the Medical Teaching Centre (MTC) which is the hub for classroom-based teaching within the School and is equipped with the latest technology to aid teaching and learning. You will also use the Clinical Practice Centre at St James's University Hospital, which provides access to state-of-the-art clinical skills training equipment and is a safe environment for you to gain practical skills before applying them in a real-world scenario.
The Health Sciences Library in the recently refurbished medical school building will also be available to you, along with the University's many other libraries and study spaces.