Clinical Teaching Excellence Awards Winners 2022/23
Undergraduate Medical Education Team
Bradford Teaching Hospitals NHS Foundation Trust
Dr Amy Illsley, Jordan Vernon, Dr George Greenlees, Dr Kathleen Thompson, Dr Bethan Roberts, Dr Alex Lister, Ursula Wood, Sara Willis, Bethany Walton, Ann Imlach, Mehreen Nawaz and Mayal Arshad.
The Undergraduate Medical Education Team at Bradford Teaching Hospitals has been awarded A Clinical Teaching Excellence Award (Team).
The team is involved in the design and delivery of clinical teaching to students from all five years of the MBChB course at the University of Leeds and to Physician Associate students from both the University of Bradford and the University of Leeds. The team consists of a mixture of clinical educators, a medical education fellow, one post core fellow and several post foundation fellows.
A large project for the team this year has been implementing a simulated on call session (SOC). The session is designed to improve preparedness for FY1 and to improve prioritisation skills .The average session rating was 4.96 out of 5 and an incredible 100% of students said they would like to do more SOC sessions. SOC is just one example of how the undergraduate medical education team has been enhancing the student learning experience at Bradford.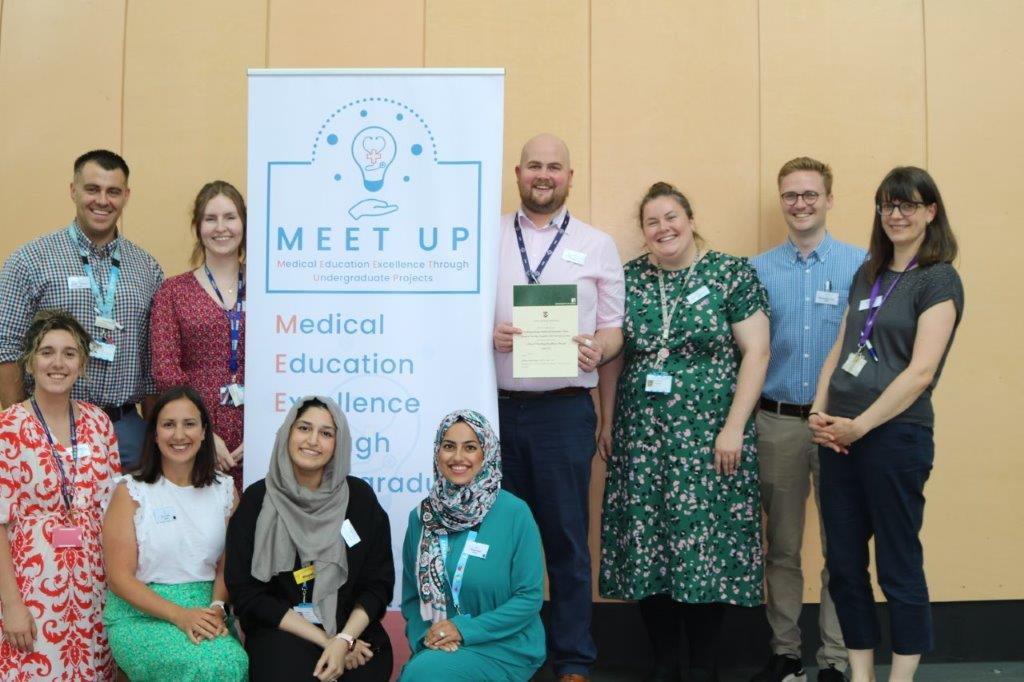 Primary Care General Practice
Laurel Bank Surgery, Headingley, Leeds
Dr Naweed Bukhari, Dr Adele Cutting, Dr Fran Wilson, Dr Nazneena Zimri, Dr Meghana Pai, Dr Nicola Bell, Grace Abid, Faye Jackson, Dr Gwyn Elias and the Reception Team.
Laurel Bank Surgery, Headingley, Leeds, have received a Clinical Teaching Excellence Award (Team).
LBS has made a long-term commitment to teaching excellence over the past twenty years. Excellence in teaching is ingrained into the ethos of LBS. As a result, all the team at LBS is involved in and are enthusiastic about their teaching endeavours.
Medical education is part of the LBS fabric, and a passion to continue teaching has been imbued in previous students and trainees: many LBS trainees are now GP trainers and undergraduate tutors; this includes Dr Tash Gordon at St. Martins Practice and Dr Frances Wilson, one of their partners. We hope that this pattern will long continue and is certainly encouraged by the numerous green cards that many of the GP's have received from students mentioning the surgery and individual doctors for their efforts.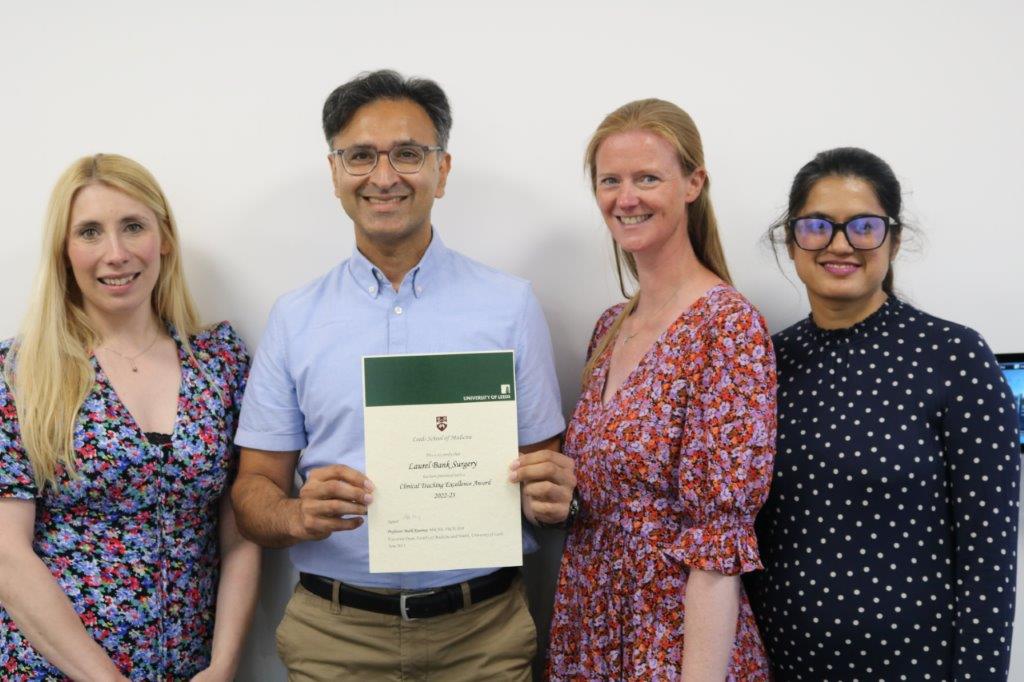 Primary Care General Practice
Horton Park Medical Practice, Bradford
Dr Tasneem Ishfaq, Dr Lorna Harrison, Dr Robert Amedzro, Dr Maria Foulds, Dr Louise Bayliss, Dr Aarthi Karthik, Dr Tim Clarke, ANP Helen Bates, Practice nurse Naseem Hussain, HCA Linda Wood, HCA Leanne Raynor, Administrators Michelle Price, Clare Wilby and Azra Bi at Horton Park Medical Practice, Bradford have received a Clinical Teaching Excellence Award (Team).
The practice has a deep-rooted commitment to providing student placements with a quality primary care learning experience. The practice has a team approach to teaching. Every member of the practice contributes in some way.
The practice has processes and systems in place that are largely executed by their experienced administrative team. They are responsible for co-ordinating the rotas and inductions for the students. The student rotas are organised to expose students as much as possible to patients e.g. supervised general clinics with a GP. They attend asthma, heart failure, hypertensive and diabetic clinics which are run by practice nurses, healthcare assistants and Advanced Nurse Practitioner.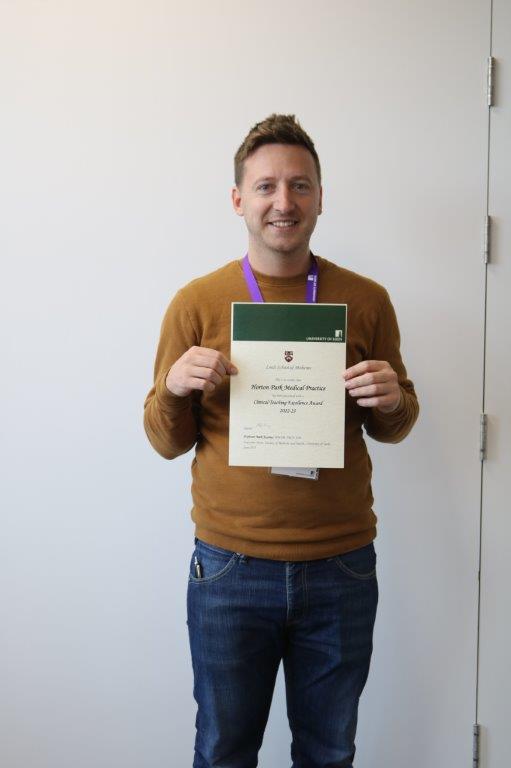 Dr Maria Cassidy - Medical School Fourth Year Continuing Care and Cancer ICU, Leeds University
Marie Curie Hospice Bradford
Dr Maria Cassidy has received a Clinical Teaching Development Award (Individual). Currently the medical school fourth year hospice placement lead, Dr Cassidy actively looks to provide opportunities for students to take part in valuable clinical activities that are unlikely to see in other areas of healthcare.
This includes spending time with occupational therapy, social workers, spiritual care team, motor neurone disease clinics, and patient wellbeing groups which allow them to learn valuable clinical and non-clinical skills.
Dr Maria Cassidy has given presentations at regional and national level on the teaching that is being provided for the Leeds fourth year medical students. She presented an update on fourth year medical education at the palliative care North Yorkshire regional meeting in March 2022 and presented on the escape room development at the Association of Palliative Medicine Undergraduate Special Interests Forum in November 2022.
Maria Cassidy
Dr Benjamin Rutt - Core Trainee (CT2) in Psychiatry Leeds and York Partnership NHS Foundation Trust
Dr Benjamin Rutt has received a Clinical Teaching Development Award (Individual).
Dr Benjamin Rutt has been heavily involved in undergraduate teaching and delivers two 'virtual classroom' sessions (on Depression and Old Age Psychiatry) to all Year 4 students. His clinical duties routinely incorporate workplace-based teaching for students on placement. Dr Benjamin Rutt successfully applied for the role of 'Core Trainee Medical Education Tutor'; a formalised leadership role aimed at improving undergraduate experiences within Leeds and York Partnership NHS Foundation Trust (LYPFT).
Dr Benjamin Rutt facilitates the Year 4, 'Tea Club' where students present patients they have encountered whilst on placement. He provides formative and constructive feedback on their presenting skills and offers brief case-based microteaching on the topics arising. In addition to his involvement in the Year 4 programme, he hastrainee oversight of the Year 2 'Campus to Clinic' (now CARES2) module on MBChB. The aim is to inspire students to learn more about Psychiatry in the early stages of their training.
Dr. Yun Yee Lau (JOYCE) - Acute Medicine
Harrogate and District NHS Foundation Trust (HDFT)
Dr. Yun Yee Lau (JOYCE) has received a Certificate of Merit for Clinical Teaching Development (Individual).
Dr Lau supported the education of four different year groups (2nd, 3rd, 4th & 5th year) throughout their Acute Medicine clinical placement. To continue their professional development in becoming an excellent clinical educator, Dr Lau has taken the initiative to enrol onto a Postgraduate Certificate in Clinical Education for the academic year 2022-2023.
Dr Lau's aspiration is to progress their teaching career by acquiring further certification in Clinical Education and getting involved in educational leadership roles. In the future, they hope to become an Educational or Clinical Supervisor, as well as being involved in designing and implementing regional teaching programmes for doctors-in-training.
Ms Samantha Sharkey - SpR Trauma & Orthopaedics
Leeds General Infirmary
Ms Samantha Sharkey has received a Certificate of Merit for Clinical Teaching Development (Individual).
Ms Sharkey has recently acted as the clinical lead for Year 1 and Year 2 students for the University of Leeds attached to both paediatric trauma & orthopaedics and adult trauma & orthopaedics. Ms Samantha Sharkey has sessions with 4th and 5th year students attached to the specialty including scrubbing with final year students and allowing them to perform parts of the procedure where appropriate.
Samantha is currently working as the regional representative for the British Orthopaedic Trainee Association to help to guide the trainee experience all the way from medical school through an affiliation with the British Orthopaedic Medical Student Association.
Undergraduate Medical Education Team
The Mid Yorkshire Teaching NHS Trust (MYHT)
A Certificate of Merit for Clinical Teaching Excellence (Team) has been awarded to Undergraduate Medical Education Team: The Mid Yorkshire Teaching NHS Trust (MYHT) Dr Emma Jones, Dr Kelly Murphy, Dr Hayley Boal, Emma Broadhead, Dr Eleanor Clarke, Fiona Coia, Dr Akash Dharni, Dr Eleanor Dodd, Dr Orla Forker, Lee Gilbert, Dr Joe Gleeson, Dr Courtney Johnson, Dr Grace Keegan, Dr Leanne Lacey, Dr Rebecca Morris , Kevin Ross, Dr Thomas Sharp, Dr Joseph Thompson, Dr Ian Todner, Dr Ashley Wragg.
The team develops innovative projects in response to student needs in order to enhance the student learning experience. The team is passionate about delivering student-centred learning, and communicate with students to identify areas where they would benefit from further teaching. They then develop educational work to support students to achieve their learning goals.
New educational projects for this year include the Bumps, Breaks and Bruises Trauma management course for Y4 and Y5 medical students, including lecture-based teaching, case discussions, and simulated scenarios, teaching key skills using faculty as simulated patients. As well as educational CPD activities, such as the completion of the PGCCE and attendance at medical education conferences, the team also regularly engage in clinical CPD activities to develop their clinical knowledge and skills, which in turn enhances the quality of teaching.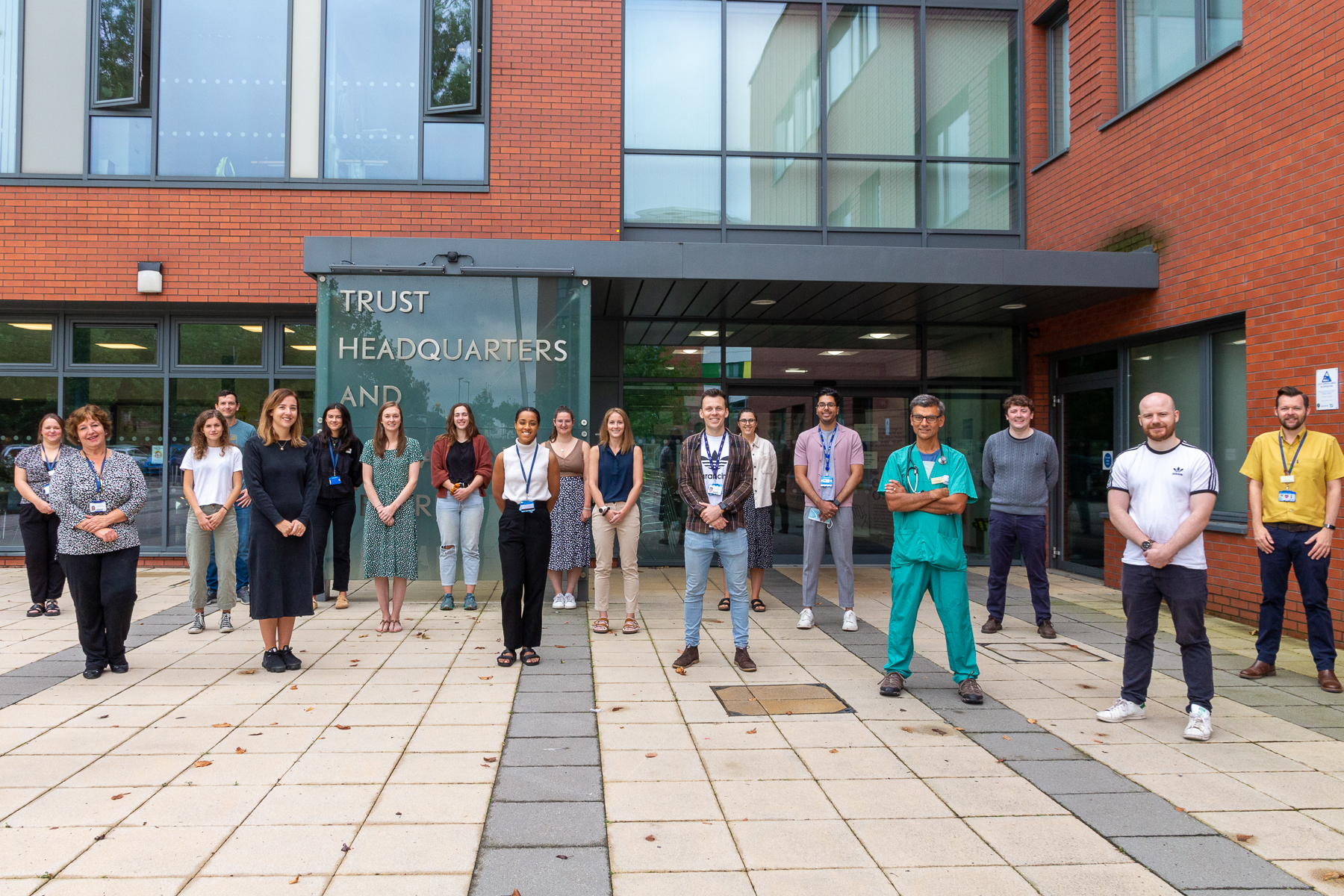 The Undergraduate Hub Team at Leeds Teaching Hospitals NHS Trust
Shireen McKenzie, Sarah Campion, Cleone Pardoe, Alexander Strother, Caraline Garner, Fraser Ritchie, Polly Simpson, Sophie Edler-Buggy, Elle Dodds, Elinor Clark, Samantha Welsh, Amanda Shotton, Sehlile Farag, Jordan Lockwood, Thomas Potter The Undergraduate Hub Team at Leeds Teaching Hospitals NHS Trust have been awarded a Certificate of Merit for Clinical Teaching Excellence.
The Undergraduate Hub at Leeds Teaching Hospital Trust continues to provide students with excellent, supportive, learner-centred educational experiences that are highly valued by students. This has led to the team receiving a commendation in the Trust's "Time To Shine" Awards in the Fair category. After auditing the personalised, 'Book a Teacher' sessions that were requested by students during the previous academic year, the team have developed several sign up 'Workshop' teaching sessions. These ran as slightly larger student groups and cover topics that were commonly requested, such as ECG, X-ray and ABG interpretation.
This reduced the demand for the, "Book a Teacher" sessions, showing that they are meeting the educational needs of the students through these workshops. The Undergraduate Hub Team at Leeds Teaching Hospitals has developed the, 'Call a Teacher' (CAT) programme that enables students to maximise their learning opportunities when on placement. The CAT programme allows students to bleep a Clinical Teaching Fellow at the Hub to supervise them performing clinical examinations and taking histories, reducing the burden on clinical staff. In this way, they are ensuring students are having valuable educational experiences not only at the Hub but also in the clinical areas. The feedback from the students who have utilised this provision has been extremely positive.