Occupational Health requirements for students and applicants to the Faculty of Medicine and Health
Occupational Health Requirements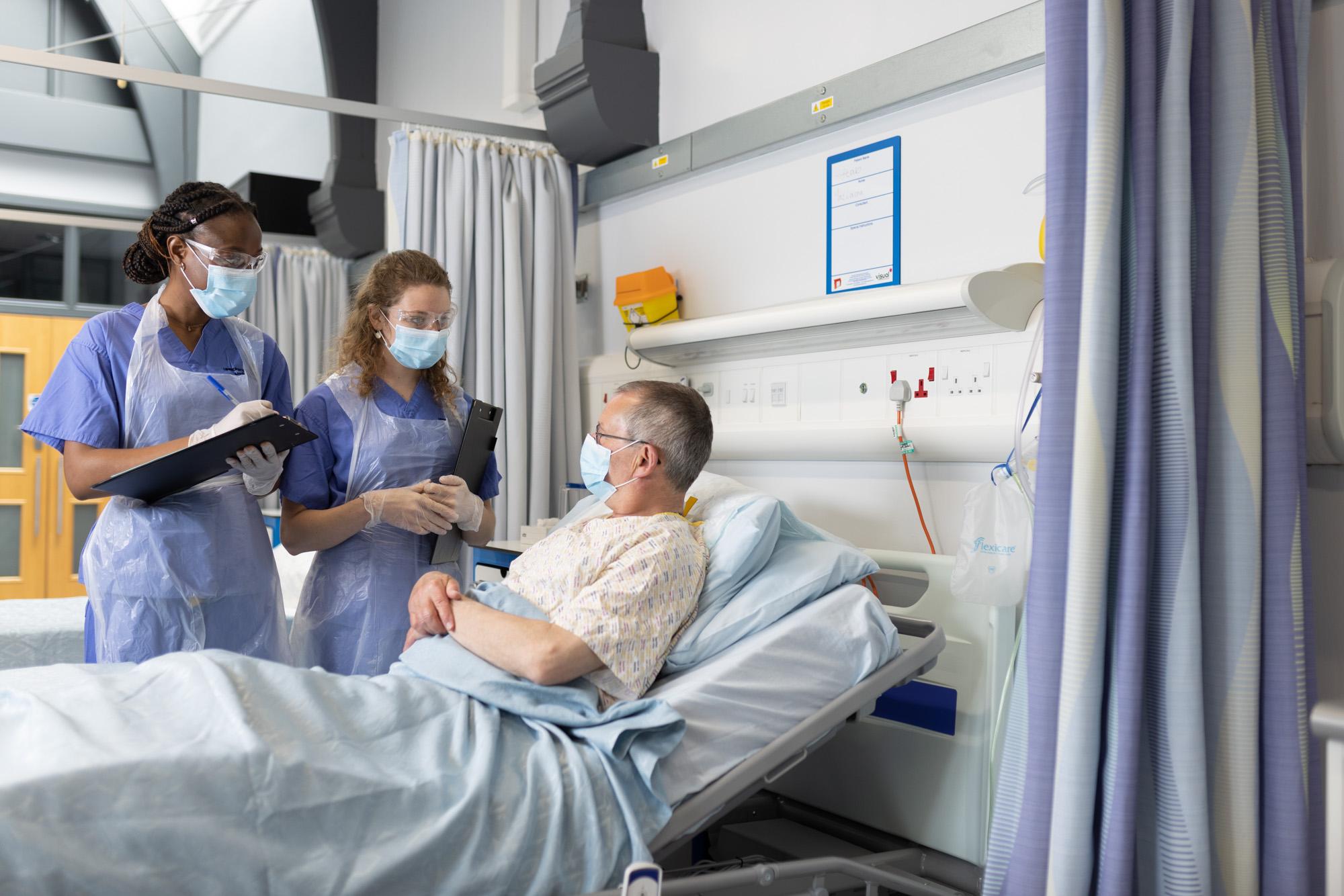 What do I need to do?
Occupational health (OH) teams keep people well at work but they can only do this with your involvement in the process, some students have jeopardised the start of their placements by not engaging with the OH process. It is your responsibility to ensure that you cooperate with all occupational health procedures. Do not leave this process until the last minute and make sure that you check your emails and voicemails regularly. If the OH team do not hear from you after two attempts to contact you, they will notify the University.
Please ensure that your online health questionnaire is completed as soon as possible after receipt from our admissions teams and that you have located and sent all your vaccination records ready for the immunisation clinics. Failure to complete the occupational health process means failure to comply with the requirements of your course.
What is the Occupational Health Process?
All students will complete a pre-registration screening questionnaire which allows our occupational health team at the University support you to meet your true potential on the programme despite any pre-existing health concerns you may have. It is important that you notify us even if your symptoms are currently under control as we can ensure that you continue to be supported even if you are moving from different areas of the country.
The process also allows our occupational health team to check your immunity requirements so we can ensure that both patients and you are protected and kept safe. This will involve understanding your immunisation record to date.
Additionally, for Medicine, Gateway to Medicine, Physician Associates, Midwifery Programmes, Dentistry (undergraduate and postgraduate) and Dental Hygiene and Dental Therapy, where you will be undertaking Exposure Prone Procedure (EPP) work during your training we will be screening for HIV, Hepatitis C and Hepatitis B surface antigen, in accordance with Department of Health regulations. For these programmes you will need to have a blood test taken and please note that you must provide photographic ID such as a driving licence or passport at the time of the blood test.
What are the immunity requirements?
The immunity requirements for Medicine, Nursing, Audiology, Radiography, Social Work, Cardiac Physiology, Physician Associates, Dentistry and Dental Hygiene and Dental Therapy are as follows:
Hepatitis B* (immunisation for social workers only for those exposed to unfixed human blood or tissues)
Measles and Rubella
Varicella
Tuberculosis
Pertussis (Midwifery and Paediatric nurses only)
What are exposure prone procedures (EPPs)?
EPPs are those procedures where the worker's gloved hands may be in contact with sharp instruments, needle tips or sharp tissues (e.g. bone or teeth) inside a patient's open body cavity or wound.
What happens if I don't engage?
It is a requirement of registration that you engage with this process by completing the pre-screening questionnaire, providing immunisation information, and having the relevant bloods taken and failure to do so will result in your offer being withdrawn. Unless these elements are undertaken, we are not able to provide reassurances of patient safety or deliver on our duty of care. Please see the student contract.
Should I inform you if I have a disability?
We encourage disabled applicants and students to tell us about their disability as soon as possible. Since it takes some time to put support and funding in place, the earlier you engage with us the better. For further information please visit our Disability Services page.
I am concerned about declaring pre-existing health conditions/disability in case it impacts on my occupational health clearance?
We understand that it is a difficult decision to decide whether to disclose any pre-existing health conditions or disability. However it is really important to us that we can support you in reaching your maximum potential whilst studying with us. We have supported many of our students with a range of disabilities and health conditions. Our goal is to support you in your studies, and we do that through our Occupational Health and Disability Services who work together to make sure you are supported and have what is practically possible for your future employability. It is important we are given relevant information as soon as possible so we can discuss what is possible with you on a case-by-case basis and make sure effective support is in place. If we are unaware of your needs from the start; and then you do experience difficulties, it may be more challenging for support to be made available and accessible quickly to help maintain your studies. Occasionally temporary leave might be the only option whilst awaiting the necessary support to be put in place. If you are receiving current mental health support it is important to provide details as when moving between areas or from child to adult services there can be temporary disruption to the support you receive. If we are aware we can provide assistance to help you.
I am concerned about having immunisations, what should I do?
Our Occupational Health team are happy to discuss your concerns please contact them to arrange an appointment to discuss your concerns and how we can support you. Please do not simply miss your immunisation appointment as we want to support you making an informed decision and failure to miss appointments will be seen to be lack of engagement with the process.
I am concerned about live vaccines, what should I do?
Some students are unable to have live vaccines because of pregnancy and certain types of medication or health conditions. If you are unable to have a live vaccine, we will review your health clearance to assess whether adjustments can be made so that you can continue on the programme.
What about people with needle phobia?
Needle phobia is a fear of medical procedures that involve needles or injections. It is very common and affects at least 1 in 10 people. If you have a needle phobia please let the Occupational Health team know prior to any vaccinations or blood tests you require. We can provide support for you, answer any specific questions you have and will help you with the procedure. Please make sure you have plenty to eat and drink before attending and tell the nurse if you are anxious or have a needle phobia. In many clinics we have a couch available for you to lie on whilst having injections or blood tests. Please also wear a short sleeve top to enable us to access your upper arm easily for vaccination and taking blood.
What happens if I decide to not be immunised?
On a case by case basis we will review the information and reasons and decide whether you can meet the course requirements. All our placement providers have different requirements based on risk. We would need to undertake a risk assessment to determine whether you can actively take part in placements; undertake all procedures required and whether mitigation can be put in place to enable that. In most cases you will not be able to experience the full range of placements on offer and in some cases this will impact on your ability to meet the course specification.
What is the expectation of placement providers and the regulatory bodies?
The expectation is determined on a placement provider by provider basis. However the majority do have the above strongly recommended vaccinations as a condition of deployment. Non immunisation will mean that students will have restrictions on placement such as no contact with bodily fluids/open wounds and other human hazards.
The Regulatory bodies expect members on their register to meet their codes/best practice which we have linked to below: