Clinical Teaching Excellence Awards 2018- 2019 - Winners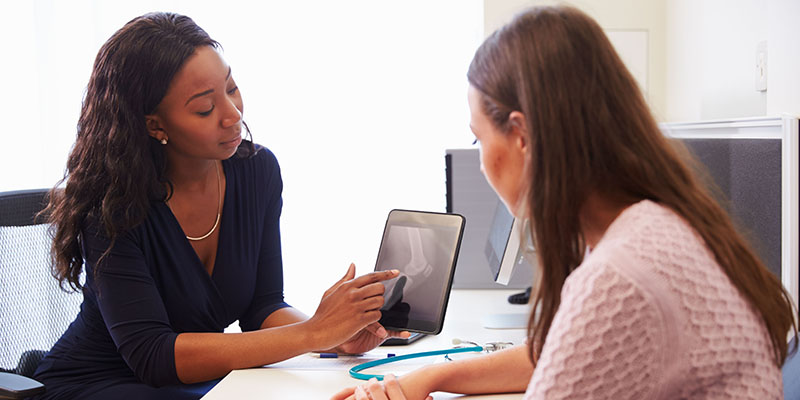 Leeds Institute of Medical Education are delighted to announce the winners of this year's Clinical Teaching Excellence and Development Awards 2018/19. Presentation of the awards took place at the Annual Clinical Teachers Day, 21st March 2019. Dr Anne-Marie Reid, Associate Professor of Medical Education, and Director of Student Education made the presentations to the winners.
Clinical Teaching Excellence Awards – individual and team - are made to encourage and reward excellent undergraduate clinical teaching across the NHS in West Yorkshire & Harrogate and to support the development of medical, healthcare and dental staff in this area. Successful applicants will have demonstrated evidence of promoting and enhancing the student learning experience, supporting colleagues and a commitment to ongoing professional development. Team Awards will have also demonstrated how the development and integration of their team has enhanced excellent placement teaching.
Development Awards are made to junior staff who are within the first five years of starting their career in medical education and can show that they have already received positive student feedback and are active in clinical teaching.
This year because of the exceptional quality of the applications two Certificates of Merit were also awarded.
The School of Medicine sends its congratulations to this year's winners and our thanks to all those involved in undergraduate medical education
Details of all our award winners can be found below:
Clinical Teaching Excellence Awards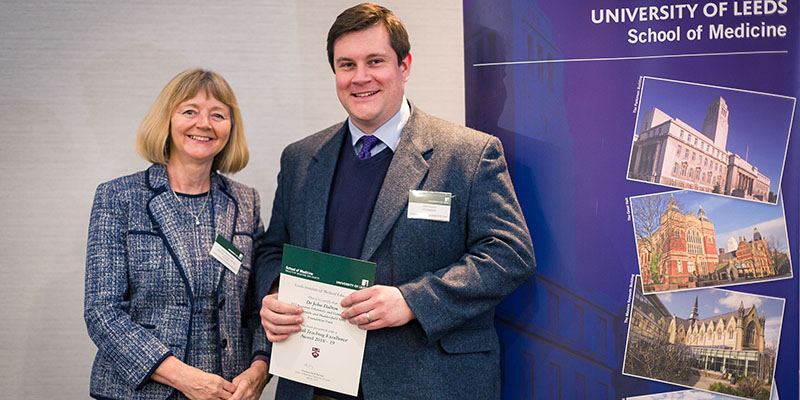 1. Dr John Dalton, ST5 Registrar, Obstetrics and Gynaecology, Calderdale and Huddersfield NHS Foundation Trust
John has a passion for enhancing the student learning experience, contributing to Year 1 reproductive lectures and Year 4 GOSH teaching and assessments. He has co-supervised ESREP students and intercalators in the BSc in International Health. He has supervised 20 medical and midwifery students undertaking elective placements in Uganda. John has given his own time to teach and contribute to events for the Leeds Obstetrics and Gynaecology Society such as a 'carer's day in the life' event. John gains excellent student feedback and numerous green cards. He has recently been appointed feedback lead for GOSH, enabling him to focus on feedback about all aspects of the GOSH placement. Feedback regarding prescribing has improved a great deal and for GOSH overall. John has completed both the PG Certificate and MEd in Clinical Education at the University of Leeds, and has become a tutor on the Postgraduate Certificate course. He has been appointed Honorary Clinical Adviser to the Royal College of Obstetricians and Gynaecologists 'Resilience in Obstetric Skills' programme and an IMEX Scholar by LIME. He is about to embark upon a part-time MD in Medical Education and Global Health.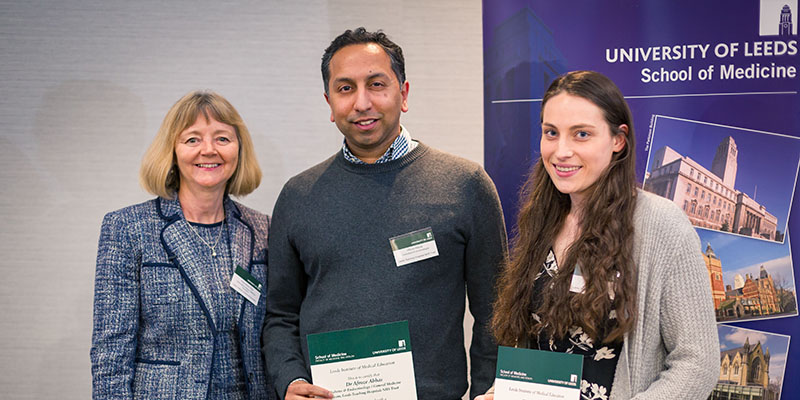 2. Diabetes & Endocrinology / General Medicine team, The Leeds Teaching Hospitals NHS Trust
The Diabetes and Endocrinology 5th Year placement have used student feedback to directly adapt, change and improve the attachment. They have successfully improved formal feedback gaining 100% in key categories. The team incorporated formal prescribing teaching, providing real prescription charts and eMeds with worked examples. They have improved the direct Consultant teaching, delivering small group teaching, weekly bedside teaching and a specific detailed placement handbook. They have tailored the placement, by creating individualised student timetables, to ensure worthwhile time is spent at placement. This includes specific clinics with previous good feedback, so students are not competing with other groups to get good teaching. Excellent student feedback comments, including numerous green cards have been received for their positive learning environment. They have disseminated good teaching practice, such as prescribing teaching and recommended clinics to the Year 3 placement team. They have joint teaching and peer teaching from 5th to 3rd Years. A main focus of the placement is to ensure that students are fully incorporated into the ward team, and they attend and contribute to the daily MDT. The placement lead is keen to pursue the PG Certificate in Clinical Education to allow further, continued innovation of this placement and the opportunity to progress other education opportunities.
Dr Afroze Abbas - Consultant Endocrinologist
Dr Rebecca Sagar - Core Medical Trainee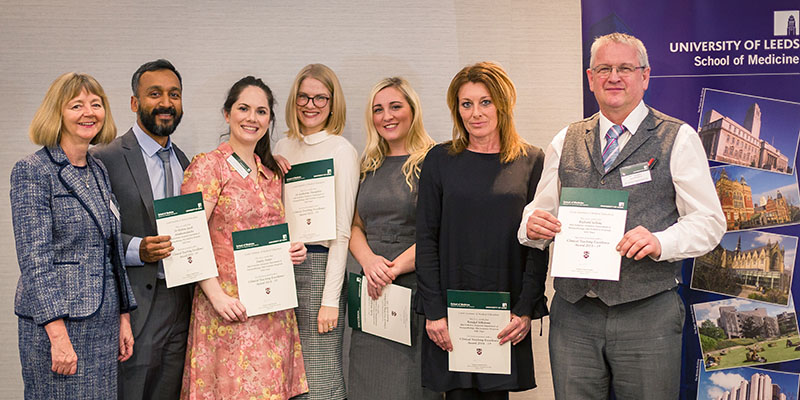 3. Mid Yorkshire Hospitals Department of Histopathology team, Mid Yorkshire Hospitals NHS Trust
The Histopathology team are involved in teaching medical and dental students. The Histopathology curriculum includes a guided tour of the laboratory, assessing specimens in the cut-up room, a posting-specific talk and a multi-header microscopy session. 3rd Year medical students have a day in the mortuary to observe post mortems and refresh their anatomy knowledge of pathophysiology whilst encouraged to postulate a cause of death for the observed post mortems. Feedback is acted upon, through peer review sessions to improve teaching sessions and student feedback is shared with all the teams to ensure continuous improvement. The team have gained overwhelming positive feedback from students and staff. The programme has changed the perception of medical students towards Histopathology, medical students realise how important filling in clinical details on the Histopathology request form is. The team invite students to come back in a voluntary capacity, and have introduced a Poster Presentation programme for students with the aim of presenting a poster at the annual scientific meeting. The programme has been assessed centrally and has been recommended to other DGH Histopathology Departments across Yorkshire.
Richard Sellens - Expert Practitioner,
Aneliese Bennett, Emily Potter, Trainee Expert Practitioners
Shohaib Banaras - Senior Biomedical Scientist,
Karen Hilton - Biomedical Scientist
Kelly Midgley - Anatomical Pathology Technician
Kendal Silkstone, David Sheard - Head Anatomical Pathology Technicians
Dr Katherine Humphris - Histopathology Specialty Registrar
Dr Paul Bennett, Dr Mathew Jacob Alemkunnapuzha - Consultant Histopathologists
4. College Lane Surgery team, Ackworth, Pontefract
The College Lane Surgery is an advanced training practice delivering teaching to 1st, 2nd and 4th Year medical students and have a dedicated Education Co-ordinator. Recent improvements have included the introduction of online induction protocols to provide students with essential information before they arrive. They provide a bespoke timetable which involves observation of the whole spectrum of clinicians in the practice. They provide learning across year groups and joint tutorials. They have increased the number of acute clinics for 4th Years after receiving positive feedback. The team have received excellent student feedback for the opportunities and positive learning experiences. The team have been nominated for and won numerous awards showing their commitment to excellence in clinical care and teaching practice. They have protected time dedicated to planning the education programme. Students are welcomed within the whole practice community and invited to the weekly practice meetings. Students have a dedicated learning and teaching room to undertake private study and act as a base for their time on placement.
Dr Jonathan Eastwood - Senior GP Partner,
Dr Lisa Yellop, Dr Edward Platford, Dr Jordache Myerscough, Dr Adam Richardson - GP Partners
Dr Helen Ratcliffe, Dr Ruth Roche - Salaried GPs
Mrs Kirsty Farrar – Practice Manager,
Mrs Sara Thackray – Education Co-ordinator
Terri Hazelgrave – Practice Nurse Team leader,
Lesley Carlile, Amanda Stanley – Practice Nurses
Clinical Teaching Development Awards
5. Dr Alyshea Hodgson, Foundation Year 1, Calderdale and Huddersfield NHS Foundation Trust
Alyshea has considerable experience in delivering undergraduate teaching, including a simulation training day, SupporRTT mentoring course, First Aid in a ward-based setting. She created SHOC (Simulated Hospital Out of hours on-Call) for final year medical students. She redesigned the virtual on-call programme, introduced high-fidelity simulation and created simulated patients. The course has received great feedback, students feel more confident during handover, prioritising jobs and generally more prepared for on-call shifts. Alyshea has participated in several courses to ensure she is equipped to run simulation. She aims to apply for Core Psychiatry Training and hopes to continue to teach Leeds medical students on mental and physical health. Alyshea plans to pursue a PG Certificate in Clinical Education and to run further training programmes for Leeds students and junior staff in the future.
6. Dr Peysh Patel, Cardiology Registrar, Mid Yorkshire Hospitals NHS Trust
Peysh has actively engaged in teaching undergraduates since commencing his postgraduate training. He has been the course director for an innovative revision symposium on 'medical finals: a conceptual overview' closely aligned with the Year 5 curriculum. More recently, he was appointed as a lecturer for the cardiovascular strand. He is a tutor for Cardiology Body Systems (Year 1) and Clinical Examinations (Year 2). He has engaged extensively with Year 5 teaching, providing lectures, in addition to acting as a facilitator for 'Learning to teach' sessions to encourage critical appraisal in students. Peysh has completed a PG Certificate and Diploma in Health Research at the University of Leeds, has a number of publications, and he led a project to create a cardiology e-learning package for medical undergraduates. Over the course of his PhD, he acted as a personal tutor for intercalating students.
7. Dr Camilla Ledgard, Core Trainee Year 1 – ACCS anaesthetics, Calderdale and Huddersfield NHS Foundation Trust
Since graduating from Leeds in 2015, Camilla has engaged in formal teaching to enhance the student learning experience. She has run various group teaching sessions, including a significant amount of high fidelity simulation teaching; breakfast club teaching, an annual 3rd Year MOSCE for the past 5 years, 4th Year ACC and 5th Year revision lecture series, clinical skills revision series, running out of hours experience shifts for 5th Year students and more. Camilla has received multiple green cards and positive student feedback for these sessions. She has attended OSCE examiner training and examined the Physician Associates and MBChB OSCE examinations. She regularly visited wards, as a clinical educator to encourage and facilitate teaching from junior doctors and nurses. Camilla is keen to further develop her teaching career, and plans to pursue a PG Certificate in Clinical Education.
Clinical Teaching Excellence Certificates of Merit
The increased number of high-quality applications this year has resulted in the awarding of two Certificates of Merit.
Undergraduate Dermatology Team, The Leeds Teaching Hospitals NHS Trust
The Undergraduate Dermatology team deliver teaching to 3rd Year medical students as part of their Special Senses rotation. The have significantly improved the student feedback over the last year, spending time updating the programme to address teaching needs and engage all students. The team have worked closely to develop a coherent approach to deliver high-quality education. Registrars are actively encouraged to take part in teaching and this has enabled them to develop their teaching skills. Throughout the placement, teaching is given by different members of the multidisciplinary team. The lecture timetable has been updated with new lectures, students receive a thorough induction to the department, a clear structured timetable, concise induction booklets, clear objectives and useful educational resources prior to starting placement. Experience is gained through a variety of clinics and surgical sessions. Different teaching methods are utilised as well as student-led clinics. Each student receives individualised written feedback at the end of the placements with suggested areas to work on. The end of placement survey feedback from 2018-19 has shown significant improvement in all domains, gaining 100% in key categories.
Dr Rachel Montgomery and Dr Philip Laws, Consultant Dermatologists
Dr Kate Warburton, Dr Noha Elshimy, Dr Jenny Ward, Dermatology Registrars
Dr Joseph Natale, Foundation Year 2, The Leeds Teaching Hospitals NHS Trust
Since graduating at Leeds, Joe has been committed to delivering teaching to undergraduate students. This has included establishing a new induction programme now integrated into induction, to better facilitate new doctors into the Trust. He has been a committee member of the Countdown to Finals lecture series, coordinating the lecture programme, as well as delivering a lecture in these sessions. He has engaged both in the interview and OSCE process for Physician Associate students. He ran the peer-assisted learning programme for Year 4 students whilst an undergraduate and he has delivered multiple bedside teaching sessions. Joe has received excellent feedback from students, for the sessions he has delivered and for courses and programs he has organised. Joe plans to pursue a PG Certificate in Clinical Education, and to develop new teaching opportunities, such as a 'foundation skills for surgery' course at Leeds, to be delivered to final year medical students with an interest in surgery or who have surgical foundation posts.