Research project
Enabling health and maintaining independence for older people at home: the 'HomeHealth'
Partners and collaborators: Funded by the National Institute of Health Research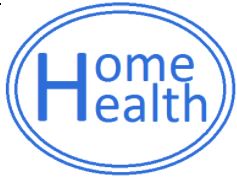 Description
As we age, we often experience increasing difficulties that might include becoming tired more easily, feeling weaker, not enjoying our food quite as much, feeling low, finding it harder to get outdoors regularly or needing support with everyday tasks such as lifting heavy shopping. It is important for the NHS to find better ways to support our health and well-being at an early stage to enable us to remain as active and independent for as long as possible.
University College London designed the HomeHealth service in 2014-2015 in partnership with older people, carers, health and social care professionals and experts. It aims to help people aged 65+ who are starting to find everyday activities more difficult to stay independent and healthy for as long as possible.
Study Protocol
They piloted the HomeHealth service in two different areas in 2015-2017. The new service was well received and showed promise at keeping people independent.
The ASR is now collaborating with University College London to test the service on a larger scale in a research trial. The trial aims to recruit 386 participants across London, Hertfordshire and Yorkshire to see if it makes a significant difference to the people who use it, and if it proves to be good value if it were to be commissioned by the NHS.
Aims & Objectives
The researchers aim to test if HomeHealth helps older people who are becoming frail stay independent for longer and if it would be value for money if it were later delivered as part of standard NHS care.
Methods
This study is aimed at Older people (aged >65) living in the community and classed as mildly frail. Participants will be recruited through their GP practice, but the HomeHealth service will be delivered at their home. Service delivery will be face-to-face where possible (with appropriate personal protective equipment), but depending on current guidance in relation to the pandemic may be delivered remotely using video or telephone. There will be three main sites (Camden, Yorkshire, Hertfordshire), covering areas with high ethnic diversity, rural populations and varying levels of deprivation.
In the research study, half of the people who take part will receive the HomeHealth service, and half will receive usual care. Researchers will contact people at the start and after 6 and 12 months of being in the study to measure people's independence, quality of life, well-being and use of health and social care, to look for changes.
Population
Older people (aged >65) living in the community and classed as mildly frail.
Intervention
In the HomeHealth service, a HomeHealth worker will support the person taking part in developing a tailored programme to help them stay healthy and independent. This will be different for everyone but may include:
• developing a home exercise programme with someone to increase their energy and muscle strength
• finding ways to manage things that are becoming more of a struggle
• looking at ways to improve someone's diet to keep up their energy levels
• helping find ways of staying connected with the outside world during the pandemic
• helping someone to plan ahead to keep doing what they want to do.
This will take place over around six appointments for up to six months.
Timescales
Study period: 1st May 2020 – 30th April 2023
Recruitment target: 386 over a 12 month recruitment period
Recruitment at 23/06/2021: 87
Partners & Collaborators
Lead Applicant
Professor Kate Walters
Co-Applicants
Professor Andrew Clegg, Professor Claire Goodman, Dr Louise Marston, Jane Hopkins, Professor Claudia Cooper, Professor Pip Logan, Professor Dawn Skelton, Associate Professor Rachael Hunter, Professor Jill Manthorpe, Dr Ben Gardener, Professor Vari Drennan, Dr Rachael Frost, Dr Christina Avgerinou.
Key Contacts
Professor Kate Walters – Chief Investigator
Dr Rachael Frost – Trial Manager
Professor Andy Clegg – Bradford site Principal Investigator
Wendy Andrusjak – Researcher for the Bradford site.
Gillian Thornton – Researcher for the Bradford site
Collaborators
University College London
University of Hertfordshire Higher Education Corporation
University of Leeds (Academic Unit for Ageing and Stroke Research)
University of Nottingham
The University Court of Glasgow Caledonian University
King's College London
​Kingston University and St George's, University of London
---
https://www.isrctn.com/ISRCTN54268283
https://www.journalslibrary.nihr.ac.uk/hta/hta21730/#/abstract
This summary presents independent research funded by the National Institute for Health Research Programme Grants for Applied Research (NIHR PGfAR)  (Grant Reference Number: NIHR128334). The views expressed are those of the author(s) and not necessarily those of the NIHR or the Department of Health and Social Care.
For more information contact Wendy Andrusjak
Wendy.andrusjak@bthft.nhs.uk - 01274 383907