Adult Nursing selection event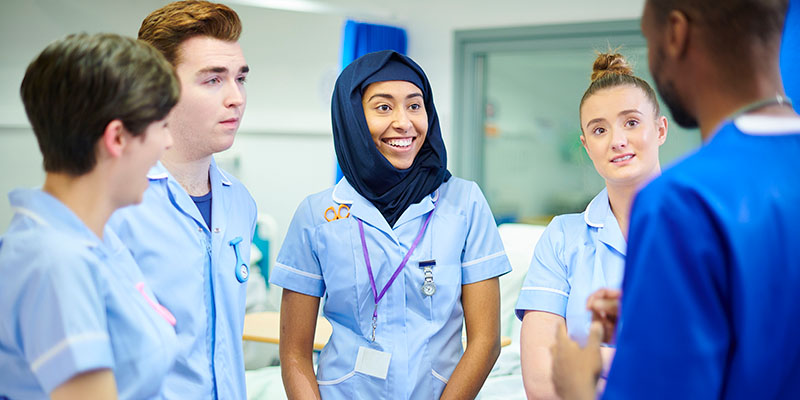 Thank you for applying to study Adult Nursing at the University of Leeds. This page is designed to provide you with more information about our selection events.
About our events
This year we'll be delivering our selection events virtually via Zoom. Our virtual events will provide you with the opportunity to find out more about the course and meet our academic staff and students.
Your event will typically last around 2 hours will start with a welcome talk from our Adult Nursing team about your course followed by a Q&A session.
You'll take part in a two group activities which are led by academic members of the Adult Nursing team. They'll also be joined by a current nursing student, where possible. Each activity will last approximately 30 minutes. It is during these two activity group activities where we'll be looking at how you communicate, work in a team, and how you demonstrate understanding of the role of an Adult Nurse.
Following the group activities, the academic member of the Adult Nursing team leading the event will explain the next steps in the selection process. There will also be time for any final questions.
Event schedule
| | |
| --- | --- |
| Activity | Duration (approx.) |
| Welcome and introductions from the programme team | 5 mins |
| Welcome talk & Q&A | 30 mins |
| Group activity and interview 1 | 15 mins |
| Group activity and interview 2 | 15 mins |
| Applicant question and answer session | 5 mins |

Confirm your place
If you haven't already confirmed your place, please do so by logging into My Visit Day and following the onscreen prompts.
Do I need to bring anything?
If possible, please ensure that you have a form of photographic ID, such as a passport or driver's licence to hand before you join the meeting. The interviewers may ask you to hold this up to the camera so they can verify your identity.
How can I prepare for my selection event?
If you have not already done so, please download the Zoom app to the device you'll be using (e.g. your smartphone, tablet, laptop, or desktop PC). A PC is the preferred device for the interview. You'll be able to join the interview quicker if you have done this ahead of time.
At your appointed interview time, click on the link within the invitation email that says, 'Join Zoom Meeting'. You should then see yourself onscreen within the app. Check your camera, microphone and speakers are not disabled, and click on the 'Join' button when you're ready. Please ensure your full name is visible onscreen.
What will the selection event assess?
Selection events are structured to test applicants on a variety of skills, abilities, and thought processes. The scenarios are designed to help us identify the applicants who have the attributes and potential to be a good clinician, in accordance with the core values of the NHS Constitution values based recruitment.
The School of Healthcare welcomes disabled applicants and works to support disabled students in accessing their studies. Disabled applicants are welcome to contact the Admissions Team and Disability Services for further advice and guidance. In line with the role of a Nurse/Midwife, there are some activities that must be completed during training for which adjustments cannot be made. Please refer to the NMC's guidance on health and character if you think this might affect your suitability for the course.
The scoring system is inclusive and based on the competencies of nursing training. Interviews are designed so that no student would be at a disadvantage should there be any additional needs. Interviewers receive training on disability awareness and inclusive practice.
If you require any additional support or adjustments (for example use of assistive technology or physical access needs), please contact the admissions team as far in advance as possible, as we will not be able to accommodate adjustments requested any later than three days before the event.
Useful links