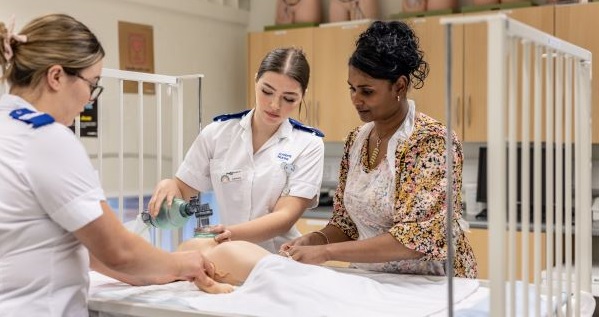 Nursing (adult)
A career as a fully trained nurse offers great variety and opportunity. There are many of roles you can progress to such as acute settings or accident and emergency nurse. You can also choose to work in various settings this may include intensive care, the police, the prison service, in the community, GP surgery, walk-in centres or nursing homes.
Nursing (mental health)
Once you have qualified as a mental health nurse you may work with patients in numerous areas including: the services users own homes, healthcare centres, hospital outpatient departments, specialist units or secure residential units. Career progression may involve you developing in a specialism area such as alcohol or substance misuse, forensic psychology, psychotherapeutic interventions, or working with offenders or children and young people.
Nursing (child)
As a children's nurse you may work in many locations including: hospitals, day care clinics, child health clinic and or the child's home. You could also become a sister or ward manager. in these roles you'd have responsibly for running a ward or a team of nurses in the community. You could train as a health visitor, neonatal or school nurse or a practice nurse in a doctor's surgery. If you choose to progress your career further you could move to a nurse consultant role, in this job you would work with patients to carry out research.
<iframe width="560" height="315" src="https://www.youtube.com/embed/Vprc6KeexhA" frameborder="0" allow="accelerometer; autoplay; encrypted-media; gyroscope; picture-in-picture" allowfullscreen></iframe>
Midwifery
Midwifery services are increasingly moving from hospital to community-based environment allowing midwives to work in a variety of healthcare settings. Midwives work as a part of a team of healthcare professionals including GP's, health visitors and social workers. The midwife's role is very diverse, their work includes: carrying out clinical care, providing health education, supporting the mother and her family through the child bearing process.
You could work in the community, postnatal wards, maternity theatres, delivery suites, midwifery-led units. As you progress in your career you could decide to specialise in areas such as: burns and plastics, child protection, cancer care, neonatal nursing or intensive care.
Social Work
As a newly qualified social worker you can expect to work in places such as hospitals, nursing homes, schools, child protection. Most social work jobs tends to be found through local authorities; either in children's or adult services.
Other areas social workers can specialise in are: managing adoption and fostering processes, working with children in care, supporting adults with mental health problems, working with young offenders. Whatever area you choose to practise in, there will be an opportunity to progress to more senior roles. Social workers are employed by charities, private organisations, and local authorities.
<iframe width="1078" height="636" src="https://www.youtube.com/embed/tK-YLB3AJDk" frameborder="0" allow="accelerometer; autoplay; encrypted-media; gyroscope; picture-in-picture" allowfullscreen></iframe>