Leeds Unit for Complex Intervention Development (LUCID)
Group summary: LUCID is a methodological research group based across LIHS and LICTR within the School of Medicine, developing and optimising complex healthcare interventions to improve patient and public outcomes.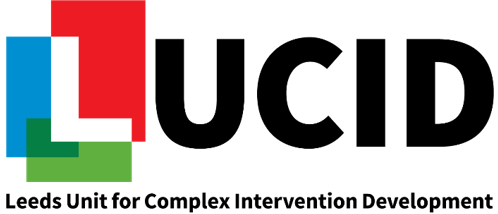 Our mission
We provide an interdisciplinary centre of excellence for developing and optimising complex health care interventions. Using mixed-methods research, our aim is to develop evidence-based interventions designed to be implemented and tested in 'real world' applied health care settings, and to push forward the methodological approaches to intervention development and process evaluation. Our interventions will be designed to improve the outcomes for both service users and providers.
Rationale
In 2008 the Medical Research Council published a framework for developing and evaluating complex interventions (most recent update 2021). Complex interventions include a 'black box' of multiple, interacting components and mechanisms which are modified by the context in which the intervention is delivered. Understanding these factors is critical to ensuring a novel intervention is fit for purpose, can be reproduced/implemented elsewhere, and is likely to result in important health benefits whilst minimising unintended consequences.
What we do
We use mixed methods approaches, combining evidence synthesis, qualitative and quantitative methods, to deliver evidence-based intervention development and process evaluation. We work across a range of conditions (e.g. cancer, musculoskeletal disease, surgical specialties) and settings (e.g. acute care, primary care) with a shared characteristic that these interventions are, to varying degrees, complex in nature and require careful design to optimise their clinical and cost effectiveness when implemented real world settings.
Who we are
The diversity of methodological approaches applied in intervention development and process evaluation studies can appear daunting. Established in 2019, LUCID is a virtual network of researchers from diverse methodological backgrounds who are brought together by a shared academic interest. LUCID will create opportunities for: (1) high quality methodological research embedded within clinical research programmes; and (2) provide a platform for research groups in the School of Medicine and beyond to facilitate knowledge generation and transfer, as well as, sharing expertise regarding the evidence-based approaches to healthcare intervention development.
Prof Suzanne Richards, Head of LUCID
Email: Lucid@leeds.ac.uk
Twitter: @Lucid_leeds
Areas of Expertise
Our aim is to develop and apply complex interventions that can be implemented in real-world settings, and which improve health care and health outcomes. Our expertise is in applying appropriate study designs and methods to develop, optimise, and evaluate the processes of embedding complex interventions in applied health settings.
We are a mixture of applied health researchers and clinical trial methodologists, and we use a range of methods (including qualitative and quantitative study designs and health economic appraisal) to inform the content and implementation of complex interventions. We also undertake research to improve study methods and to inform the design and conduct of clinical trials.
Our experts in specific methods are listed are listed below:
Academic capacity development
LUCID offers a vibrant, supportive environment in which to undertake a higher research degree in the field of complex intervention development. We also support and mentor researchers looking to build/consolidate their skills as part of post-doctoral training awards working with colleagues from the wider School of Medicine and external partnerships with other Universities.
We work flexibly offering both full-time and part-time registration; many of our higher degree candidates combine study with clinical practice. If you would like to find out more about supervision opportunities, please do contact us to discuss your interests.
See the current range of our supervised PhD candidates: