DBS Information for Applicants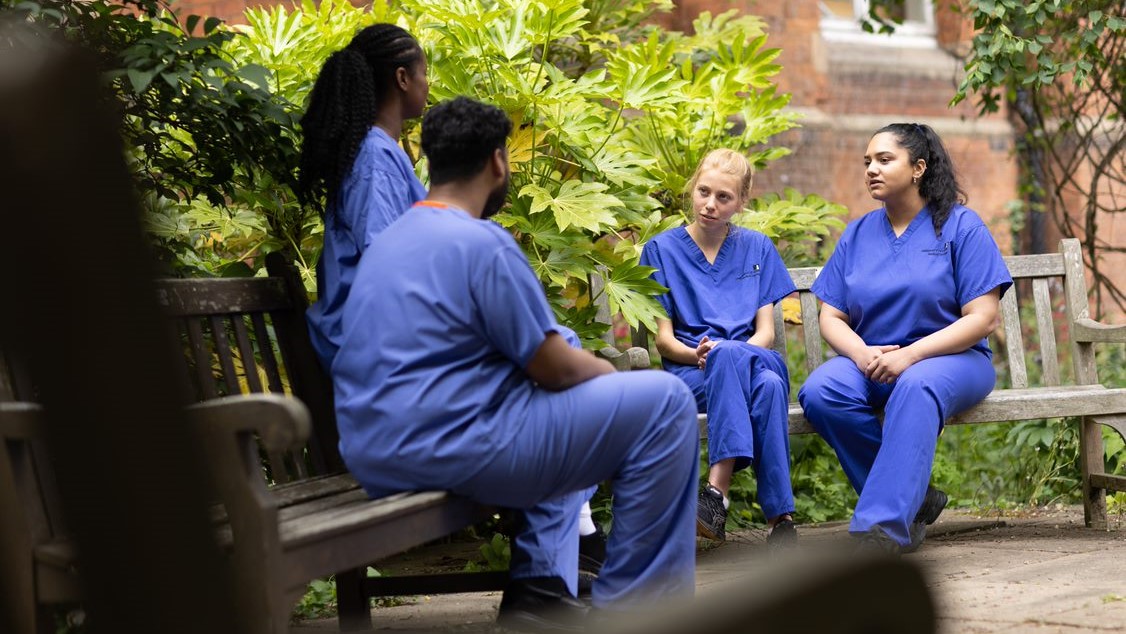 Why do I need an Enhanced DBS Certificate?
As part of your offer, an Enhanced DBS (Disclosure and Barring Service) certificate is required for you to undertake clinical placements, as part of your studies, within the Faculty of Medicine and Health. The certification process is undertaken on entry to the programme and may be repeated whilst you are still undertaking the same programme of study.
The Enhanced DBS certificate can only include background checks on your time in the UK. If you have been resident in the UK for less than 3 years, a criminal record check from your home country is also required. This may be referred to as an international criminality check, but the names can vary. An Enhanced DBS certificate will be requested once you have arrived in the UK.
The University of Leeds is obliged to refuse admission to applicants for certain courses, which are regulated by national or statutory bodies, where an Enhanced DBS certificate or international criminality check reveals prior criminal behaviour giving rise to concern for the protection of the public.
It is important you respond quickly when you receive notification from the Faculty of Medicine & Health that DBS certification or other criminality checks are required since clinical placements cannot be attended by those who fail to comply with the clearance processes. 
Enhanced DBS applications and international criminality checks are managed via the University's DBS system hosted by Matrix Security Watchdog.  A Privacy Notice Statement for Matrix Security Watchdog is available to explain how your information is managed.  
The following contains details of the steps you should follow to apply for the Enhanced DBS certificate or international criminality check. 
Step 1: Verify Identification Documents In Person
We will be conducting in-person verification of your ID on campus during Registration and Welcome Week.
You will receive an email confirming the date, time and location of your ID check.
Please check the acceptable personal documents table listed by Matrix Security Watchdog and ensure that you bring them with you to Leeds.
Our on-campus team will verify your documents and upload them into Matrix Security Watchdog in order to create your account.
If you have a non-UK/Irish National passport or have lived in the UK less than 3 years a Right to Work check is also required. If this applies to you, please follow the process below to generate your share code prior to coming onto campus to verify your documents. If you have a UK/Irish National passport, please skip to Step 2.
Generate your share code (if applicable)
Generate an online share code by accessing the employer portal at https://www.gov.uk/prove-right-to-work/. Please make a note of this share code and/or email your relevant school on:
School of Dentistry – DBS_Dentistry@leeds.ac.uk
School of Medicine – DBS_Medicine@leeds.ac.uk
School of Healthcare – DBS_Healthcare@leeds.ac.uk
Once we receive your code, we will be able to download your Right to Work and this will therefore enable us to complete the face-to-face verification along with your acceptable ID documentation.
Step 2: Welcome Email and Registering your Account
Once you have had your ID documents verified, you will receive a Welcome Email from Matrix Security Watchdog to the email address you recently provided to continue your DBS application process.
The Matrix Security Watchdog welcome email will come from Screening@securitywatchdog.org.uk.
Please ensure you look in your Spam and Clutter for this email, if you believe you have not received this email please contact the relevant school who can resend the Welcome Email to you:
School of Dentistry: DBS_Dentistry@leeds.ac.uk
School of Medicine: DBS_Medicine@leeds.ac.uk
School of Healthcare: DBS_Healthcare@leeds.ac.uk
You can then register your account with Matrix Security Watchdog to enable you to submit your application.
Step 3: Submitting your Enhanced DBS Application
This step will guide you through submitting your Enhanced DBS Application to the Matrix Security Watchdog system.  
You are required to complete all parts of the screening process prior to submitting your application:  
Proof of address - your supporting documents that we verify for you must include proof of your current address. This is where your DBS certificate will be posted to by the DBS Service.   
Personal details - you must indicate your name exactly as it appears on your passport, including middle names, otherwise your application will be unsuccessful.
Address timeline - there cannot be any gaps/overlaps in your address history for the past 5 years. Please make sure the month and year of each address follows that of the previous address, e.g. if you moved house in September 2020 ensure this date is repeated as your last date at your previous address and also the first date that you moved into your new address.
If you have spent a period of 6 months or more outside of the UK you may be asked to provide more documentation or answer some extra questions for us to complete the Criminal Records check process for that country where applicable.
Declarations  
My documents - these will have been uploaded for you when you have your documents verified on campus.
Terms and Conditions
Step 4: Matrix Security Watchdog Send Completed Application to DBS Service
Once you have completed your application form you will be given a reference number. Please make a note of this number, as you may need it for future reference. If you entered an email address onto your application form, you will receive a confirmation email containing these details.  
Your form will now be processed by Matrix Security Watchdog and will be sent to the DBS. It takes approximately 2-4 weeks for a disclosure result to be returned, however this is not a guarantee. You will receive the DBS certificate in the post once checks are complete.  
Matrix Security Watchdog will undertake International Criminality Checks where a student has lived outside the UK for a period of 6 months or more. If additional information is required for Matrix Security Watchdog to undertake these checks, they will contact you for additional information.  
Matrix Security Watchdog will reach out to you if any details are missing to ensure you are guided through resolving any issues.   
If you have any questions, please contact the University of Leeds Matrix Security Watchdog screening team on 01420 593830 who will be happy to assist. Alternatively, you can use the online chat bot on the Help Hub who can provide guidance on documentation and application queries.  
Step 5: DBS Certificate approval and receiving your certificate
Once your application has been successful you will receive your DBS certificate in the post and the Admissions Team will receive confirmation of your DBS number.  
Please ensure you keep the original copy of the DBS certificate you receive safe as you may be asked by your placement providers to provide this evidence prior to your placement starting. Where your placement provider requires proof of your DBS certificate, they will contact you for this information.   
Thank you for your prompt action and we look forward to meeting you in September!
FAQs
I already have a DBS Certificate from my job, can I use that one?
We will still need you to complete a new DBS check for us, as it is specific to your role as a Clinical Placement Student. Unless you are on the DBS Update Service – in which case, please send a scanned copy or picture of your certificate for verification by your relevant school:
School of Dentistry – DBS_Dentistry@leeds.ac.uk
School of Medicine – DBS_Medicine@leeds.ac.uk
School of Healthcare – DBS_Healthcare@leeds.ac.uk
I am on the DBS Update Service. Do I still need to apply for a DBS Enhanced Check?
As long as you are on the Update Service for an Enhanced DBS with a barred list check and not a basic check, we do not require you to complete a further DBS application.
Please email us a scanned copy or picture of your DBS certificate, so we can confirm this is still valid to the relevant School email address above.
I won't be in the country to attend Welcome Week
We strongly recommend you attend the University of Leeds Welcome Week. Not only are we unable to verify your documents after this date but you will be missing important aspects of the Welcome Week such as an induction to your course and collecting your uniform.