Clinical Training Fellowships in Cardiovascular Imaging
Previous and current fellows
Here you will find information about our previous and current fellows ( link to fellow page)
Multimodality Cardiovascular Imaging Fellows
Dr Sebastian Onciul
In 2016 Dr Onciul was awarded an EACVI travel grant to spend 1 year in Leeds training in Cardiovascular Magnetic Resonance imaging and echocardiography as part of the imaging fellowship programme. During his time in Leeds, He acquired large expertise in advanced CMR including stress perfusion and 4D flow. Moreover, he was involved in research projects. Following the fellowship, he returned to Romania where he works in a high volume CMR centre in Bucharest performing high-quality CMR examinations in collaboration with radiologists and sharing his expertise in stress perfusion imaging to his colleagues.
---
Dr Philip Haaf
Following his doctorate, Dr Haaf obtained a postdoc. mobility fellowship funded by the Swiss National Science Foundation to undertake the Leeds Imaging Fellowship and specialise in cardiac magnetic resonance. He is now a cardiology imaging consultant specialist at the University Hospital in Basel, Switzerland.
---
Dr Bernhard Herzog
After completing the cardiology training at the University Hospital Zurich in Switzerland Dr Bernhard Herzog obtained funding from the Swiss National Foundation to undertake the Leeds Imaging Fellowship, specialising in CMR. Dr Herzog has a particular interest in cardiac imaging, in particular, CMR, echocardiography, cardiac CT and nuclear cardiology. After his fellowship, he returned as a cardiologist based in Lucerne, where he founded the Heart Clinic Lucerne.
---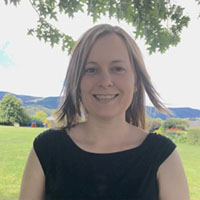 Dr Kerry Johnson
After completing her cardiology training at Tauranga and Auckland City Hospitals Dr Johnson obtained funding from the New Zealand Heart Foundation to undertake the Leeds Imaging Fellowship, specialising in CT Coronary angiography, CMR and echocardiography. She has a particular interest in 3D Transoesophageal echocardiography and valvular heart disease. After her fellowship, Kerry returned as a cardiologist based in Nelson Hospital, where she has gone on to set up and lead the CT coronary angiography service.
---
Dr Manali Jain.
Dr Jain s a current Leeds Imaging Fellow and has a particular interest in advanced echocardiography (stress and 3D-TOE), CTCA and CMR. She is supported by the New Zealand Heart Foundation Overseas Fellowship Grant and will be returning to New Zealand in the capacity of a clinical imaging cardiologist following completion of training in August 2019.
---
Pre-award fellowship in CMR Fellows
Dr T Craven
Dr Craven T. is currently taking time out of the cardiology training programme as a clinical fellow on a pre-award scheme studying towards an MD. His research interests are Cardiac MRI in valvular heart disease and exercise Cardiac MRI. This role has facilitated presenting his research at the EuroCMR international conference and has provided the skills to deliver teaching in Cardiac MRI at national conferences and courses.
---
Dr C Saunderson
Dr Saunderson C. is currently a clinical research fellow at Leeds University. His fellowship focused on the use of CMR in the assessment of pacemaker induced cardiomyopathy. During his first Year in the fellowship, he applied for a BHF Project grant Fellowship on "Mechanisms and Prevention of Pacemaker Induced Cardiomyopathy" aiming to apply for a 3 year PhD Research programme. Chris has published two peer-reviewed papers/abstracts during his time in Leeds and presented at an International Conference.
---
Dr Pei Gee Chew
Dr Pei Gee Chew was awarded a clinical research fellowship in 2016 and during this time she focused her research on "The investigation of mitral regurgitation with cardiac MRI". Her research projects are funded by the British Heart Foundation and her work leads to an MD degree. Pei Gee has published 2 peer-reviewed papers during her time in Leeds.