Leeds Unit for Complex Intervention Development (LUCID)
Group summary: LUCID is a methodological research group based across LIHS and LICTR within the School of Medicine, developing and optimising complex healthcare interventions to improve patient and public outcomes.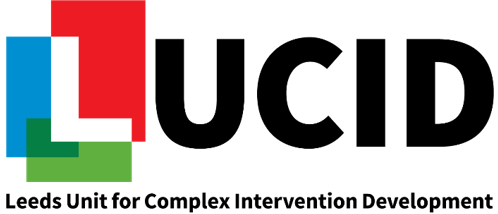 Our mission
We provide an interdisciplinary centre of excellence for developing and optimising complex health care interventions. Using mixed-methods research, our aim is to develop evidence-based interventions designed to be implemented and tested in 'real world' applied health care settings, and to push forward the methodological approaches to intervention development and process evaluation. Our interventions will be designed to improve the outcomes for both service users and providers.
Rationale
In 2008 the Medical Research Council published a framework for developing and evaluating complex interventions (next update due 2019). Complex interventions include a 'black box' of multiple, interacting components and mechanisms which are modified by the context in which the intervention is delivered. Understanding these factors is critical to ensuring a novel intervention is fit for purpose, can be reproduced/implemented elsewhere, and is likely to result in important health benefits whilst minimising unintended consequences.
What we do
We use mixed methods approaches, combining evidence synthesis, qualitative and quantitative methods, to deliver evidence-based intervention development and process evaluation. We work across a range of conditions (e.g. cancer, musculoskeletal disease, surgical specialties) and settings (e.g. acute care, primary care) with a shared characteristic that these interventions are, to varying degrees, complex in nature and require careful design to optimise their effectiveness when implemented real world settings.
Who we are
The diversity of methodological approaches applied in intervention development and process evaluation studies can appear daunting. Established in 2019, LUCID is a virtual network of researchers from diverse methodological backgrounds who are brought together by a shared academic interest. LUCID will create opportunities for: (1) high quality methodological research embedded within clinical research programmes; and (2) provide a platform for research groups in the School of Medicine and beyond to facilitate knowledge generation and transfer, as well as, sharing expertise regarding the evidence-based approaches to healthcare intervention development.
Prof Suzanne Richards, Head of LUCID
Email: Lucid@leeds.ac.uk
Twitter: @Lucid_leeds
New frontiers-methodology of developing and optimising complex interventions in health care settings
It is with regret as a result of the coronavirus outbreak that we have taken the difficult decision to cancel the LUCID 'New Frontiers in the methodology of developing and optimising complex interventions in healthcare' lectures and workshops on Wednesday 22nd April 2020. We are mindful of the need to support individuals who are socially distancing, and the safety of our delegates is of paramount importance to us. Many of our delegate may also have to work flexibly within their organisations to provide cover for core business, be it in health care settings or education.
We were looking forward to an interactive day with our colleagues from neighbouring Universities and health care organisations and to learn from them. We will make a decision as to whether to reschedule to the event in the Autumn, when the impact and timelines of the unfolding epidemic are more certain in the next couple of months. We will be in touch again soon and will organise to refund those who have paid their booking fee for the afternoon workshop. We will contact people on bursaries separately to advise of next steps. We hope to see you in the Autumn.
Cancelled: Wednesday 22nd April 2020 – Medical Lecture Theatre, University of Leeds
The Leeds Unit for Complex Intervention Development team (LUCID) welcome you to an event exploring new frontiers in the methodology of developing and optimising complex interventions in health care settings. The morning is free to attend. We will explore methodological opportunities and challenges for researchers and clinicians developing complex health care interventions.
In the afternoon delegates will be offered a choice of two 'mini-master class' workshops providing an introduction to key methodological issues of importance to academics and clinicians interested in designing complex health care interventions.
The following workshops will take place:
Suzanne Richards (Head of Unit)
Examples of previous research by LUCID researchers:
Backman R, Foy R, Michael BD, Defres S, Kneen R, Solomon T. The development of an intervention to promote adherence to national guidelines for suspected viral encephalitis. Implementation Science. 2015;20;10:37 doi: 10.1186/s13012-015-0224-2
Bennet MI, Mulvey MR, Campling N, Latter S, Richardson A, Bekker H, Blenkinsopp A, Carder P, Closs J, Farrin A, Flemming K, Gallagher J, Meads D, Morley S, O'Dwyer J, Wight-Hughes A, Hartley S. Self-management toolkit and delivery strategy for end-of-life pain: the mixed-methods feasibility study. Health Technology Assessment. 2017:21(76),1-292. doi: 10.3310/hta21760
Bryant M, Burton W, Cundill B, Farrin AJ, Nixon JE, Stevens J, Roberts K, Foy R, Rutter H, Hartley S, Tubeuf S, Collinson M, Brown J. The 'Optimising Family engagemenT in HENRY' (OFTEN) trial): Study Protocol for a randomised controlled trial. Trials. 2017;18:40. doi: 10.1186/s13063-016-1732-3
Butterworth JE, Hays R, Richards SH, Bower P, Campbell J. Interventions for involving older patients with multimorbidity in decision-making during primary care consultations. 3rd update. The Cochrane Database of Systematic Reviews, Issue 6, Art. No: CD000356. 2018. doi: 10.1002/14651858.CD000356.pub4
Caperon L, Arjyal A, K C P, Kuikel J, Newell J, Peters R, Prestwich A, King R. Developing a socio-ecological model of dietary behaviour for people living with diabetes or high blood glucose levels in urban Nepal: A qualitative investigation. PLoS One, 2019. 25;14 (3)e0214142. doi: 10.1371/journal.pone.0214142
Coleman S, Gorecki C, Nelson EA, Closs J, Defloor T, Halfens R, Farrin A, Brown JM, Schoonhoven L, Nixon J. Patient risk factors for pressure ulcer development: A systematic review. International Journal of Nursing. 2013; 50(7): 974-1003. doi: 10.1016/j.ijnurstu.2012
Coleman S, Nixon J, Keen J, Wilson L, McGinnis E, Dealey C, Stubbs N, Farrin A, Dowding D, Schols JMGA, Cuddigan J, Berlowitz D, Jude E, Vowden P, Schoonhoven L, Bader DL, Gefen A, Oomens CWJ & Nelson EA. A new pressure ulcer conceptual framework. Journal of Advanced Nursing. 2014;70(10):2222-2234. doi: 10.1111/jan.12405
Coleman S, Nixon J, Keen J, Muir D, Wilson L, McGinnis E, Stubbs N, Dealey C, Nelson E. Using cognitive pre-testing methods in the development of a new evidenced-based pressure ulcer risk assessment instrument. BMC Medical Research Methodology. 2016;16:158. doi: 10.1186/s12874-016-0257-5
Freeman M, Offman J, Walter FM, Sasieni P, Smith SG. Acceptability of the Cytosponge procedure for detecting Barrett's oesophagus: A qualitative study. BMJ Open. 2017;7:e013901. doi: 10.1136/bmjopen-2016-013901
Grant A, Treweek S, Dreisschulte T, Foy R, Guthrie B. Process evaluations for cluster-randomised trials of complex interventions: a proposed framework for design and reporting. Trials. 2013;14:15. doi: 10.1186/1745-6215-14-15
Khanal S, Elsey H, King R, Baral SC, Bhatta BR, Newell JN. Development of a Patient-Centred, Psychosocial Support Intervention for Multi-Drug-Resistant Tuberculosis (MDR-TB) Care in Nepal. 2017 PLoS ONE Mistry N (eds.). 12(1) https://journals.plos.org/plosone/article?id=10.1371/journal.pone.0167559
Kliemann N, Croker H, Johnson F, Beeken RJ. Development of the Top Tips Habit-Based Weight Loss App and Preliminary Indications of Its Usage, Effectiveness, and Acceptability: Mixed-Methods Pilot Study. JMIR Mhealth and UHealth. 2019;7(4):e12326. doi: 10.2196/12326
Kliemann N, Vickerstaff V, Croker H, Johnson F, Nazareth I, Beeken RJ. The role of self-regulatory skills and automaticity on the effectiveness of a brief weight loss habit-based intervention: secondary analysis of the 10 Top Tips randomised trial. International Journal of Behavioural Nutrition and Physical Activity 2017;14:119. doi: 10.1186/s12966-017-0578-8
Koutoukidis D, Lopes S, Atkins L, Croker H, Knobf MT, Lanceley A, Beeken RJ. Use of intervention mapping to adapt a health behavior change intervention for endometrial cancer survivors: the Shape-Up following cancer treatment program. BMC Public Health. 2018;18:415. doi: 10.1186/s12889-018-5329-5
Lorencatto F, Gould NJ, McIntyre SA, During C, Bird J, Walwyn R, Cicero R, Glidewell L, Hartley S, Stanworth SJ, Foy R, Grimshaw JM, Michie S, Francis JJ, AFFINITIE Programme. A Multidimensional approach to assessing intervention fidelity in a process evaluation of audit and feedback interventions to reduce unnecessary blood transfusions: a study protocol. Implementation Science. 2016; 11(1):163. doi: 10.1186/s13012-016-0528-x
Mahmoody N, Bekker HL, King NV, Hughes J, Jones GL on behalf of the Cancer, Fertility and Me research team. Are publicly available internet resources enabling women to make informed fertility preservation decisions before starting cancer treatment: an environmental scan? BMC Medical Informatics and Decision Making. 2018;18:104. doi: 10.1186/s12911-018-0698-3
McEachan RC, Santorelli G, Bryant M, Sahota P, Farrar D, Small NA, Akhtar S, Sargent J, Barber SE, Taylor NJ, Richardson G, Farrin AJ, Bhopal R, Bingham D, Ahern SE and Wright J. The HAPPY (Healthy and Active Parenting Programmme for early Years) feasibility randomised control trial: Acceptability and feasibility of an intervention to reduce infant obesity. BMC Public Health. 2016; 16(211). doi: 10.1186/s12889-016-2861-z
O'Cathain A, Croot L, Duncan E, Rousseau N, Sworn K, Turner K, Yardley L, Hoddinott P. Guidance on how to develop complex interventions to improve health and healthcare. BMJ Open 2019;9:e029954. doi: 10.1136/bmjopen-2019-029954
O'Cathain A, Croot L, Sworn K, Duncan E, Rousseau N, Turner K, Yardley L, Hoddinott P. Taxonomy of approaches to developing interventions to improve health: a systematic methods overview Pilot and Feasibility Studies 5, Article number: 41 (2019)
Richards SH, Campbell J, Dickens C, Anderson R, Richards DAR, Taylor R, Ukoumunne OC, Kessler D, Turner K, Kuyken W, Gandhi M, Knight L, Gibson A, Davey A, Warren F, Winder R, Wright C. Assessing the effectiveness of enhanced psychological care for patients with depressive symptoms attending cardiac rehabilitation compared with treatment as usual (CADENCE). Health Technology Assessment. 2018;22(30). doi: 10.3310/hta22300
Rousseau N, Turner KM, Duncan E, O'Cathain A, Croot L, Yardley L, et al. (2019) Attending to design when developing complex health interventions: A qualitative interview study with intervention developers and associated stakeholders. PLoS ONE 14(10): e0223615. https://doi.org/10.1371/journal.pone.0223615
Sepucha KR, Abhyankar P, Hoffman AS, Bekker HL, LeBlanc A, Levin CA, Ropka M, Shaffer VA, Sheridan SL, Stacey D, Stalmeier P, Vo H, Wills CE, Thomson R. Standard for Universal reporting of patient decision aid evaluation studies: the development of SUNDAE checklist. BMJ Quality and Safety Online First. 2018;27(5):380-388. doi: 10.1136/bmjqs-2017-006986
Smith SG, Wolf MS, Obichere A, Raine R, Wardle J & von Wagner C. The development and testing of a brief ('gist-based') supplementary colorectal cancer screening information leaflet. Patient Education & Counseling. 2013;93, 619-625. doi: 10.1016/j.pec.2013.08.013
Smith SG, Raine R, Obichere A, Wolf MS, Wardle J, von Wagner C. The effect of a supplementary ('gist-based') information leaflet on colorectal cancer knowledge and screening intention: a randomized controlled trial. Journal of Behavioral Medicine. 2015;38, 261-272. doi: 10.1007/s10865-014-9596-z
Turner KM, Rousseau N, Croot L, Duncan E, Yardley L, O'Cathain A, Hoddinott P Understanding successful development of complex health and healthcare interventions and its drivers from the perspective of developers and wider stakeholders: an international qualitative interview study BMJ Open 2019;9:e028756. doi: 10.1136/bmjopen-2018-028756
Turner KM, Winder R, Campbell J, Richards DA, Gandhi M, Dickens C, Richards S. Patients and nurses' views on providing psychological support within cardiac rehabilitation programmes: a qualitative study. BMJ Open. 2017;7:e017510. doi: 10.1136/bmjopen-2017-017510
Winterbottom AE, Gavaruzzi T, Mooney A, Wilkie M, Davies SJ, Crane D, Tupling K, Baxter PD, Meads D, Mathers N, Bekker B. Patient acceptability of the Yorkshire dialysis decision aid (YODDA) booket: A prospective non-randomised comparison study across 6 predialysis services. Peritoneal Dialysis International 2016, vol 36, pp.374-381 doi: 10.3747/pdi.2014.00274
Wright J, Fairley L, McEachan R, Bryant M, Petherick E, Sahota P, Santorelli G, Barber S, Lawlor DA, Taylor N, Bhopal R, Cameron N, West J, Hill A, Summerbell C, Farrin AJ, Ball H, Small N, Farrar D. et al. Development and evaluation of an intervention for the prevention of childhood obesity in a multi-ethnic population: the Born in Bradford applied research programme. NIHR Journals Library. 2016 4:2. doi: 10.3310/pgfar04060