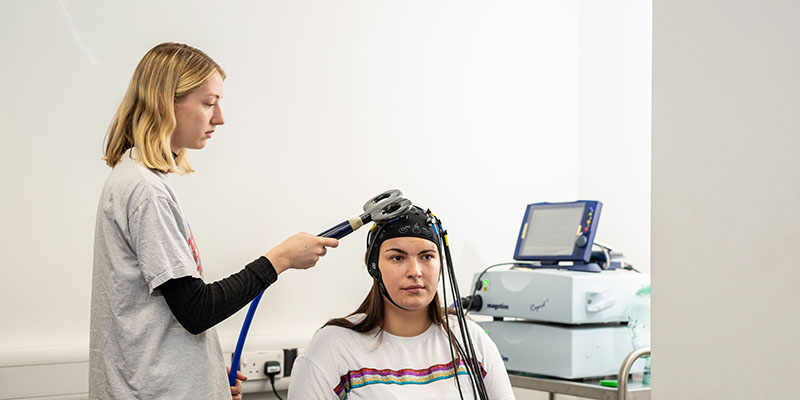 At Leeds, our teaching and research facilities support and enhance your academic studies. We're committed to constantly updating our facilities, so you'll develop your skills and gain experience by using the latest methods and technology in the field of psychology.
Our facilities also help the School to produce innovative research with real world impact in our focus areas.
Our research equipment includes:
driving simulator – for studies on driving and motion detection
electroencephalography (EEG) systems – for studies on neuroplasticity, motion detection and nutrition
virtual reality systems including Oculus Rift, HTC Vive and WorldViz Walking systems – for studies across areas such as perception, training and interventions to prevent memory decline
pressure pain simulator – for studies on pain perception
BOD POD® body scanner – for studies in health to measure total body volume, and estimates of body composition
Lunar iDXA densitometer system – used for bone and metabolic health assessment
Magstim Rapid Transcranial Magnetic Stimulator – for studies in cognitive neuroscience, psychiatry, neurophysiology and rehabilitation
Vmax® Encore PFT system – for studies in health, providing pulmonary function tests (PFT) to show how well lungs are working
polysomnography kits – for studies in sleep and health providing readings on EEG, EOG, EMG, ECG/heart rate, airflow, respiratory movement/effort, oxygen saturation and sound for snoring
dedicated biochemistry room – to enable blood sampling and processing in-house
dedicated exercise laboratory including treadmills, expercise bikes, cross trainers and rowing machines.
In addition to these facilities, all our students also have access to the campus' superb libraries and study facilities. These provide ideal conditions for individual and group work and will help you to get the most out of your study time.
With four libraries on campus that are open seven days a week during term time, we offer a variety of working environments to suit you.
<iframe width="560" height="315" src="https://www.youtube.com/embed/1koMLlFdAFk" frameborder="0" allow="autoplay; encrypted-media" allowfullscreen></iframe>