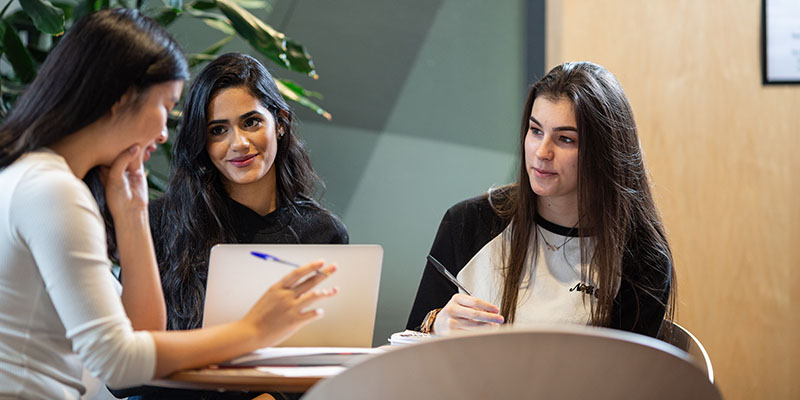 A welcoming student environment
We understand that our students thrive when they're happy and settled. We also know that, for many, studying at university may be the first time you've lived away from home (or even in the UK).
To help you settle in, we offer all our students a welcoming and supportive environment. From our School's very own student society to the University Student Union, there's a wide range of clubs and societies to support both your social life and your wellbeing.
We know that many people are understandably anxious about the current coronavirus outbreak. To find out more about the steps we're taking to remain supportive of our applicants and offer holders please visit our coronavirus FAQs.
<iframe width="750" height="422" src="https://www.youtube.com/embed/GwkOCSJzeyI" frameborder="0" allow="accelerometer; autoplay; encrypted-media; gyroscope; picture-in-picture" allowfullscreen></iframe>
As an undergraduate in the School of Psychology, you'll be taught by experts in their field and develop your skills in a friendly and encouraging environment.
Expert teaching
At Leeds, we offer you the chance to learn from some of the brightest minds in psychology. Our University's outstanding teaching has been awarded gold by the Teaching Excellence Framework (TEF 2017) - an assessment of teaching quality among higher education providers in the UK.
Learning through cutting-edge research
As a psychology student, you'll learn through a combination of teaching and engagement shaped by our School's latest research findings.
While studying with us, you'll have the opportunity to use our first-rate facilities to build your experience and gain insight into the latest methods and approaches in the ever-changing field of psychology.
You'll also develop your understanding of psychology at a prestigious Russell Group university, and be part of one of the largest research-based institutions in the UK. We provide world-leading, original research with outstanding impact, and this means you'll benefit from an excellent learning experience with unrivalled links to business and the public sector.
Outstanding career support
Your future is as important to us as your studies, so our career support starts from day one and continues throughout your time at Leeds. We're proud to say our approach looks to be working, with 89% of our graduates in work or further study within 15 months of their graduation (Discover Uni, 2020.
During your time with us you'll have access to one-to-one careers advice from a personal tutor and extensive guidance on how to prepare for the working world through the University's unique Leeds for Life initiative.
There's also a range of societies, work experience and volunteering programmes for you to get involved with; all great opportunities to enhance your CV.
Our students
Listen to what our current and previous Psychology students have to say about our courses, including their experiences of a year in industry and placements.
Our staff
Dr Christina Sotiropoulou Drosopoulou is the Study Abroad and International Student Tutor for the School of Psychology. Alongside the usual educational and personal tutoring support provided to all our students, Christina has special responsibility for international students in the School, including those with us on study abroad programmes. Christina makes sure that our international students are warmly welcomed to the School, feel integrated into our learning community, and have all the necessary information about events and resources available at the university and within the wider community. She provides three special sessions at the start of the academic term to help our international students settle-in: a welcome meeting, and academic expectations tutorial, and an essay writing tutorial. She is also available to support you throughout your stay in Leeds through signposting appropriate resources (eg English-language courses free at the University Language Centre) and providing information on such things as study skills, how to use University online student education platforms, and how to manage your workload.
All our international students are invited to join the highly active and welcoming Faculty Global Community. This is a wide network of international students with lots of events and opportunities to get to know people. There is also lots going on the School of Psychology, eg, PsychSoc, opportunities to represent the student body within the School, to get involved in psychology research, and to volunteer in the wider community. We also have a special network for international students in the School as you can see from the Facebook page which provides a great way of sharing information and keeping in touch.
We are international
Every year over 9,000 international students choose to study with us at the University of Leeds. This means you'll be joining one of the UK's most diverse and multicultural campuses.
With staff and students from all over the world in the School of Psychology, wherever you're from we'll help you settle in and make the most of your time at Leeds.
<iframe width="1280" height="720" src="https://www.youtube.com/embed/j4pt8l7e3u8" frameborder="0" allow="accelerometer; autoplay; encrypted-media; gyroscope; picture-in-picture" allowfullscreen></iframe>