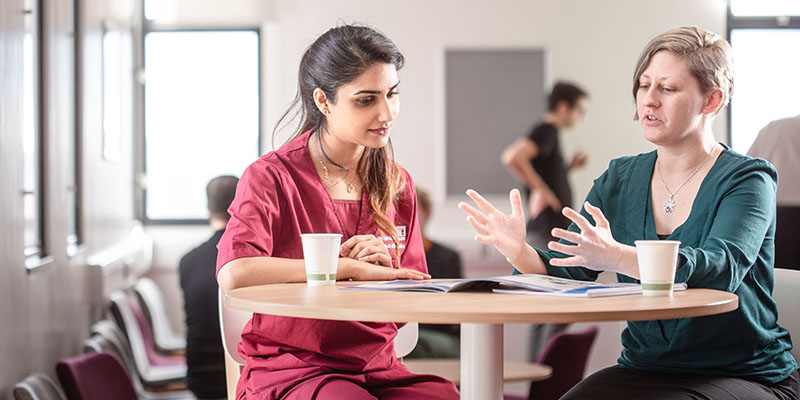 To make sure you're settled, happy and supported during your time with us, we offer all our students a wide range of dedicated student support. We'll work with you to ease your transition into the School of Dentistry and then into your chosen career.
We have in-house support specific to dentistry students called Denstudy, and our friendly team offers you both academic advice and pastoral care. Whether you need tips for essay writing or support settling into a new city, our team is here for you.
Study advice
Studying at university can be quite different to studying at college, so we offer all our taught students helpful advice and tips on areas like:
assignment writing
revision and exams prep
referencing
making the most of your feedback
presentations
time management
From one-to-one appointments, to group meetings or drop-in sessions to suit you, we're here to listen and help.
We also offer specialist support to international students joining us at Leeds. If you're an international student interested in finding out more, then why not contact an adviser.
Pastoral care
At Leeds, we offer a range of support services to help students through difficult times, or just when things aren't going according to plan. We're here to help you get the most out of your time with us.
Our Pastoral Care Advisers offer confidential appointments for all our students. From sitting and listening to offering advice, information about university services and useful resources, we do whatever we can to help.
We can offer both drop-ins and one-on-one appointments to suit you, so you know we're here for you if you need us.
Career support
To help make your move from university into work as smooth as possible, we offer all our students careers support and guidance from day one.
With our support, you'll develop the right tools and skills to stand out in the competitive world of modern dentistry.
Through Leeds for Life we offer personalised one-on-one tutoring and guidance. You'll have regular catch ups and tutor group meetings to help you with all aspects of your university life, from pastoral issues to your academic and personal development.
We also give you the chance to shape your personal tutor meetings by creating your own meeting agendas. This means you'll decide the focus and be able to get the most out of your time with us.
<iframe width="612" height="344" src="https://www.youtube.com/embed/ar9-9y2wyf4" frameborder="0" allow="autoplay; encrypted-media" allowfullscreen></iframe>
Contact us
Students can get in touch with the Pastoral Care Adviser directly or alternatively, you can email one of our advisers.