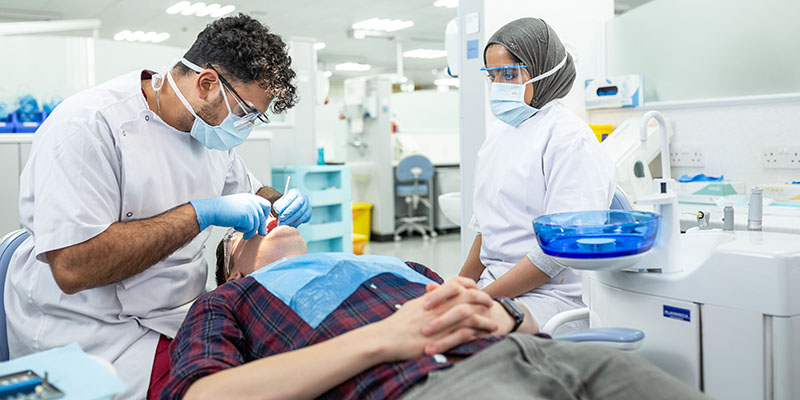 Our teaching and research is underpinned by state-of-the-art facilities and equipment. We offer you the chance to develop your skills in an innovative learning environment with access to the latest teaching and surgical skills tools. As well as our specialist teaching resources, our research facilities are second to none, which is why we have academics and collaborators from the global research community work with us at the University of Leeds.
SimToCare Haptic Simulators
Our School of Dentistry is among the UK leaders in digital dentistry. We use our experience and cutting-edge technology to enhance your learning experience and develop your skills and confidence as dental practitioners.
Our simulators give you the opportunity to practice safely on virtual cases by stimulating tactile feedback through a dental handpiece, giving you a more realistic learning experience. The simulators allow you to safely practice drilling teeth and gain valuable experience in clinical scenarios, which may be challenging to simulate using more traditional teaching methods.
Our close collaboration with SimToCare also means we can trial new and innovative solutions to real issues encountered in the teaching labs. You can also practice on specially designed exercises created to complement traditional teaching from lectures and seminars.
We have become the first dental school in the world to offer custom haptic training based on real patients' dental models, including anatomically correct contact points and gingival margins, both crucial during the preparation of crowns.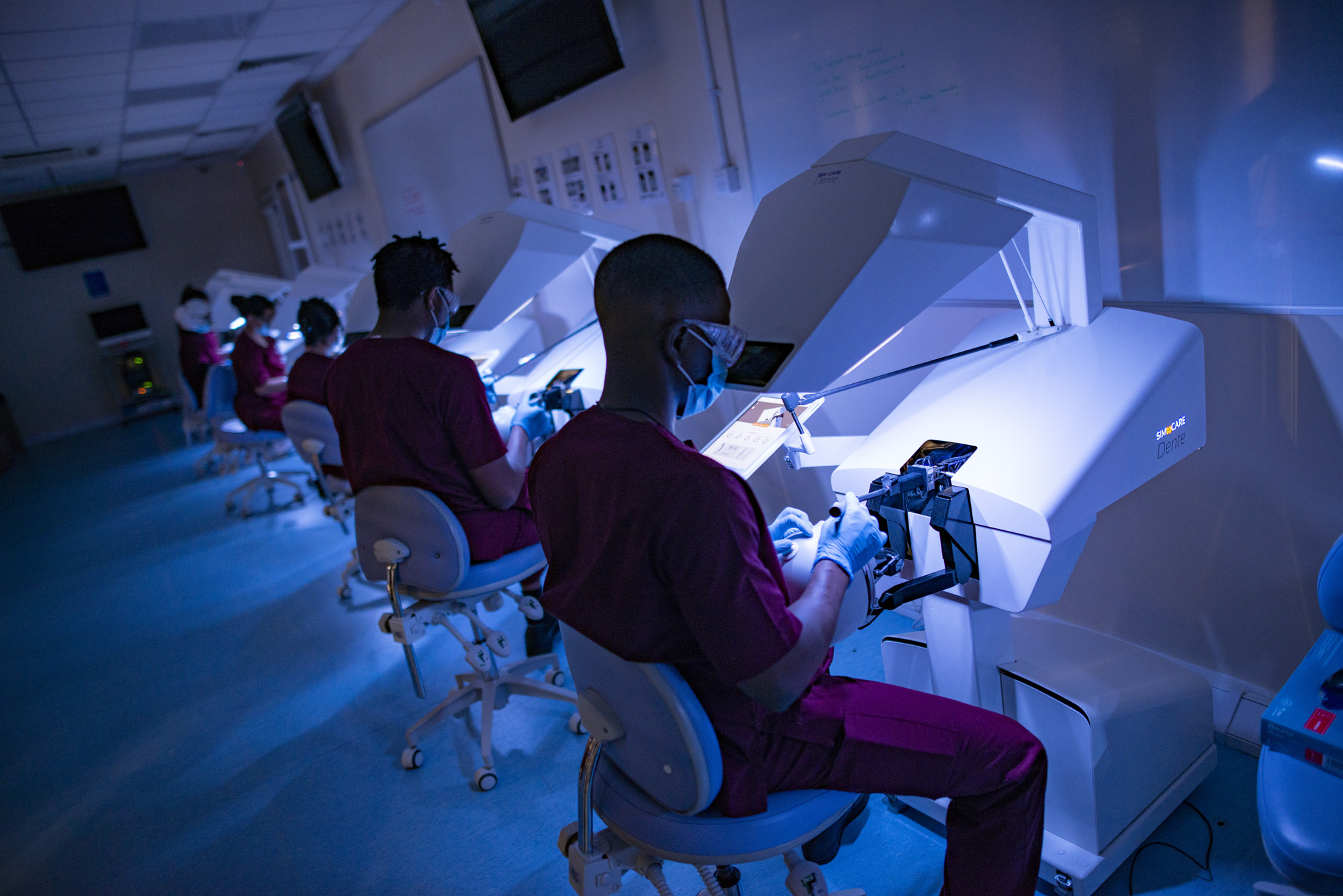 You'll use our haptic simulators to develop essential skills such as cavity design and caries removal, endodontic access cavity preparation and crown preparation. These exercises can be used by first year students at a very early stage, in a safe environment, to develop core surgical skills.
Experienced students can also benefit from more advanced lessons being developed at Leeds, such as 'patient-specific surgical rehearsal'. This world-first allows students to load their patients onto the system and practice complex procedures such as crowns, in advance of the real clinical event.
We're always looking to develop new teaching material too, guided by our ongoing research into the science of skill acquisition and accelerated learning. This collaborative project partners our research with the Schools of Psychology and Engineering to develop digital dentistry solutions to enhance all aspects of dental education.
Clinical skills classrooms
All students will also have access to our dental Phantom Heads simulators, which are housed in our clinical skills classrooms. These simulators allow you to develop key foundational skills in dental treatment with a focus on safety, control and clinical confidence, and will help you prepare for real patient treatment.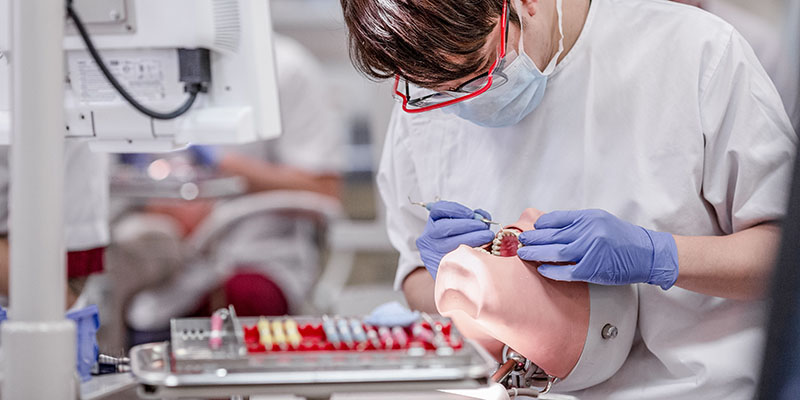 State-of-the-art teaching spaces
Our custom-designed lecture theatre has recently been completely redesigned and refurbished to suit the needs of the next generation of dentists. By combining the latest innovations in digital technology, we're able to offer a first-rate student experience for our dental students.
Helping students to collaborate more effectively in groups, our refurbishment also allows lecturers to explore new and innovative ways of teaching. The new facilities in the lecture theatre include:
mixed format furniture with 5-person group working clusters for project work
new AV including linked touch screen and delegate system integrated within each seating cluster
a new dual-projection teaching wall enhancing all our presentations and lectures
improved disabled access with dedicated wheelchair space
We're thrilled with the results of the transformation, and we're looking forward to seeing our staff and students get the most out of them.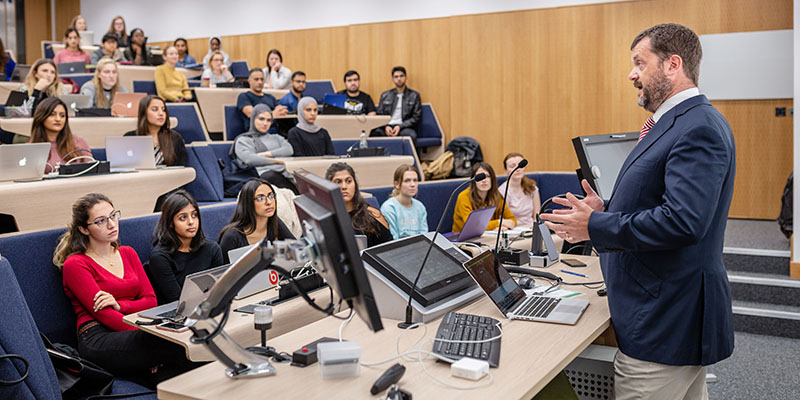 Clinical experience
While studying with us, you'll combine academic theory with real hands-on clinical practise.
You'll gain most of your experience working at Leeds Dental Institute where together we serve the population of Leeds and the surrounding region, providing specialist dental treatment. This covers anything from routine dental care to specialised work in areas such as oral and maxillofacial surgery and oral medicine.
We also work closely with our local community at our three outreach teaching clinics in Bradford, South Leeds and Hull. While studying with us these partnerships will give you the opportunity to build your experience and skills outside the classroom, preparing you for the world of modern dentistry.
At Leeds, we're also very proud to support Health Education England Yorkshire and Humber with postgraduate training in dentistry. By working together, we aim to make sure our dental professionals have the right skills, values and behaviours to deliver excellent healthcare and healthcare improvements to the patients and public of England.
University libraries
In addition to these outstanding dental facilities, all our students also have access to the campus' impressive libraries and study facilities. These provide the ideal conditions for individual and group work and help students get the most out of their study time.
With four libraries on the main campus that are open seven days a week during term time, we offer a variety of working environments to suit you.