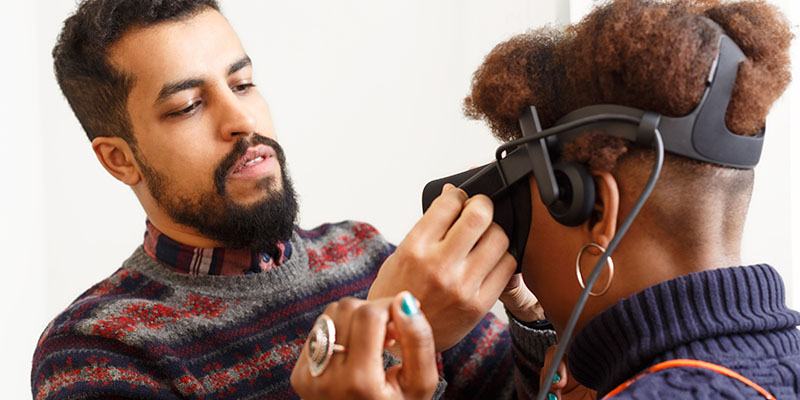 Within the School of Psychology we work with a number of specialist facilities which advance our understanding and shape the work of our different areas of research. Some of the stand out facilities used by our research team and in collaboration with our research partners are highlighted below.
The Human Appetite Research Unit uses the following equipment/potential measurement techniques:
iDXA for bone mineral density and body composition
Bodpod for body composition
Bioelectrical impedance for body composition
Blood pressure and resting heart rate measurement techniques
Two clinical kitchens for preparation of test meals
9 testing cubicles
An exercise laboratory with treadmills/exercise bikes/crosstrainers/rowers etc
Fitness testing equipment – Vmax Encore, Heart rate monitors
Physical Activity devices – wearable technology to measure physical activity, sedentary behaviour and posture
Gas Exchange Monitors to measures resting energy expenditure
Handheld devices to measure subjective appetite ratings – hunger, fullness etc
Biochemistry room – to enable blood samples to be taken, processed and stored in –80degree freezer. We can measure HBA1c and glucose in-house
Social eating room
Eating behaviour trait characteristic questionnaires
In the Brain and Behaviour Laboratory we have:
Eyelink 1000Hz eye-tracker (SR Research Ltd)
Transcranial Magnetic Stimulator (TMS, MagStim Rapid2)
Functional Near-Infrared Spectroscopy (fNIRS) System (Artinis Ltd, Oxymon)
Button boxes and touch-screens
Cognitive/motor testing software
In the Perception, Action, Cognition Lab we use:
Optotrac system for measuring limb motion.
Transcranial magnetic stimulation facilities – for studies modulating neural responses
Two polysomnography kits to measure overnight sleep:
The Embletta MPR is from Embla and the full equipment is called Embletta MPR PG & ST+ Proxy (we have a REMlogic software license for this-can go on two computers max)
The Morpheus is from Micromed (not Embla)
In the Multisensory Unit (MU) we have:
WorldViz Walking Virtual Reality (VR) system: 2x Oculus Rift systems, one with integrated eye-tracker, 4 camera whole room motion tracking system, & 5DT wireless gloves for hand motion tracking. VR software: Vizard (WorldViz)
Pressure pain simulator
In the EEG lab we have:
BioSemi 64 Channel system
In the Driving lab we have:
Fixed-Base L-Shape Cave Driving Simulator. Consists of 2 projectors, a height adjustable driving seat, and a Logitech G27 Steering wheel and pedals, and WorldViz VR Software
Two Eye and Head-tracking systems: ASL Flock of Birds remote eye-tracker, and a Pupil-Labs wearable eye-tracker
In the Sensorimotor Learning Laboratory, we have:
Electrical Geodesic System 128 Channel EEG System
HTC Vive Virtual Reality (VR) system
Health & Social Psychology Laboratories
The Health and Social Psychology laboratory consists of a self-contained suite of three main testing rooms and a data entry room that supports a range of world leading research
Laboratory for Stress and Health Research (STARlab)
The STARlab is unique in that it has been designed specifically to conduct stress reactivity and recovery studies in a range of different populations.