Long Covid digital platform used across UK wins NHS innovation award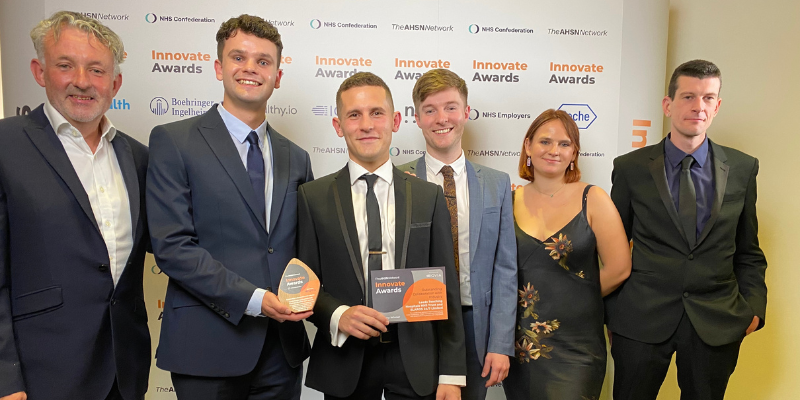 A groundbreaking digital platform that monitors people suffering from long Covid has won a national award. 
The C19-YRS app won the Outstanding Collaboration with Industry award at the first-ever Academic Health Science Network (AHSN) and NHS Confederation Innovate Awards.
The Covid-19 - Yorkshire Rehabilitation Scale (C19-YRS) app and clinical website was developed in a partnership between the University of Leeds, Leeds Teaching Hospitals and Leeds Community Healthcare NHS Trusts, and the digital health company ELAROS.
It helps NHS rehabilitation teams manage the large number of people suffering from long Covid, and also allows patients to self-report their symptoms and track their recovery.
It is really important that we continuously recognise, showcase and celebrate the fantastic and innovative activity being delivered across the NHS.
The app uses a version of the COVID-19 Yorkshire Rehabilitation Scale, a questionnaire developed during the first wave of the pandemic to aid the diagnosis and assessment of long covid symptoms.
NHS England has officially recommended clinical use of the app in their national guidance for post-Covid services to monitor patient progress, facilitate communication between professions and improve services.
Long covid refers to persistent symptoms that last for four weeks or longer after contracting covid-19, and include breathlessness, fatigue, brain fog, psychological distress, pain, and a general decline in quality of life.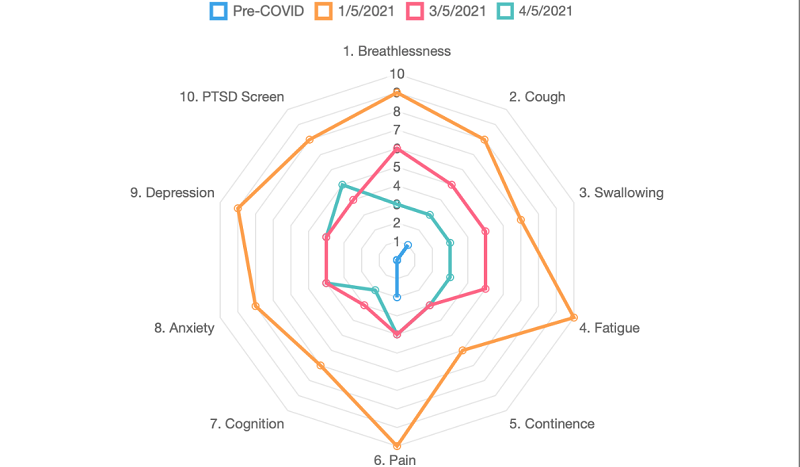 A series of radar plots showing how a patient's symptoms have changed over time. The higher the score, the more severe the symptoms. As the patient improves, the radar plot will shrink back to the pre covid measurement (shown in blue).
Information shared by patients via the app is stored on a secure and confidential database which can be accessed by the NHS team involved in their care.
Dr Manoj Sivan, Associate Professor in the School of Medicine at the University of Leeds and Consultant in Rehabilitation Medicine at Leeds Teaching Hospital and Community Healthcare NHS Trusts, is the lead academic in the not-for-profit project.
He said: "The platform generates easy-to-understand scores, radar plots and line graphs for individuals with long Covid to self-monitor their condition and healthcare professionals to assess the natural course of the condition and response to interventions.
"Clinics can configure a suite of outcome measures based on their local and national service and commissioning requirements, and support research studies which require large-scale data collection."
'Extremely proud'
Román Rocha Lawrence, Director of Research and Development at ELAROS, said: "ELAROS is extremely proud to receive this award with the Leeds Long Covid Rehab Team.
"Whilst the real prize is seeing our platform support an increasing number of patients and clinics in the United Kingdom and soon, internationally, to receive this recognition after working rigorously with Leeds over the past 24 months is very special.
"The digital long Covid platform has been live in the NHS since June 2021 and is regularly used by patients in England, Scotland, and Wales to provide access to more effective specialist care during their initial assessment and ongoing rehabilitation between appointments, whilst helping clinics to reduce waiting times and administrative burden on staff."
Main image via Unsplash/NordWood Themes