Celebrating apprenticeships at Leeds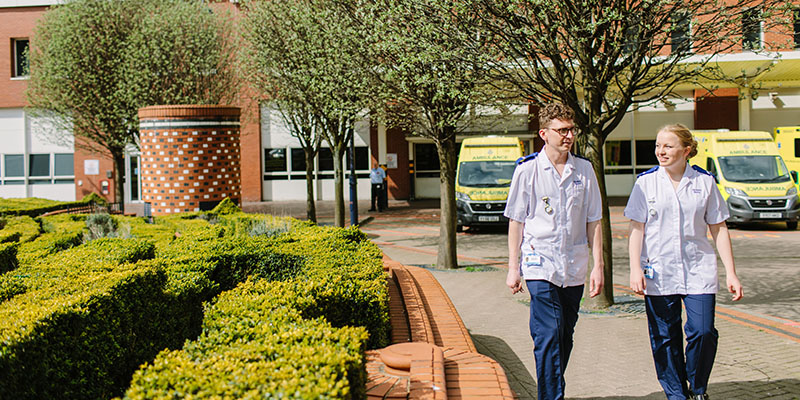 As part of National Apprenticeship Week, the University is celebrating the early success of its apprenticeship programmes.
Higher Apprenticeships and Degree Apprenticeships at Leeds are developed in partnership with businesses and organisations to meet their needs, while ensuring the University's rigorous standards of high quality teaching are maintained.
Students combine working with part-time study at the University and receive a University of Leeds qualification on successful completion of their studies.
The University offers six programmes:
Dr Christina Edgar, Director of Student Opportunity at the University of Leeds, said: "We are committed to developing independent, critical thinkers who make a difference to the world around them.
"National Apprenticeship Week gives us an opportunity to highlight the growing range of apprenticeship programmes here at Leeds."
"National Apprenticeship Week gives us an opportunity to celebrate the growing range of apprenticeships within our programme offer here at Leeds, where we have a longstanding commitment to welcoming students from a wide range of backgrounds.
"Our excellence in teaching and student experience is also consistently recognised. We have strong links with local, national, and international businesses, and these are growing all the time, particularly with the establishment of Nexus, which connects business with the University's expertise, talent and facilities.
Dr Christina Edgar
First Nursing Associate at Leeds joins the Professional Register
Delivered by the Lifelong Learning Centre, the Nursing Associate programme is a new support role developed by the NHS.
Apprentices work alongside healthcare support workers and registered nurses to deliver hands-on care for patients.
The first Apprentice, who had prior learning, qualified from the first cohort at Leeds in February, and several current apprentices had the opportunity to celebrate at the House of Commons alongside successful cohorts from around the country.
At the event, two qualifying nurse associates spoke of the challenges of balancing life, work and study, and of the immense feeling of achievement in finding a new opportunity to develop as people and as healthcare workers.
The University also delivers a Healthcare for Assistant Practitioners higher apprenticeship. The programme is designed for adult learners already working within the NHS in a clinical support worker role, with at least one year clinical experience in acute, mental health or other clinical support worker roles. It offers the opportunity to develop clinical and professional skills and to understand the theory underpinning practice.
The School of Healthcare has delivered the Registered Nursing apprenticeship programme since June 2018. Nursing apprentices taught by the University had an opportunity to share their experiences with the Rt Hon Anne Milton, Minister for Apprenticeships, in a recent visit to Leeds Teaching Hospitals Trust.
Dr Helen Smith, Director of Student Education in the University's School of Healthcare, said: "What the apprenticeship programme has done is provided an alternative route into nursing for those who may not otherwise have the chance."
Technology talent
The University has also partnered with top graduate employer PwC to create a new technology undergraduate degree apprenticeship in Computer Science.
The four year BSc course helps to address the UK's technology skills gap and improve the industry's diversity.
Professor Peter Jimack, Dean of the Faculty of Engineering at the University of Leeds, said: "Deepening the relationship between universities and leading private sector businesses is one of the key ways academia can support the UK's economy.
"By working with PwC we can use the latest research to educate apprentices, who will benefit greatly from also having significant workplace training on top of their academic studies"
"These courses are the latest way we are adapting traditional modes of higher education to create a skilled workforce with the experience needed by employers, who can contribute as soon as they begin work."
"Apprentices will need to satisfy equivalent rigorous entry criteria as all our other applicants, but will benefit from a monthly salary and considerable practical experience from PwC."
Meeting the demands of the future
The level 6 Chartered Manager Degree Apprenticeship, delivered by the Lifelong Learning Centre, develops and strengthens the leadership and management skills of new and existing managers. It is designed for everyone from individuals at the start of their careers, to those who wish to obtain a degree in management to enhance the practical knowledge they have already gained.
Level 7 Senior Leadership Masters Degree Apprenticeship, delivered by Leeds University Business School, is an innovative degree programme for senior managers working in the public or private sector. This dynamic course is designed to develop knowledge of the fundamentals of leadership, gaining understanding of the latest business and management theory and how to apply this to challenges in the workplace.
Participants build the essential skills expected of leaders and managers working in a fast-paced environment including analytical thinking, decision-making, problem-solving, business and information technologies and communication skills.
Further information
Anyone interested in working with the University to set up a new apprenticeship scheme should contact Isobel Whitehouse on +44 (0)113 343 4038 or email