UK and Chinese experts work for the health benefits of patients
International experts in the economics of health care have gathered to explore the cost-effectiveness of using screening and diagnostics tools for the benefit of patients in the UK and China.
A masterclass was held at Zhejiang University on the 23rd and 24th March 2021, which explored the key economic arguments surrounding the implementation of diagnostic tools and screening programmes with practical examples of screening for lung cancer illustrating the talks.
Presentations were given by leading experts in diagnostic and screening evaluation methodologies. The sessions were chaired by the UK-CHEP Partnership Leads, Professors Hengjin Dong (Zhejiang University) and Chris Bojke (University of Leeds).
UK-CHEP supports participating universities so they can work together to create significant impact for both the British and Chinese people and economy by engaging in long-term projects and knowledge collaborations that generate new expertise in health economics and health policy.
Help build mutual understanding and deepen and broaden collaboration between participating universities by sharing research and educational opportunities that help deliver the goals of China's "Double First Class" programme.

Promote international collaboration between world-class academics in China and the UK uninterrupted by the COVID-19 pandemic.   
<iframe width="560" height="315" src="https://www.youtube.com/embed/I1Dze51z_YY" title="YouTube video player" frameborder="0" allow="accelerometer; autoplay; clipboard-write; encrypted-media; gyroscope; picture-in-picture; web-share" allowfullscreen></iframe>
Professor Darrin Baines, Bournemouth University, said: "This masterclass demonstrates the ongoing commitment of our partners in China and the UK to work in partnership to help secure significant health and economic impact by improving patient quality of life through better and faster access to cost-effective medicines and promoting world-class research and education in keeping with China's 'Double First Class' programme."
Professor Chris Bojke (University of Leeds), Professor in Economic Evaluation and Health Technology Assessment Methods, said: "I am delighted that in conjunction with our partner university we have been able to come together in these challenging times to deliver a masterclass on the health economics of diagnostic testing and screening at Zhejiang University and online. I am confident that this partnership between universities, will mark the start of lasting research and teaching collaborations."  Professor Bojke also acknowledged and thanked GSK for their contributions to the partnership.
Professor Hengjin Dong (Zhejiang University), Professor in Health Policy and Health Economics said: "Zhejiang University and Leeds University, alongside Bournemouth University, have overcome the Covid-19 pandemic to work together to deliver this on-line and off-line masterclass programme focusing on the health economics of diagnostic tests and screening. This is a great trial.
"This cooperative work and programme will further strengthen the collaboration between UK and Chinese universities in the areas of health and health economics, especially in the areas of exchanging ideas and experience in the studies of health technology assessment and their application on the health policies. I believe this work will also contribute to the overall collaboration in the areas of health and economic development between our universities."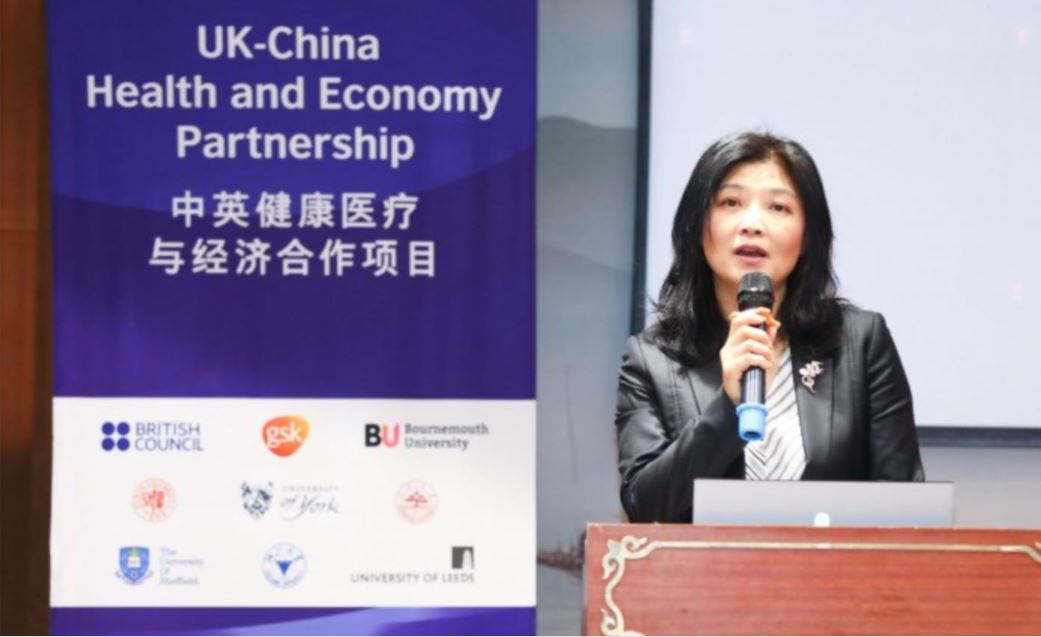 The UK-China Health and Economy Partnership (UK-CHEP) promotes long-term collaboration in health economics and Health Technology Assessment for the mutual benefit of leading academic institutions in the UK and China, which has been funded by GlaxoSmithKline (GSK) and is overseen by the British Council.
This partnership promotes long-term collaboration in health economics and Health Technology Assessment (HTA) between four UK universities, Bournemouth University, University of Leeds, University of Sheffield, University of York, and three Chinese universities, Zhejiang University, Fudan University and Shandong University.
This partnership, led by Bournemouth University, was originally launched in Jinan, Shandong province in November 2017 by GSK.