Translational and Clinical Research (DenTCRU)
Overview: Our range of clinical facilities within the School of Dentistry allow us insight into a array of research areas.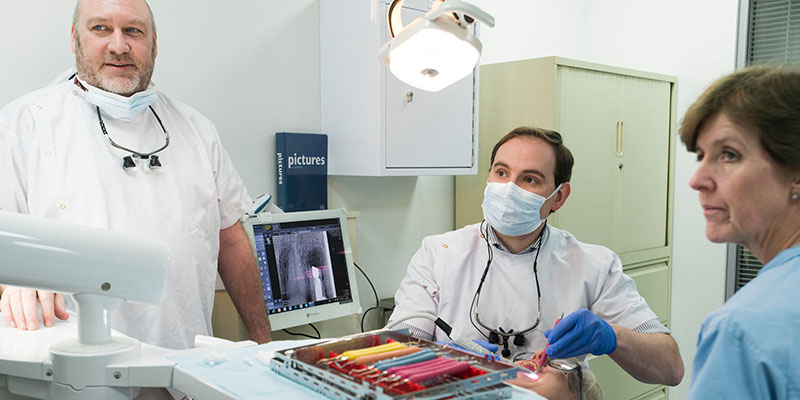 Our Dental Translational and Clinical Research (DenTCRU) facility offers a range of expertise across basic science, applied clinical research and population health. Co-funded via a prestigious £1.7 million capital award by the Wellcome Trust and the University of Leeds, DenTCRU offers state-of-the-art research dedicated to translational and clinical dentistry.
DenTCRU provides our researchers with an environment to:
expedite interdisciplinary translational dental research for patient benefit
generate high quality clinical and translational oral and dental health research
develop methodologically robust projects tailored to NHS priorities
develop collaboration with strategic industry partners
forge patient-centric multi-disciplinary partnerships between clinicians, academics, industry and patients
deliver evidence-based dental treatment and care that maximises patient benefit and NHS impact
manage a range of grant-funded studies to large, multicentre and international clinical trials
train the next generation of clinical academics in high-quality clinical research.
DenTCRU is supported by dedicated staff offering a range of expertise to deliver high quality, world-class translational and clinical dental research in Leeds.
Our dedicated clinical trials team include:
a Head of Trial Management,
two dental research co-ordinators,
a statistician with experience and expertise in the planning, conduct, analysis and publication of clinical trials to ICH GCP standards,
a senior research fellow specialising in Tissue Culture who also supports research in tissue engineering, development of dental biomaterials and stem cell therapies,
a research technician in Oral Microbiology who also supports research in oral biofilms and development of therapeutics together with high throughput genetic analysis of microbial populations.
DenTCRU is a self-contained dedicated research facility co-located with the Leeds Dental Hospital. Facilities include:
six high specification dental chairs including operating microscopes and intra-oral cameras for digital and still photography recording
a dedicated reception and patient waiting rooms
a dedicated laboratory for sample preparation
a confidential interview room
an independent CCTV-controlled entrance allowing secure out-of-hours access for patients and research staff
controlled lighting (for colour matching and tooth whitening studies)
immediate access to NHS services.
DenTCRU is a dedicated facility through which we achieve our vision of delivering world-leading research excellence, patient benefit and research impact. We engage with a range of partners and stakeholders from major international companies to our local community.
Collaborations
Leeds Teaching Hospital NHS Trust
DenTCRU has well established close academic and physical links with LTHT, being based on the same floor as the Leeds Dental Hospital.
LTHT's strategy places academic excellence and research at the core of NHS business. As a result, LTHT recently topped the first-ever national table for the number of clinical research studies (322) conducted between April 2010 and March 2011 with more than 11,000 patients recruited onto medical trials, the fourth highest number of all English hospital trusts.
These strong links and common goals will contribute to the future success of DenTCRU
Leeds Clinical Trials Unit
DenTCRU has a close working relationship with the renowned Leeds CTRU, a UKCRC Registered Clinical Trials Unit (CTU) accredited with the National Cancer Research Institute (NCRI) based at the University of Leeds.
Leeds CTRU has a national and international reputation for conducting multi-centre clinical trials that are both well designed and executed to the highest standards. Working in partnership with clinicians, other trialists and methodologists, CTRU provides the experience, expertise and infrastructure for the promotion and organisation of high quality, innovative, multi-centre, randomised clinical trials and research projects across NHS priority areas.
The CTRU specialises in complex phase III trials and associated methodological work (including informed consent, recruitment into trials and quality of life measures) and has considerable expertise in medical statistics, information systems, trial co-ordination, data management, research ethics and pharmaceutical collaborations.
The CTRU has a strategic aim to develop their portfolio in dental health science research and DenTCRU will be key to delivering to this strategy. The CTRU and DenTCRU have a key academic partnership and work together to deliver on clinical trials activities as detailed earlier.
Work with the Department of Oral Biology
The Department of Oral Biology at the School of Dentistry has an international reputation for biomedical research in the dental sciences. DenTCRU has direct access to biomedical research facilities at the Dental School including:
microbiology
molecular biology
imaging
cell biology
materials science
bioengineering
biochemistry laboratories.
The main areas of biomedical research currently conducted within the School include:
infection and immunity (including biofilm research)
mechanisms of biomineralisation and development of novel biomimetic therapeutics
development of new biomaterials and innovative manufacturing process
skeletal tissue engineering
stem cell biology and cell based regenerative therapies
research in cariology and dental erosion.
Members
Find out more about our clinical facilities
If you would like to find out more about our clinical facilities, please visit our DentCRU page or contact Mrs Ruth Kayman.