Translational and Clinical Research (DenTCRU)
Overview: Our range of clinical facilities within the School of Dentistry allow us insight into a array of research areas.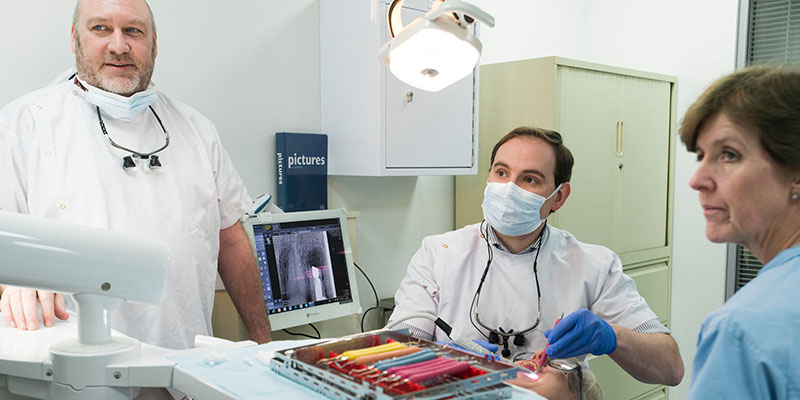 Dental Translational and Clinical Research Unit (DenTCRU)
Our state-of-the-art Dental Translation and Clinical Research Unit (DenTCRU) was co-funded via a prestigious £1.7 million capital award by the Wellcome Trust and the University of Leeds. Here we promote our research in interdisciplinary dental sciences for patient benefit 'from bench to patient and back again', spearheading partnerships with local, national and international collaborators, charities and industry. DenTCRU offers a range of expertise across clinical trial methodology, basic science, applied clinical research, population health, and patient public involvement and engagement. Translating research into clinical practice is fundamental to our research strategy to transform the quality of life of our patients and local communities.
The DenTCRU Facility
DenTCRU is a bespoke, self-contained dedicated research facility.
It is located within the Leeds Dental Institute (LDI) part of Leeds Teaching Hospitals Trust. DenTCRU is a hub of the NIHR Leeds Clinical Research Facility (LCRF).
The DenTCRU facility comprises
a self-contained research-only clinic that is staffed by highly trained designated research staff
six high specification dental chairs including operating microscopes and intra-oral cameras for digital and still photography recording
an independent reception and patient waiting rooms
a dedicated laboratory for sample preparation with monitored fridge and -80 freezer sample storage
a confidential interview room
a CCTV-controlled entrance allowing secure out-of-hours access for patients and research staff
controlled lighting (for colour matching and tooth whitening studies)
immediate access to NHS services
DenTCRU facilitates high quality research by
developing methodologically robust projects tailored to NHS clinical need and health priorities
delivering research to time and target within a competitive budget
forging multi-disciplinary partnerships between clinicians, academics, industry and patients
driving innovative interdisciplinary translational oral health research for improved care and patient benefit
supporting collaboration and co-development with industry partners
managing a range of grant-funded studies to large, multicentre and international clinical trials
delivering high quality evidence-based dental treatment and care that maximises patient benefit and NHS impact
mentoring and training the next generation of clinical academics. DenTCRU is an early adopter of the NIHR Clinical Research Network Associate Principal Investigator scheme and supports career academics to have the opportunity to work alongside our world leading team in delivering high-quality clinical research
delivering clinical and translational oral health research compliant with the highest standards of clinical governance
DenTCRU Successful Recruitment to studies
DenTCRU consistently contributes as one of the highest recruitment sites nationally. The Yorkshire and Humber NIHR Local Clinical Research Network (LCRN) is consistently the highest ranked LCRN for interventional studies. DenTCRU (LTHT trust) was the premier national oral & dental recruitment site in 2018/19.
In 2018/19 Yorkshire & Humber was the lead NIHR Local Clinical Research Network (CRN) for recruitment to the NIHR Oral & Dental Health portfolio, with 1,553 patients recruited over the year; with our site contributing the highest number of patients and importantly the highest to interventional studies. This was equivalent to 14.4% of the English national recruitment and importantly 63% of the interventional studies.
The DenTCRU Team
Compromising of internationally recognised oral and dental health clinical trialists and researchers supported by a strong, dedicated team of experienced clinical trial managers, dental hygiene therapists, dental research coordinators and nurses, technical and admin staff. Our extensive dedicated labs and staff enable novel lab and in-situ studies as well as large scale trials. The DenTCRU core team is listed below and works closely with the Division Heads from the School of Dentistry for specific expertise as required:
Professor Sue Pavitt - Director of DenTCRU. Professor of Translational and Applied Health Research. Division Head: Division of Applied Health & Clinical Translation. NIHR Clinical Research Network National Specialty Lead for Oral & Dental Health
Professor Brian Nattress – Clinical Lead DenTCRU. Professor of Restorative Dentistry
Dr Jianhua Wu - DenTCRU Lead Statistician. Associate Professor (Medical Statistics/Biostats).
Dr Sophy Barber – NIHR Clinical Lecturer Orthodontics
Dr Wendy Thompson – NIHR Clinical Research Network Yorkshire & Humber Fellow & GDP Champion
Jenny Boards – DenTCRU Manager
Nuria Navarro Coy – DenTCRU Operations and Strategic Manager
Catherine Porter – DenTCRU Programme Manager
Fiona Heffron and Abigail Turner – Dental Hygiene Therapists
Ashna Chavda and Gillian Dukanovic – Research Coordinators (Nurses)
Louise Dell'Amico and Anna Nielsen Research Dental Nurse Coordinators
Joanne Fielding – DenCTRU Research Support Secretary
Ayna Beden – DenTCRU Support Secretary
DenTCRU Research
DenTCRU supports all aspects of clinical evaluation from early phase studies through to clinical trials. We have a broad portfolio that includes commercial and academic studies, where we work trans-disciplinary across dental disciplines and interface with engineering, medicine, psychology, sociology, arts and humanities.
We run a mix of commercially and government funded studies including funding from the National Institute for Health Research for clinical trials. Our research is also supported by a number of charities, including the Oral & Dental Research Trust, Dunhill Medical Trust and MS Society.
Our studies cover the full range of research within oral and dental health, testing drug treatments, medical devices, novel dental materials, surgical procedures and innovation in research dissemination. We are embracing advances in digital dentistry, drawing on the latest scanning and digital techniques to create 3D digital dental archives for use in both diagnostics, treatment planning and restoring function. This includes 3D printing of high-quality dental models towards offering faster "dignity denture" production to replace missing or damaged dentures. We support NIHR Doctoral research fellowships such as Rachael Jablonski's IMPRESSeD study: IMproving facial PRosthesis construction with contactlESs Scanning and Digital workflow
DenTCRU successfully undertook the first-in-man trials on self-assembling peptides (SAP) based on Professor Jennifer Kirkham's research carried out at the University of Leeds. The product 'Curadont Repair', using this peptide technology, gained CE mark approval for clinical use and is now on the market for use in stimulating repair in teeth showing early signs of decay.
Links between oral and systemic health is a priority research focus. Next generation sequencing within the School's laboratory facilities allows us to run studies that involve complex analysis of the oral microbiome – the bacteria within the mouth and how these interact. We are developing trials looking at the use of improved stewardship of antimicrobials with a particular focus on addressing antimicrobial resistance. Changes in our oral health can provide early signs of systemic disorders, and we are collaborating with Musculoskeletal researchers within NIHR Leeds CRF to identify the role of gingivitis – inflammation of the gums –as an early marker for rheumatoid arthritis.
We also work on studies which require genetic profiling of patients, such as identifying genetic markers for inherited enamel developmental disorders including Amelogenesis Imperfecta.
DenTCRU supports the collection of materials for the Skeletal Tissues Research Bank that supports research to understand the mechanisms of tooth decay, erosion, wear; developing a source of stem cell for tissue regeneration and development of new dental materials that in turn will be evaluated in DenTCRU.
The main areas of research currently conducted within the School include:
infection and immunity (including biofilm research)
mechanisms of biomineralisation and development of novel biomimetic therapeutics
development of new biomaterials and innovative manufacturing process
skeletal tissue engineering
stem cell biology and cell based regenerative therapies
research in cardiology and dental erosion
digital dentistry
dental public health and behavioural change to prevent caries
patient public involvement and engagement
DenTCRU is renowned for pioneering innovation in patient public involvement and engagement.
Collaborations
DenTCRU has a dedicated facility through which we achieve our vision of delivering world-leading research excellence, patient benefit and research impact. We engage with a range of partners and stakeholders from major international companies to our local community. These strong links and common goals will contribute to the future success of DenTCRU
Leeds Teaching Hospital NHS Trust
DenTCRU has well established close academic and physical links with Leeds Teaching Hospitals Trust (LTHT) and is co-located on the same floor as the Leeds Dental Hospital.
LTHT's strategy places academic excellence and research at the core of NHS business. LTHT is one of the biggest NHS trusts in the country and one of the largest teaching hospitals in Europe, offering a full range of acute and non-acute adult and paediatric services and treating 1.5 million people every year. It serves a local population of 780,000, and provides specialist care to 5.4 million people, in particular services for cancer, haematology, cardiology, paediatrics, neuroscience, and in specialist surgery. LTHT is consistently one of the top recruiting trusts for clinical research studies in the UK recorded on the NIHR Clinical Research Network's metrics. In 2018/19 LTHT contributed 20,983 patient recruitments.
NIHR Leeds Clinical Research Facility (LCRF)
DenTCRU is an integral hub of the LCRF has a shared ambition for the CRF to be the flagship research facility for patients in Yorkshire and Humberside providing first class facilities that support the delivery of early phase and experimental medicine clinical trials across the range of disease types.
Find out more about our clinical facilities
If you would like to find out more about our clinical facilities visit DentCRU or contact Mrs Ruth Kayman.