Improving Leeds care homes through research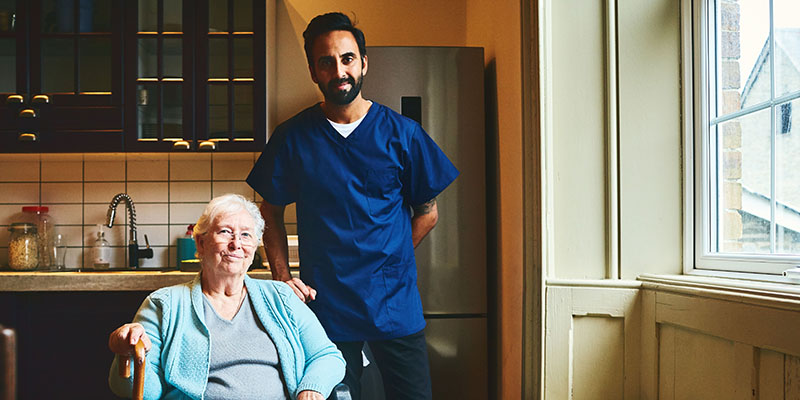 Two nursing homes in Leeds are to be the test bed for a new research programme aiming to improve the quality of life of nursing home residents.
The project is an innovative new partnership between Leeds Care Association and the University of Leeds, and it was showcased to the Lord Mayor of Leeds at a launch event recently. Academics will consult with people living and working in nursing homes to identify areas where research evidence could lead to improvements to the quality of life and standard of care for residents, as well as improve quality of work for staff.
The programme of work will address important clinical topics, for example nutrition and hydration, pressure care, falls, dental care; and administrative topics such as work environment and staffing. It will also consider strategies for successful translation and implementation of evidence-based innovations in nursing homes.
The project will initially consult with Pennington Court and Seacroft Grange care homes in Leeds, but it is hoped that it will be expanded across Leeds in the future.
Professor Karen Spilsbury, from the School of Healthcare at the University of Leeds, said: "Living in a nursing home can provide a supportive atmosphere for older people, but it can also be unsettling when people have moved from lifelong homes. "By working with responsible providers we want to hear from residents and staff what works well in care homes and what could be improved."
The new partnership is based on a successful model running in the Netherlands for 20 years, led by the University of Maastricht.
Peter Hodkinson, Managing Director at Westward Care which manages Pennington Court, said: "Westward Care prides itself on being a pioneering and responsive health and social care leader in Leeds. We are excited to be part of this unique initiative which aims to provide a great opportunity to improve the standards of care, as well as care practice through evidence based research.
"By applying an action research model which has already been trialled in the Netherlands we are confident that our findings and experiences will provide nationally significant insights for the UK care sector into the increasingly complex needs of clients who receive Health & Social Care services. We look forward to sharing our learning and innovations with the wider sector as we proceed."
Graeme Lee, Chief Executive Officer at Springfield Healthcare which manages Seacroft Grange, added: "This project represents a unique, potentially ground-breaking, opportunity to develop best practice based on evidence. As a recognised innovative care provider, this fits neatly into our ethos of an integrated care model that delivers into increasingly challenging care environments.
"We have an exciting opportunity to shape perceptions of the next generation of health and social care professionals so that social care is considered a worthwhile, rewarding and important career.
"As care becomes more acute, research is vital to support the delivery of that care to client groups that would, in previous years, have received care in a hospital environment."
Professor Jan Hamers, from the University of Maastricht founded this research model in the Netherlands 20 years ago. He said: "This model has shown to be very powerful in conducting scientific research in the care of older people that contributes to better quality of life, quality of care and quality of work in care homes."
Further information
The NICHE-Leeds (Nurturing Innovation in Care Home Excellence in Leeds) partnership will find out what matters to people living or working in nursing homes and use research and innovation to improve quality of life for older people, whilst at the same time evaluating the impact on social care, the NHS and financial costs.