Dr Sandra M Bell
Position: Lecturer
Areas of expertise: Breast cancer; Ovarian Cancer; Drug resistance; High throughput siRNA screening; Synthetic lethality
Email: S.M.Bell@leeds.ac.uk
Phone: +44(0)113 343 8421
Location: 8.15a Wellcome Trust Brenner Building
Profile
I obtained my degree in biochemistry from Sussex University and my PhD on colon cancer genetics from Leeds University.
Having developed an interest in cancer I then went onto work on positional cloning projects in breast and bladder cancer.
I joined the genetics section of the Molecular Medicine Unit in 1996 and worked on a range of projects including the identification of two neurodevelopmental genes MCPH1 and CSMD1.
I joined the newly formed section of Ophthalmology and Neuroscience in 2005 establishing my own group investigating the function of the two neurodevelopmental genes MCPH1 and CSMD1 in cancer.
Responsibilities
Group Leader
Member of School Ethics Committee
Research interests
Our group works on a range of projects including functional studies on two neurodevelopmental genes MCPH1 and CSMD1 in breast and ovarian cancer.
Primary microcephaly (MCPH) (OMIM 251200) is a recessive genetic disorder in which the affected individuals are born with a significantly smaller head size and are mentally retarded. We work on MCPH1 (also called BRIT1), which encodes Microcephalin which contains three BRCA1 carboxyl-terminal (BRCT) motifs.
We and co-workers have shown that MCPH1 is involved in DNA repair and regulation of cell cycle checkpoints, particularly the control of entry into mitosis causing premature chromosone condensation.
Figure 1 Mutations in the MCPH1 gene cause microcephaly (A), premature chromosome condensation (B & C) and cancer.
MCPH is thought be a consequence of a mitotic defect during foetal brain development. Abnormalities at mitosis can cause incorrect chromosome organisation and the development of aneuploidy in cancer.
Numerous studies have shown that deletions at the MCPH1 (8p22-p23) loci is associated with tumour development and poor prognosis. We therefore propose that, while germ line defects in MCPH1 cause microcephaly, somatic defects may cause cancer (Figure 1).
We have identified reduced Microcephalin expression in both breast and ovarian cancers which is associated with reduced patient survival. We are studying the biological function of Microcephalin to determine how disruption of its activity causes cancer particularly breast and ovarian.
Currently we are utilizing high throughput screening techniques using small molecule and whole human genome siRNA libraries to elucidate the function of MCPH1 and identify synthetic lethal genes.
I was a founding member of the BioScreening Technology Group (BSTG) established to perform high-throughput, high-content siRNA screens.

Figure 2 Immunohistochemistry staining of paraffin embedded breast cancer samples. Positive nuclear MCPH1 staining (A), loss of MCPH1 expression (B) and comparison of overall survival based on MCPH1 expression in ductal breast cancer patients (C).
CSMD1 (CUB sushi multiple domain protein 1) is a large gene spanning over 2-Mb of chromosome 8p23 (adjacent to MCPH1), which is deleted in many cancer types. A significant amount of evidence points to CSMD1 playing a role in tumour development.
We have previously shown that CSMD1 is an independent prognostic factor in breast cancer and we are currently investigating the function of CSMD1 using in vitro and in vivo models.
Current group members
Reah Rumbold-Hall Research Technician
Ahlam Altowairqi PhD student
Esra Ermis PhD student
Mashael Aladwani PhD student
Aqueelah Mohammad PhD student (Co-supervisor)
Mohammed Derar PhD student (Co-supervisor)
Basma Alenezy PhD student (Co-supervisor)
Shengjie Bi MSc student
Samruddhi Mujumdar MSc student
Lukkana Promwattanaphan MSc student
Previous group members
MSc/MRes students
Emma Wood MSc student awarded (Distinction) 2022
Rebecca King MSc student awarded (Merit) 2022
Rovar Bakki MSc student awarded (Distinction) 2021
Albert Blandy MSc student awarded (Distinction) 2020
Alia Bano MRes student awarded (Merit) 2020 (Co-supervisor)
Rachel Hodgson, MSc awarded (Merit) 2019
Hannah Gibbs, MSc awarded (Distinction) 2018
Alexander Hornsey, MSc awarded (Merit) 2017
Enoir Faraj, MSc awarded (Distinction) 2015
Sudeh Riah, MSc awarded 2006.
PhD students
Samuel Burgess PhD student awarded 2021
Joanne Topping, PhD student awarded 2021 (Co-supervisor)
Ekram Shoaib PhD student awarded 2020 (Co-supervisor)
Abrar Ashi PhD student awarded 2020
Maram AlJuhni, PhD student awarded 2019 (Co-supervisor)
Danah Al-Qallaf, PhD awarded 2019 (Co-supervisor)
Camilla Coulson-Gilmer, PhD awarded 2017
Thomas Ryan, PhD awarded 2016 (Co-supervisor)
Aeshah Awaji, PhD awarded 2016
Kastarzyna Szymanska, awarded 2015 (Co-supervisor)
Julie Richardson, PhD awarded 2014
Rawiah Alsiary, PhD awarded 2013
Mohamed Kamal, PhD awarded 2010
Raj Achuthan, PhD awarded 2004 (Co-supervisor)
Staff
Shivani Shukla, Research Technician (2014-2015)
Thomas Maisey, Research Technician (2012-2013)
Dr. Victoria Cookson, Post-doctoral researcher (2011-2014)
Qualifications
1987, BSc (Hons.) Biochemistry, University of Sussex
1992, PhD Colon Cancer Genetic, University of Leeds
2021, Fellow of the Higher Education Academy
Professional memberships
British Association for Cancer Research
British Society of Cell Biology
European Association for Cancer Research
Student education
I teach on modules for MBChB students and and am a module leader in the Molecular Medicine MSc programme.
I am also a Personal tutor for 1st & 2nd year MBChB students and Postgraduate Research Tutor for MD/PHD students in Leeds Institute of Medical Research.
I am programme lead for the International PhD Academy: Medical Research based at St James's University Hospital.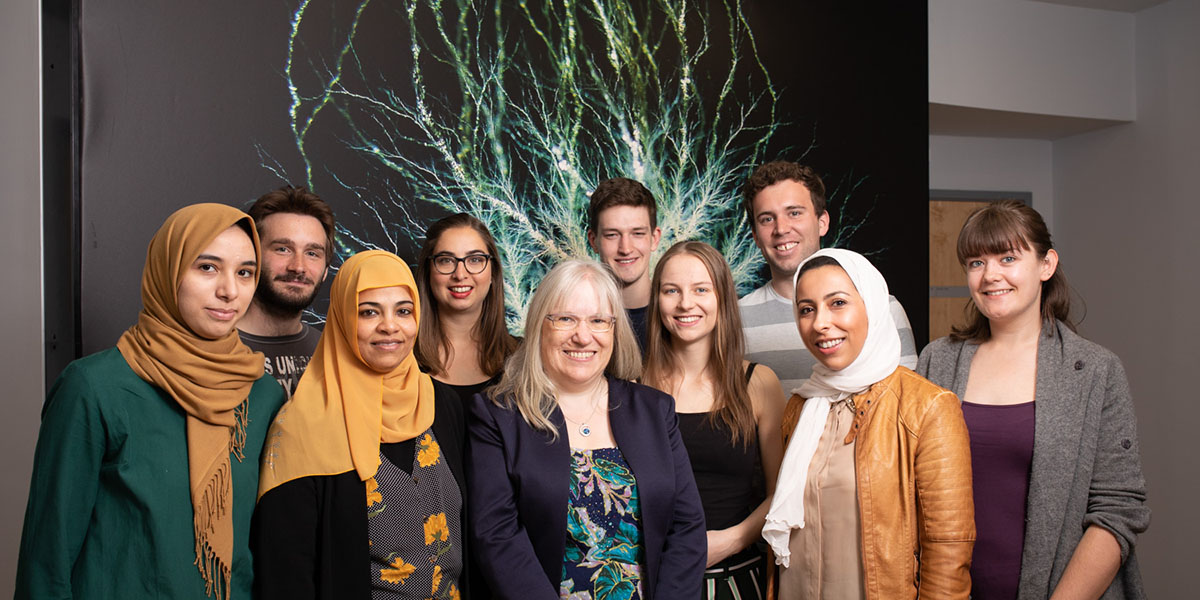 Research groups and institutes
Leeds Institute of Medical Research at St James's
Breast Cancer Research Group
LIMR - International PhD academy
<h4>Postgraduate research opportunities</h4> <p>We welcome enquiries from motivated and qualified applicants from all around the world who are interested in PhD study. Our <a href="https://phd.leeds.ac.uk">research opportunities</a> allow you to search for projects and scholarships.</p>