Leeds HealthTech Research Centre awarded grant for surgical technologies and rehabilitation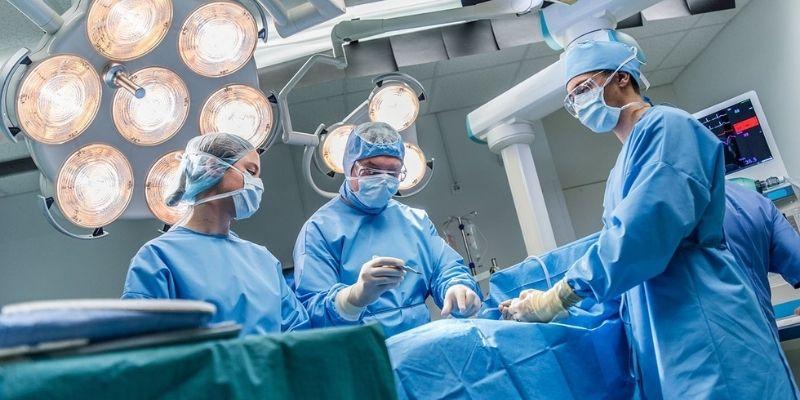 The University of Leeds and the Leeds Teaching Hospitals NHS Trust collaborate on one of the National Institute for Health and Care Research's (NIHR) HealthTech Research Centres (HRCs).
The team have been awarded a five-year grant which will support them to create a national hub for surgical innovation to develop new HealthTech that improves surgical care in the NHS.
The HRC, co-directed by Vee Mapunde and David Jayne, will focus on HealthTech to improve patients' journeys from diagnosis, through surgery, to social care when returning to their community.
Outgoing Health and Social Care Secretary Steve Barclay said, "These centres will help bring the latest advances in medical technology into patients' lives sooner, improving care, treatment and diagnosis including for those with cancer, dementia and brain injuries.
"We are already seeing the benefits of previous investment in health technologies - such as using artificial intelligence to predict how different patients respond to medication for inflammatory bowel disease meaning the right treatment is provided to patients sooner.
"I look forward to seeing what our world-leading scientists, clinicians and inventors bring forward next."
Centre of expertise in healthcare
The HRC acts as a centre of expertise that evaluates innovations in healthcare, strengthening evidence-based practices.
The team works with the NHS and its practitioners to ensure innovations are rigorously evaluated and implemented effectively into the system.
Their support will benefit patients, staff and the medical community by building connections between industry, academia and healthcare providers.
Working with industry partners will lead to regional and national economic growth as they'll support UK-based small and medium businesses and encourage investment.
Professor Lucy Chappell, Chief Scientific Adviser to the Department of Health and Social Care and Chief Executive Officer of the NIHR, said "Research into health technology is recognised as being of vital importance for patients, carers and users, our workforce and the wider health and care system.
"The increased funding for the HealthTech Research Centres will build capacity and expertise in health technologies, bring new innovations to market and enable people to live healthier, better-quality lives."
Surgical technologies and rehabilitation
The focus of accelerated surgical care incorporates three main themes.
Firstly, the HRC will work on improvements to early diagnosis and personalised care. They will implement technologies for early diagnosis and use targeted interventions to free up resources. They'll focus on kidney injury and antimicrobial resistance for this work.
The second theme is minimally invasive therapies, which require HealthTech that increase surgical precision and reduce trauma. These will enable patients to recover from surgery more quickly.
The developments will include technology for colorectal, vascular, transplant and neurosurgery among others.
The third theme that the five-year grant will support is assisted healing and rehabilitation. This involves technology that bridges hospital and community rehabilitation, reduces delayed discharges and prevents unnecessary readmissions to hospital.
Across these themes, the HRC will work on identifying patient and clinical needs, new methods for timely technology evaluation, the costs of introducing new technologies and the impact on the environment.
Professor Phil Wood, Chief Executive at Leeds Teaching Hospitals, said: "We are incredibly proud to have such a strong track record in research and innovation at Leeds Teaching Hospitals. The new NIHR HealthTech Research Centre will help us achieve our ambition for all patients to be able to take part in research.
"We know that early diagnosis means better treatment options and we know that many patients don't have access to the care they need when they need it. Our collaboration with the NIHR HRC will support us in introducing innovation into healthcare so we can make a difference to patient experience and treatment."
Patient, healthcare and socio-economic benefits
Overall, the introduction of new technologies into clinical practice will support patients before, during and after surgery. They will reduce the time to diagnosis, the time spent in the hospital and the time taken to recover in the community, helping to free up resources and relieve the demands on NHS services.
Vee Mapunde, co-director of the HealthTech Research Centre, said "We are delighted to receive this award, as it allows us to build on the work of the Surgical MedTech Co-operative through the addition of more surgical areas and expertise in sustainability, market access and methodology.
"We look forward to supporting industry and innovators in accelerating healthcare technologies that address health inequalities."
Professor Nick Plant, Deputy Vice-Chancellor for Research and Innovation at the University of Leeds, said "We are delighted that this joint funding with Leeds Teaching Hospitals NHS Trust will support the generation of new innovative health technologies to transform our health and care systems.
"This vital research into new HealthTech will have a real impact in improving the health and wealth of our local community."
There will be economic benefits for the NHS and the local economy, including UK public limited companies that produce the technologies.
Finally, the introduction of more efficient and less wasteful technologies will help the NHS achieve its ambition to be carbon net zero by 2040.