'Mental health graduates and nurses, it's time to start blowing your own trumpet!'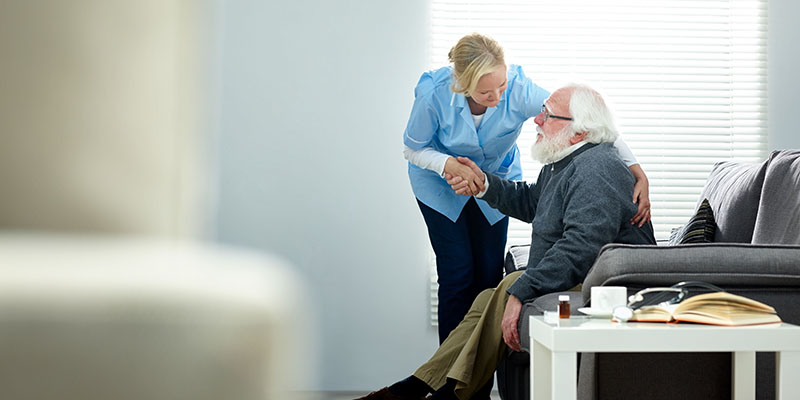 Emeritus Professor Tony Butterworth, CBE gave an insightful and provocative talk on the findings of his recent report on Mental Health education in the School of Healthcare.
Pictured above left to right are: Professor Karen Spilsbury - Chair in Nursing Research, Deepa Korea - Head of RCN Foundation, Professor Tony Butterworth CBE, Dr Nicola Clibbens - Lecturer in Mental Health and Professor John Baker - Chair in Mental Health Nursing.
Last year NHS England accepted a five year blueprint (Mental Health Five Year Review) to address the growing crisis in mental health services and pledged further investment to support necessary changes. The blueprint and promised investment has been welcomed by charities, NHS England and people who use services.
This was the first presentation Professor Butterworth had given since the launch, after consulting with students, practitioners, educators, service users and carers. He gave a clear message to the packed auditorium that Mental Health nurses were declining as a group and needed to be more vocal about their contribution to nursing and their value to healthcare as a whole. Professor Butterworth said, " You are a rare breed of specialist nurses and you need to make yourselves heard - no one else will, it's up to you."
Professor Butterworth also highlighted the challenges and changes to the specialist nursing areas of Mental Health and the lack of representation against the threats of a generic registration model. He quoted directly from his report to say: " A view that graduate mental health nurse registration should be discontinued and made part of a single generic registration has no support from people who use services or from the nurses, themselves."
He ended with the report's 'elevator pitch' definition of Mental health nurses as..."Working with people who can be distressed, withdrawn, depressed, uncommunicative and sometimes aggressive is particularly skilled work; mental health nurses have these psychosocial and interpersonal skills in abundance."
Read the full review
Professor Butterworth's review, Playing our Part, was completed recently just as the UK Prime Minister announced a call to action on mental health. You can read the full review at our Wordpress site.