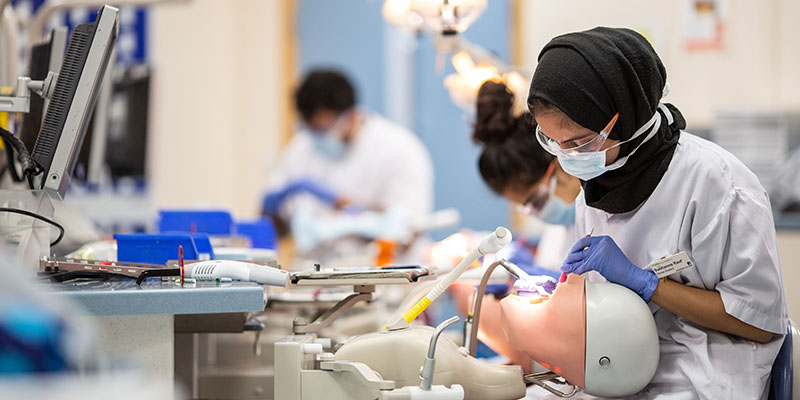 Studying at the School of Dentistry means having access to excellent facilities and learning from leading researchers, all in a welcoming student environment.
Expert teaching
At Leeds, you learn from some of the brightest minds in dentistry, meaning whatever you choose to study, you'll leave us well prepared for a career in modern dentistry.
Leading facilities
We're always improving our teaching and research facilities, and you'll benefit from our recent multi-million pound facilities refurbishment.
Our modern teaching facilities also include clinical skills classrooms allowing you the opportunity to develop and refine your clinical skills before undertaking clinical practice.
We've also invested in 3D virtual reality dental training simulators, offering a detailed and lifelike training environment for the development of your clinical expertise.
Find out more about our clinical and teaching facilities.
Our reputation
High-quality clinical research combined with excellence in dental sciences means you'll receive an outstanding education at a highly reputable institution.
The Complete University Guide (2024) ranked us as 11th in the UK for Dentistry.
Careers and employability
We're here to support you with your career in dentistry, and our career support starts from day one. To help you stand out from the crowd, we'll provide you with invaluable career support throughout your time at Leeds. From personal tutoring, to development opportunities through LeedsforLife or DentSoc - the School's student-run society - you'll have plenty to choose from.
We are international
Each year over 9,000 international students choose to study with us — meaning we're one of the most diverse universities in the United Kingdom.
Find out more about the benefits of living and studying at Leeds as an international student.
A welcoming student environment
We know that for many students, university will the first time you have lived away from home (or even in the UK).
To help you get settled, we offer all our students a welcoming and supportive environment for learning and personal development. From an active student society, to a great mix of extracurricular activities, we want our students to feel at home while with us at Leeds.
<iframe width="560" height="315" src="https://www.youtube.com/embed/aysalqBAM38?rel=0" frameborder="0" allow="autoplay; encrypted-media" allowfullscreen></iframe>