Faculty of Medicine and Health Partnership Awards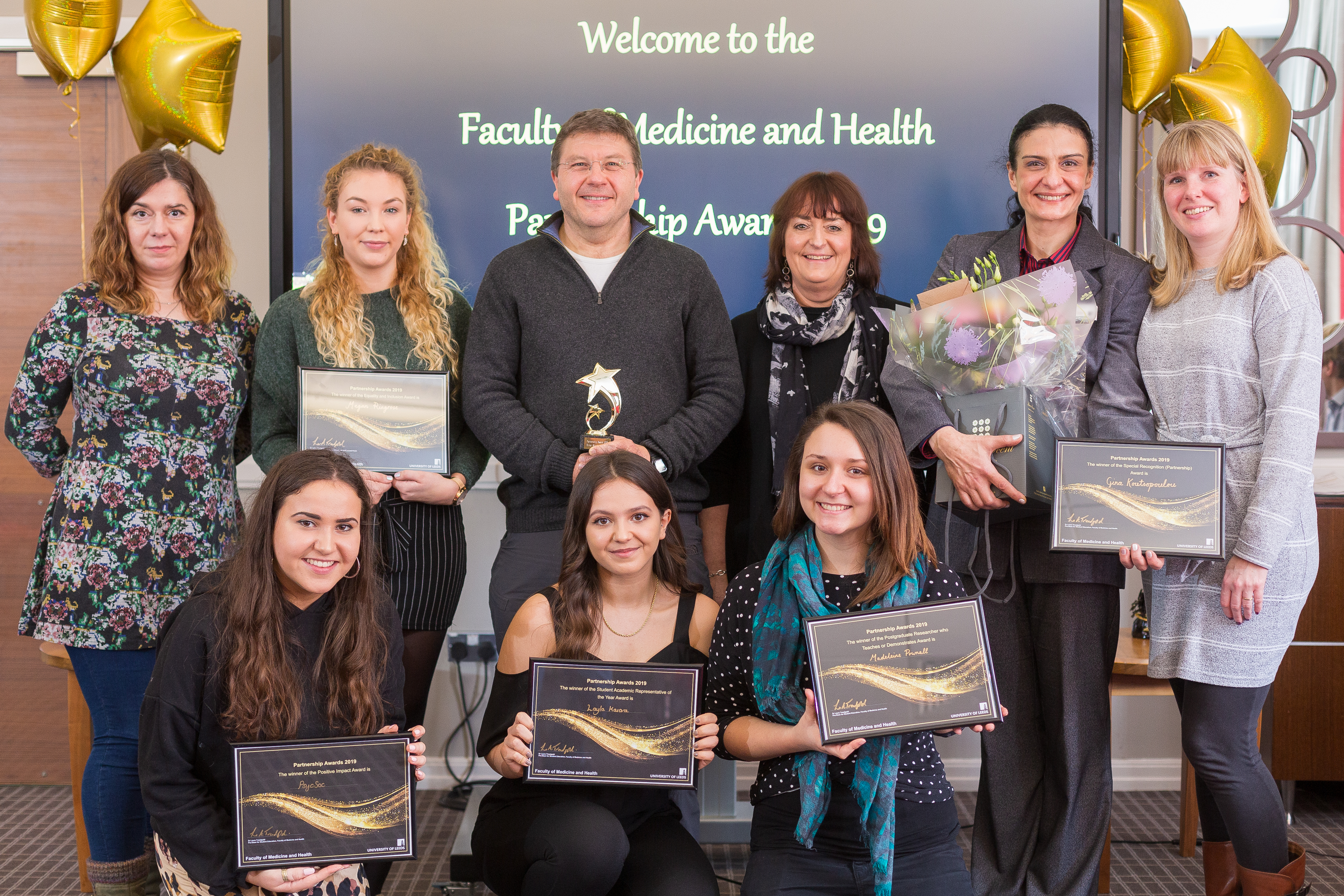 On Monday the 18th of March, the Faculty of Medicine and Health hosted their newly instituted Health Partnership Awards.
Dr Peter Gardner, Head of School presented awards to some of the winners and described it as an "absolutely fantastic event".
He added "I did not know who the nominees and winners would be beforehand, but as the awards ceremony unfolded it was brilliant to hear so many names of our staff and students being read out as nominees. Even better, members of the School were announced as winners in 5 of the 12 categories including the FMH Partnership Award. The winners will be put forward to the University-wide Awards ceremony organised by LUU in late-April.
A special mention and congratulations must go to Gina, Associate Professor in Psychology who was nominated in 4 categories and was announced as the FMH Partnership Award Winner. Well done Gina."
Below are the overall list of winners and nominees and a description of every category.
Equality and Inclusion
Winner: Megan Ringrose (Level 3, Chair of LUU PSYCSOC)
Innovation
Nominee: Faisal Mushtaq
Inspirational Teaching
Nominee: Gina Koutsopoulou
Personal Tutor
Nominee: Hannah Nash
Positive Impact
Nominees:
Gina Koutsopoulou
Jack Herbert (Level 2 UG Psychology student)
Jelena Havelka
John Rodgers
Layla Kouara (Level 2 UG Psychology student)
Olivia Nathan (Level 2 UG Psychology student)
Winner: LLU PSYCSOC (Group)
Postgraduate Teaching
Winner: Madeleine Pownall
Student Academic Rep of the Year
Nominee: Noorya Safir (Level 1 student rep in Psychology)
Nominee: Molly Lacey (Level 2 student rep in Psychology)
​​​​​​​Winner: Layla Kouara (Level 2 student rep in Psychology)
Supervisor
Nominee: Gina Koutsopoulou
Well-being
Nominees:
Louise Gill
Gina Koutsopoulou
Jack Herbert (LUU PSYCSOC, Sports Sec)
FMH Partnership Award
Winner: Gina Koutsopoulou