Ella's gift for cancer research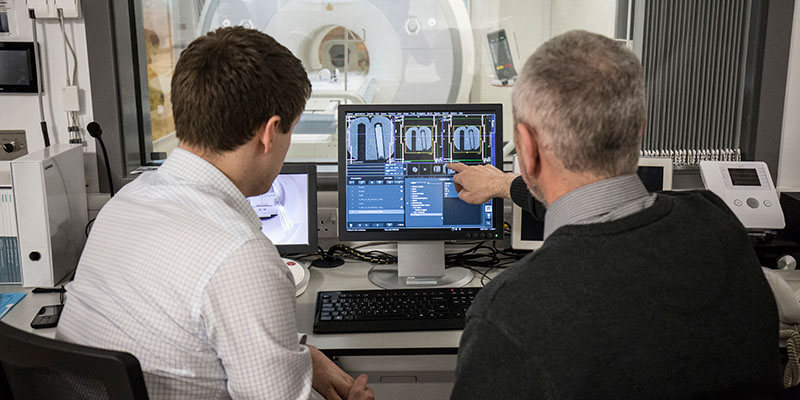 Research into a deadly blood cancer is to be boosted by a charitable trust established in memory of a Yorkshire mum who died of the disease.
Ella Dickinson's family has farmed the West Yorkshire countryside for generations; their Longley Farm dairy near Holmfirth was established in 1948 and has grown into an international business. And when Ella was being treated for myeloma at St James's Hospital in Leeds, she was determined to give every support she could to finding a cure.
Ella died in 2012, and now her husband Joseph and children Jimmy and Sally have set up the Ella Dickinson Memorial Trust to push forward research into the condition. "This was completely Ella's decision," says Joseph. "She was really impressed with the treatment she had in Leeds."
Her care was headed by consultant haematologist Dr Roger Owen, who divides his time between frontline treatments for patients at St James's and research in the University of Leeds laboratories to deepen our understanding of the disease – and seek out a cure.
"Dr Owen looked after her extremely well," says Joseph. "She had ten years of pioneering treatments – and I'm sure that without these she wouldn't have lived so long."
Now a gift of £500,000 will establish a scholarship programme to enable outstanding young researchers to join Dr Owen and his colleagues in their fight against the disease. The first Ella Dickinson scholar is Nicole McDermott from Teesside, who will join the team in the autumn to study for a PhD analysing plasma cell cancers.
It was during a placement examining the side-effects of chemotherapy during her undergraduate studies at the University of York that Nicole first became interested in research: "Originally I hadn't planned to do a PhD, but I really enjoyed my time being hands-on in the lab," she says. "You get excited when you have an idea and you make it work. It may only be a tiny thing, but these are the building blocks of our understanding of the disease and the routes to finding new treatments."
After completing her dissertation on prostate cancer and graduating this summer, Nicole will be moving to Leeds to join Dr Owen and his team. "I wouldn't have been able to study for a PhD without this scholarship, so I'm really grateful to the Ella Dickinson Memorial Trust for this opportunity. It's really exciting to know that I will be working towards the end point of helping people to fight disease.
"Without funding, research like this just wouldn't get done, our knowledge would stagnate, and the new treatments wouldn't develop."
The Trust's support for six PhD Scholarships over the coming years extends a connection between the Dickinson family and the University of Leeds which stretches back for generations. Between the wars, when bovine tuberculosis presented a significant risk to people drinking untreated milk, the family worked with biologists at the University to ensure that their own dairy herd remained TB-free. In the post-war years, agriculture students would visit Longley Farm to gain practical experience of pig and dairy farming and animal nutrition.
And as the business grew – it now employs 120 people in Holmfirth and has branches in Australia, Uruguay and Estonia – it gained a reputation for being pioneering, including being the first business in England to install a wind turbine.
Ella was well known in her local community, a volunteer with meals on wheels and the Kirkwood Hospice, and a President of the Inner Wheel. And the impact which Dr Owen had during her treatment was such that she was determined to give her support: "He had time for her and she had confidence in him," says daughter Sally. "Mum really wanted to support this. She could have just sent a cheque but she really wanted to target it towards Dr Owen's work.
"We've got real faith in what he's doing."
Dr Owen expressed his thanks to the family: "We are hugely grateful to the Dickinsons for their generous support. The scholarship programme will contribute significantly to our research efforts in myeloma and related diseases. Through this long-term programme of scholarships we also hope to be able to develop young researchers into future academic leaders."