Life changing research celebrated on World Cancer Day
The life-changing impact of cancer research done at the University is being celebrated on the first anniversary of the Leeds Cancer Research Centre.
The 2023 theme for World Cancer Day is Closing the Care Gap, in recognition of the lack of equity in access to cancer diagnostics, treatment and care around the world.
The vision of Leeds Cancer Research Centre (LCRC) is to bring together scientists and clinicians across disciplines to transform the prevention, diagnosis, and treatment of cancer; tackle cancer-related health inequalities, support the next generation of early career researchers and improve patient outcomes in Leeds, Yorkshire and across the globe.
University of Leeds' Vice-Chancellor and President Professor Simone Buitendijk said: "Cancer research at the University of Leeds is focused on addressing health inequalities and is producing some incredibly exciting results with real impact. On World Cancer Day, we celebrate the advancements we have made in cancer research here at Leeds, which are helping to shape a better future for humanity."
Research innovations
The LCRC is a University of Leeds partnership with Leeds Teaching Hospitals NHS Trust, working to tackle some of the greatest challenges facing cancer research today. In its first year, the centre has already made several significant advances in the fight against cancer, including:
And one ongoing bowel cancer trial has already had life changing implications for husband and wife Judy Hatton and Trevor Thewlis, from Cookridge in Leeds, who have both faced the same life-threatening cancer diagnosis.
Patient story
Judy Hatton, 76, is now cancer free and thanks to the new treatment approach does not face the same life-changing side effects Trevor lives with.
Judy was diagnosed in 2019, 13 years after her husband Trevor was treated for the very same cancer.
Trevor, 82, had standard treatment - chemotherapy and radiotherapy followed by surgery – leaving him with a permanent ileostomy and a stoma bag. But under the STAR-TREC trial, Judy was able to avoid surgery altogether, instead having a five-week outpatient course of radiotherapy and chemotherapy tablets, which eradicated her tumour.
The couple are now free from cancer, but the impact of the disease on each of their daily lives could not be more different. Judy has no long-term side effects, but Trevor must change his ileostomy bag every three hours, throughout the day and night.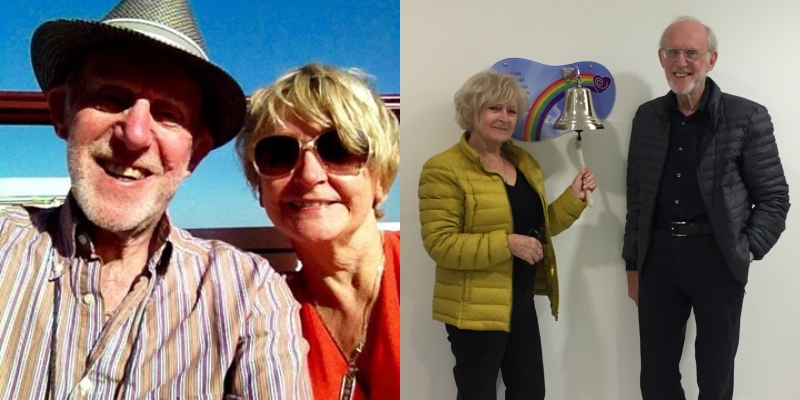 Judy said: "People including health professionals said, 'just get the tumour out'. But because I'd seen what Trevor had to go through, and still goes through - although he copes with it admirably – with the life-changing situation of having a stoma, it was a no-brainer for me to go with the trial. If it hadn't worked there was still the option of surgery, which would only have been a few weeks later.
"I was examined in September 2019 and the tumour had gone, so I didn't need surgery and my life hasn't changed in the radical way that Trevor's changed in 2006.
"I like the idea of the trial because you are so closely monitored. You really are looked after because they want the results, and they need to record the results. So it just seemed the obvious thing to do.
"I am very grateful for the advances in medical science and in radiotherapy. I am grateful for the very existence of trials like this that continue to improve people's outcomes and people's lives."
Trevor said: "The stoma is a bag – like a hoover bag – attached to my stomach which collects my waste. I have to empty it every three hours, day and night. It means I am up at least twice during the night. If people ask me about it and I tell them they sit there with their mouths open, but it's just my life now. "The last 10 – 14 years have been based around that so there's evidence every day of all the problems Judy has avoided. I've just got used to it, I live with it, and I decided early on that I was alive and this was part of the deal. It's only in the last couple of years that it's become a bit of a bind.
"It's not ideal – I'd rather be like Judy – but all told we're both here and that's great."
Cancer care in Leeds
Both patients were treated in the Leeds Cancer Centre in St James's University Hospital, part of the Leeds Teaching Hospitals NHS Trust. Some 50 patients a day are diagnosed with cancer in Leeds hospitals, highlighting the importance of new treatment discoveries through clinical trials such as STAR-TREC.
Professor Phil Wood, Chief Executive at Leeds Teaching Hospitals, said: "At Leeds Teaching Hospitals, research is a crucial part of what we do. Last year over 13,000 of our patients joined research studies across our organisation and we want all of our patients to be able to take part in research.
We are fortunate to have world class universities on our doorstep, and we regularly collaborate with the University of Leeds on ground-breaking research trials like this one.
What once seemed impossible in cancer research and care has now become a reality thanks to a number of technological innovations that have led to breakthroughs in the ways we find, visualise, understand, and treat cancer.
Through the work of our dedicated teams at the Leeds Cancer Centre, our state-of-the-art Clinical Research Facility and world-renowned Biomedical Research Centre, both funded by National Institute of Health Research, we can continue to explore and use these technologies.
Our goal is to accelerate progress against this disease so that all patients can have a successful outcome like Judy."
Smarter kinder treatment
The STAR-TREC trial is co-led by Professor David Sebag-Montefiore, who also treated Trevor's cancer 16 years earlier.
David Sebag-Montefiore, Professor of Clinical Oncology in Leeds' School of Medicine and Director of the Leeds Cancer Research Centre, said: "It was incredible to learn that I'd treated Judy's husband Trevor years ago – and it is wonderful that we have been able to help both Judy and Trevor overcome their cancer.
"Leeds is leading the way in trying to find an effective out-patient radiotherapy treatment for early-stage bowel cancer that allows patients to avoid the short and long-term side effects of surgery and the need for a temporary or permanent colostomy.
"This smarter, kinder treatment will help tackle health inequalities by providing an effective treatment for patients who are frail or have multiple medical conditions, which is more commonly found in our more deprived neighbourhoods.
"The trial uses a highly targeted precise radiotherapy technique developed in Leeds to minimise the side effects of radiotherapy. The results will help determine whether radiotherapy can replace surgery as a new international standard of care resulting in fewer side effects, improved quality of life, and avoid the need for an ileostomy."
International trial
The radiotherapy technique used in the STAR-TREC trials was developed by the Leeds Radiotherapy Research Group, which was established with funding provided by Leeds Hospital Charity.
STAR-TREC is an international phase 2/3 trial funded by Cancer Research UK, and jointly led by Professor David Sebag-Montefiore at the University of Leeds and Mr Simon Bach at the University of Birmingham. It is co-ordinated by the Birmingham Cancer Research UK Clinical Trial Unit. It recruits patients in the UK, the Netherlands and Denmark and is due to open shortly in Sweden and Belgium.
Professor Sebag Montefiore added: "Patients are at the heart of everything we do at the Leeds Cancer Research Centre. Our goal is to transform the prevention, diagnosis, and treatment of cancer, tackle the health inequalities it creates, and improve patient outcomes in Leeds, Yorkshire and across the globe.
"Judy and Trevor's story is testament to the impact cancer research is having on people's lives, and their quality of life too."
Further information
Contact University of Leeds press officer Lauren Ballinger via l.ballinger@leeds.ac.uk with media enquiries.
Pictures: Judy Hatton
For information about the Leeds Cancer Research Centre, contact Dr Danielle Battle, LCRC Research & Innovation Development Manager via d.battle@leeds.ac.uk.