Improving cancer care: new data hub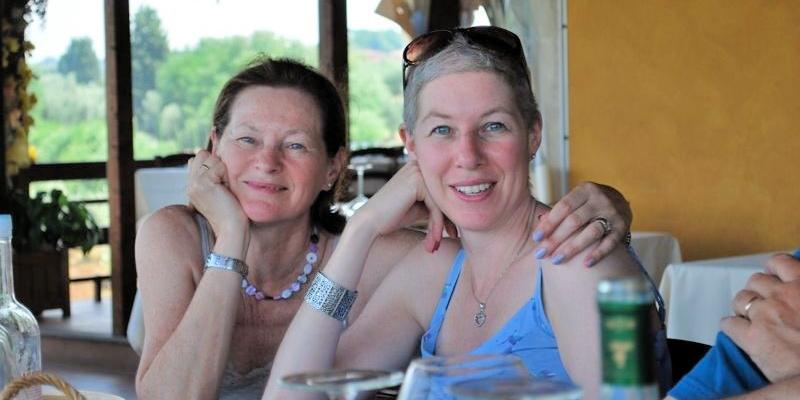 Researchers in Yorkshire are collaborating on a new national data hub that aims to transform how cancer data from across the UK can be used to improve patient care.
Photo above: [right] Natalie Pearce - a survivor of ovarian cancer - took part in a clinical trial and is supporting the new initiative
Saving lives
The new collaboration has today been awarded £4.5 million to deliver DATA-CAN, the Health Data Research Hub for Cancer. The project will work closely with patients to bring their clinical data together and use this data to help develop improved cancer treatments, give patients faster access to clinical trials, and understand how we can improve NHS cancer services.
One in two people will get cancer during their lifetime. Every year, almost 400,000 new cases are diagnosed in the UK, and cancer costs the NHS £7 billion annually.
The Independent Cancer Taskforce recommended in 2015 that using de-identified cancer data more effectively could potentially contribute to saving the lives of 30,000 cancer patients a year.
Bringing data together
Professor Geoff Hall, from the University of Leeds and Leeds Teaching Hospitals NHS Trust, will be the Clinical Director of DATA-CAN. He said: "This project will help empower the NHS to use data and analytics to optimise care for patients, while supporting universities and companies who work with us to discover and develop new treatments.
"A key focus of the hub will be to support the development and delivery of clinical trials and to identify which trials are suitable for individual patients. By doing so we will ensure patients have access to new, potentially life-saving treatments."
A national hub
The hub will be supported by patients, charities, clinicians, academic and industry-based researchers and innovators, and will involve cancer centres across the UK.
DATA-CAN is being funded by Health Data Research UK, the national institute for health data science, which is also funding six other health data hubs. The seven hubs are part of a four-year £37 million investment from the Government Industrial Strategy Challenge Fund (ISCF), led by UK Research and Innovation, to create a UK-wide capability for the safe and responsible use of health-related data on a large scale. The national hub has been founded by researchers in London, Belfast and Leeds. The founding partners are:
UCLPartners
Queen's University Belfast, representing Northern Ireland and Wales
University of Leeds and Leeds Teaching Hospitals, representing Yorkshire and Humber
Genomics England
IQVIA
"The new data hubs announced today have the potential to save millions of people's lives."
Researchers in Leeds are leading the way in involving patients and the public in the design and running of the project from the outset. This will ensure that patients have a decisive say in how their de-identified health data is used for research.
Dr Christopher Carrigan, from the University of Leeds, is involved in DATA-CAN and brings his expertise from patient engagement in national cancer data, through Bowel Cancer Intelligence UK. He is also involved with the national patient movement use MY data, which aims to allow every willing patient to give their data to help others, whilst safeguarding individual privacy and anonymity.
A 'future without cancer'
Natalie Pearce, aged 47, is a primary school teacher from Leeds and a survivor of ovarian cancer. She said: "I was diagnosed with advanced ovarian cancer at the relatively young age of 40. It was a huge shock, to say the least, as I was healthy in all other respects.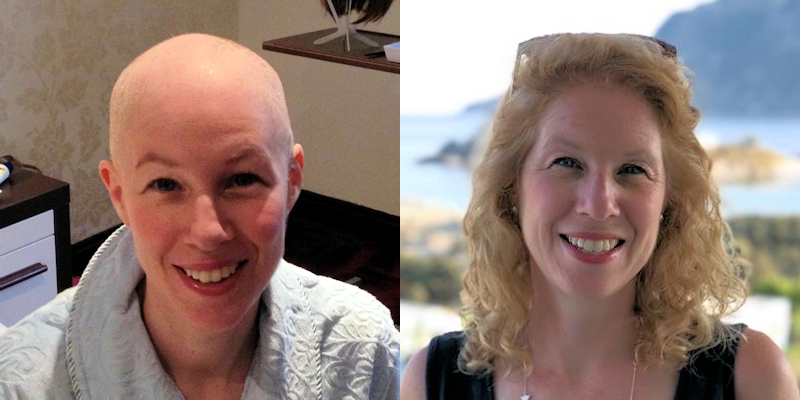 Natalie Pearce after chemotherapy in 2013 (left), and now in 2019 (right)
"My doctor, Professor Geoff Hall, suggested I take part in a clinical trial, meaning some of the chemotherapy was given directly into my abdomen. I have no idea if that's why the cancer hasn't returned and I'm still clear of it, but I'm so grateful I had the opportunity to take part in that trial. That's one of the reasons I think this data hub will be invaluable, to look at those small groups of people who've taken part in clinical trials and to try and understand why some patient's cancer didn't return.
"The answer in the long term is to compare and gather a great number of patients so you have a much bigger pool of data to be accessed by a wider range of researchers.
"If there's anything about my cancer data that could help someone else I would want to share it. Everyone's data will be anonymised, so I don't think anybody should hesitate because it can only help the future, and help us have a future without cancer."
Working in collaboration
Collaborators from Yorkshire and Humber include the University of Leeds, Leeds Teaching Hospitals NHS Trust, University of Sheffield, Sheffield Teaching Hospitals, Sheffield Children's Hospitals, Yorkshire and Humber Local Health Care Record, and Yorkshire & Humber Academic Health Science Network.
Dr Charlie Davie, the DATA-CAN Director from UCLPartners, said: "This collaboration will transform how cancer clinical data is used to improve patient care.
"Working across all four nations of the United Kingdom, DATA-CAN is a unique partnership of NHS organisations, patients, charities, academia and industry working together to improve cancer care by harnessing anonymous clinical and genomics data to provide cancer patients with an earlier diagnosis, faster access to clinical trials, and access to innovative new personalised medicines.
"We're privileged to be working with world leading experts in human data science. This unique collaboration will help us to deliver truly transformative change in cancer care."
The Hub will transform the collection and examination of high-quality cancer data, while ensuring all data are held securely and patients are involved in decisions about how their data might be used.
Science Minister Chris Skidmore said: "The new data hubs announced today have the potential to save millions of people's lives. They will take the information the NHS has at its fingertips to identify patterns, speed up research and find the treatments we all hope for."
Professor Andrew Morris, Director of Health Data Research UK, said: "The UK is home to some of the world's leading researchers and innovators who have historically struggled to access large scale data about people's health.
"Creating these hubs and the wider secure infrastructure will, for the first time, give researchers the opportunity to use data at scale to research the genetic, lifestyle and social factors behind many familiar common diseases and identify revealing data trends which may help with finding cures or treatments."
Further information
Header image shows Natalie Pearce with her mum Iresine in 2013 as her hair started to grow back after chemotherapy.
For interview requests please contact Simon Moore, Press Officer at the University of Leeds, on 0113 34 38059 or s.i.moore@leeds.ac.uk.
Find out more about DATA-CAN on their website: https://uclpartners.com/data-can