Excellent Longstanding Service to Undergraduate Clinical Education 2018 Winners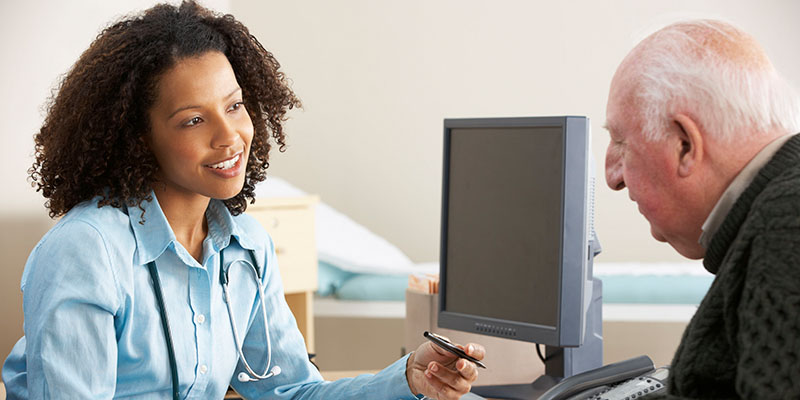 Leeds School of Medicine congratulates the winners of the 2018 Excellent Longstanding Service to Undergraduate Clinical Education awards.
Barry Ewart has been the Community Education Development Officer for 18 years in the School of Medicine. Barry worked persistently to develop the School's links with community organisations. He ensured that our students have access to these organisations to support their education, always looking at the quality of the placement and the safety of students. He has supported community organisations in their development, building lasting relationships and in some cases joining their management boards to offer extra support.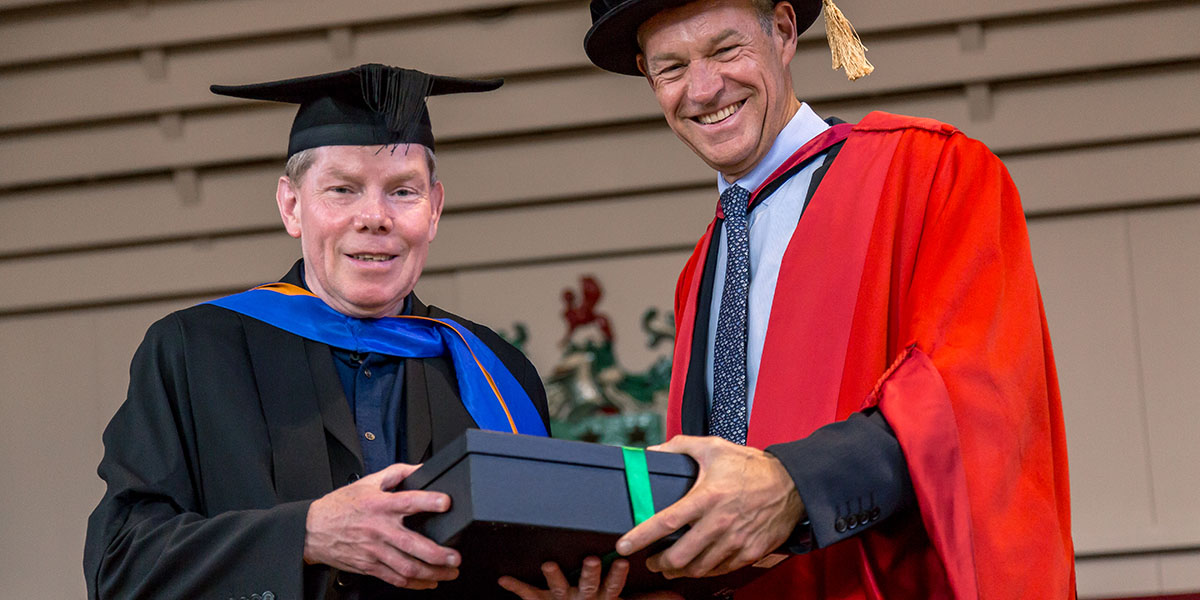 Barry Ewart receiving his prizing from Professor Paul Stewart.
Barry has supported colleagues to develop their courses ensuring the right community links were always present. He has worked as a tutor in a number of areas including IDEALS, Communications Skills and RESS projects. He has supported student assessments by supervising and marking projects. Feedback from students has always been excellent. Barry has always performed his role in a quiet non-assuming way that has led to him being valued and a very popular member of staff. Barry has been a significant contributor to the debates around equality and diversity within and outside of LIME. He has been an excellent role model and has championed the cause. Barry was a founder member of the national organisation DIMHA which champions issues of diversity nationally in clinical education. Barry has been an exceptional ambassador, empowering both students and the community groups with whom he worked.
Vanessa Gray has supported student learning since she first started work as a Project Assistant in the School of Medicine's general administration in 1998. In 2003, Vanessa was promoted to a Project Officer in the newly formed Medical Education Unit under Professor Trudie Roberts. Latterly, Vanessa has worked as the Monitoring & Evaluation Officer in Leeds Institute of Medical Education. She retired in July 2018.
Vanessa's role has been pivotal in placement improvement and establishing a student-centered culture. Vanessa has an excellent understanding of what makes a great student experience. She has the ability to interpret data and present a coherent picture of student feedback and understand this in the context of each student placement. Vanessa contributed to placement improvement discussions, she has always championed the students and their experience of placements and has contributed innovative ideas about how to solve issues and improve placements. Vanessa has worked collaboratively with all clinical colleagues within primary and secondary care. Colleagues both in LIME and across our partner Trusts have gone to Vanessa for advice and customised reports which she always provided on time and to the highest quality. Vanessa was committed to her work and is greatly respected by all her colleagues and will be missed.
Dr Pat Harkin has worked for the University for over a third of a century. He arrived as a student in 1975 and, apart from working in Scarborough for 6 months, he has spent the last 43 years in Leeds. Pat trained as a Histopathologist and started as a Lecturer in Pathology in the School. He has held a variety of roles over the years including IT, Staff & Student Representative, Academic Sub Dean, Associate Director of Student Support, Deputy Director of Admissions, and Academic Integrity Officer. He has supported student extra-curricular activities and students have utilised his theatrical skills by providing him with walk-on parts in the Christmas Pantos.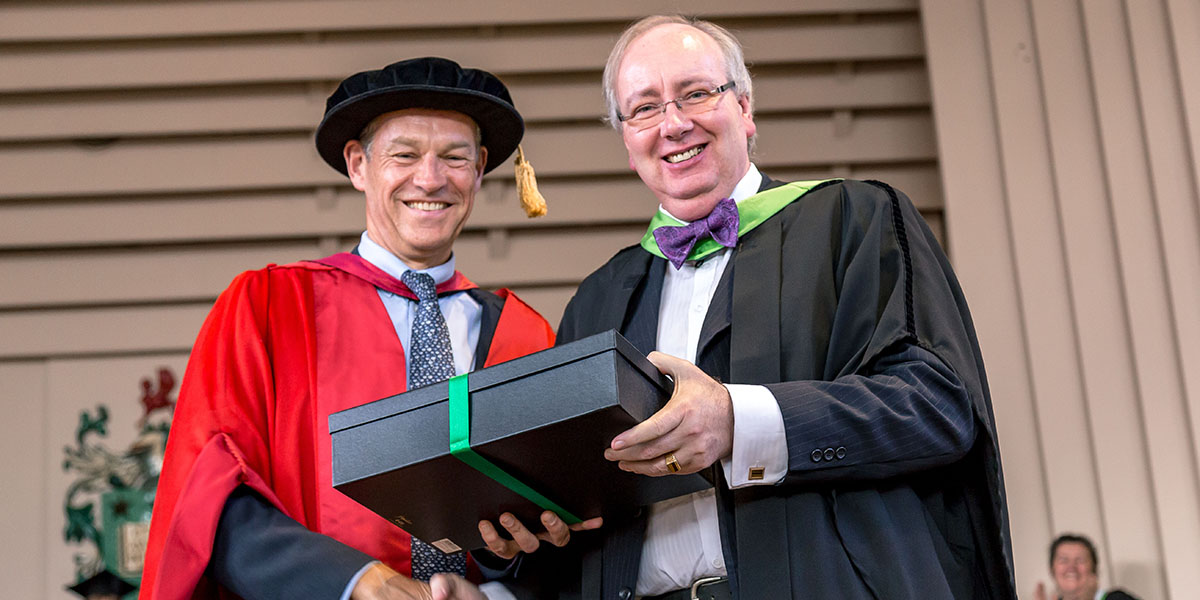 Dr Pat Harkin receiving his prizing from Professor Paul Stewart.
Pat has always had the best interests of students at heart, and over his working career in the medical school has made a hugely positive impact on student experience and support. For many years he was voted Tutor of the Year by students. He has served on committees relating to student support and progress, and has supported the personal tutor system with wise advice for challenging problems, and excellent support to individual students. He has carried out the challenging role of Academic Integrity Officer with diligence and skill. In Pat's role as Director of Admissions, he designed an automated feedback system and acted as chief examiner for the BMAT consortium. He is approachable and knowledgeable, a combination of attributes which is invaluable.
Dr Hugh Larkin worked as a Consultant Physician and Cardiologist, Harrogate District Hospital since 1983, and was the lead for the Year 5 Cardiology placement. He has shown immense enthusiasm for and contribution to undergraduate teaching spanning three and a half decades. His colleagues commend his superb clinical and teaching manner on the acute medical ward, and he continuously receives excellent student feedback. Hugh is very much an 'old school' clinician, always considering himself a general physician in addition to a Cardiologist, and maintaining a commitment to general medical on-call and AMU work. He maintains a comprehensive history and examination as the foundation to all his clinical care, he loves to demonstrate and share these skills with others, and as a result he is a superb role model to medical students.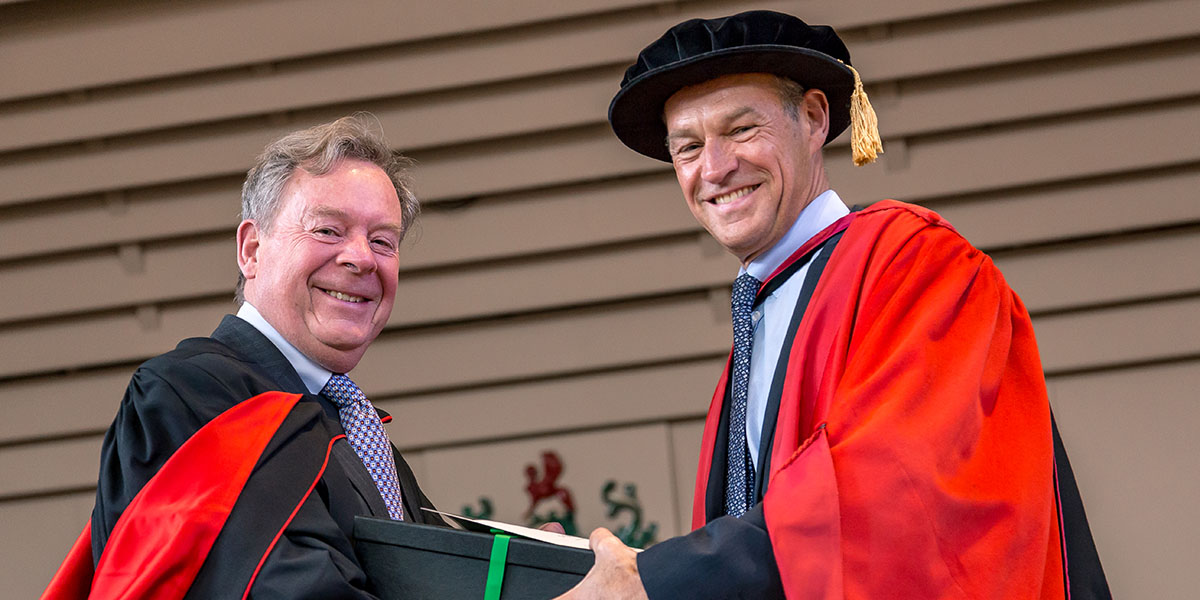 Dr Hugh Larkin receiving his prizing from Professor Paul Stewart.
Hugh has made an outstanding contribution to teaching throughout his time at the Trust and is an incredibly hard-working physician, dedicated to front-line clinical work. He has always been keen to teach and managed to find the time to do so in his heavy service-orientated job plan. He is admired and appreciated by the many thousands of undergraduates whom he has helped; Hugh is a true unsung hero and is held in high esteem by his colleagues, patients and students.
Dr Karen Lee has worked at the University since 1982, during which time she has made a tremendous contribution to student education through research-informed teaching, curriculum development, programme leadership, student supervision and mentoring and advising colleagues. In particular, Karen has taught on and been programme Lead for an Intercalated Programme; the co-Director of the Leeds EXSCEL Scholarship Programme since 2006, and was the Director of Postgraduate Studies. Karen has made an outstanding contribution establishing and developing the EXSCEL programme, which provides the opportunity for highly talented students to develop research skills, mentorship skills, leadership and community outreach activities. Under Karen's leadership, the programme has grown from strength to strength with graduates of the scheme acting as excellent ambassadors for the School.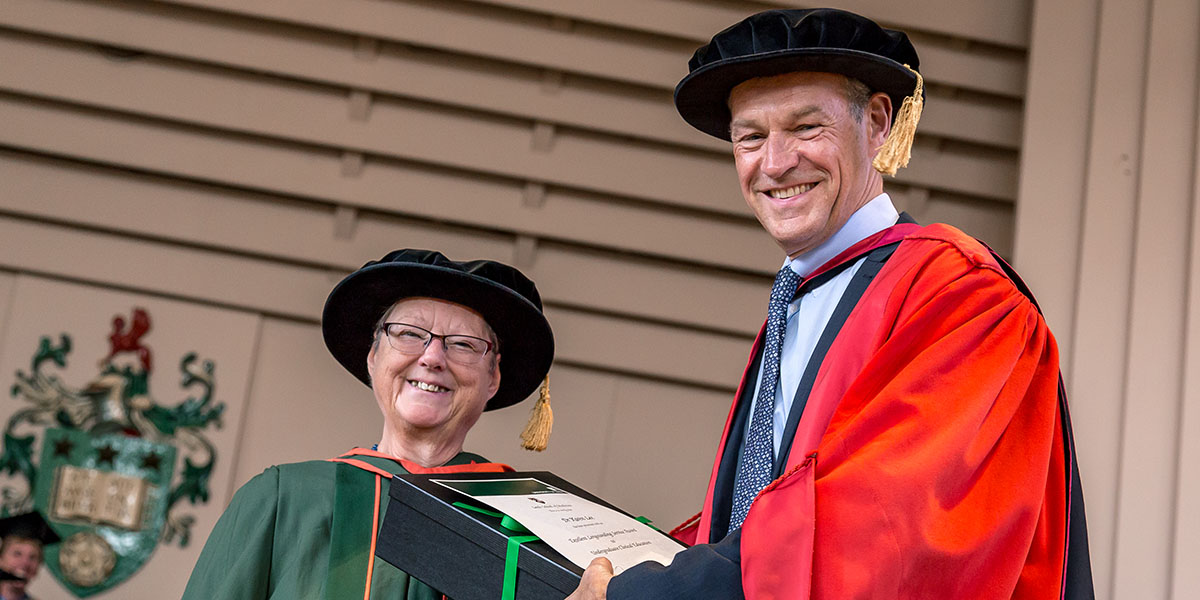 Dr Karen Lee receiving her prizing from Professor Paul Stewart.
Karen contributed to the development of the RESS strand of the MBChB. She also played a significant part in the development of an integrated master's programme, MRES for a novel curriculum proposal. All of her work demonstrates her commitment to providing an excellent student experience. Karen is unfailingly helpful in supporting colleagues through the maze of University processes, many colleagues will miss her wise advice, deep knowledge and most of all, her commitment to students. Karen retired in July 2018.
Dr Karen Needham has been a GP partner and honorary senior lecturer for over 20 years at College Lane Surgery, Ackworth, Pontefract. Throughout this time she has shown great commitment and enthusiasm for undergraduate teaching. Karen played an integral role in developing the teaching programme gaining consistently excellent feedback from students. As well as being passionate about patient care and providing high standards of clinical care, Karen has continuously contributed to teaching, support and mentorship of Leeds students and her passion for student learning and ability to engage students, including those who have been struggling, has inspired her colleagues over the years to also become involved in teaching. Due to Karen's passion for teaching, students have quickly become enthused by Primary Care and many have left the practice sure that this would now be their future career, one Leeds student was so inspired that they applied to the Wakefield/Pontefract training programme to be able to return to the practice as a trainee, and is now a GP trainer and undergraduate teacher herself.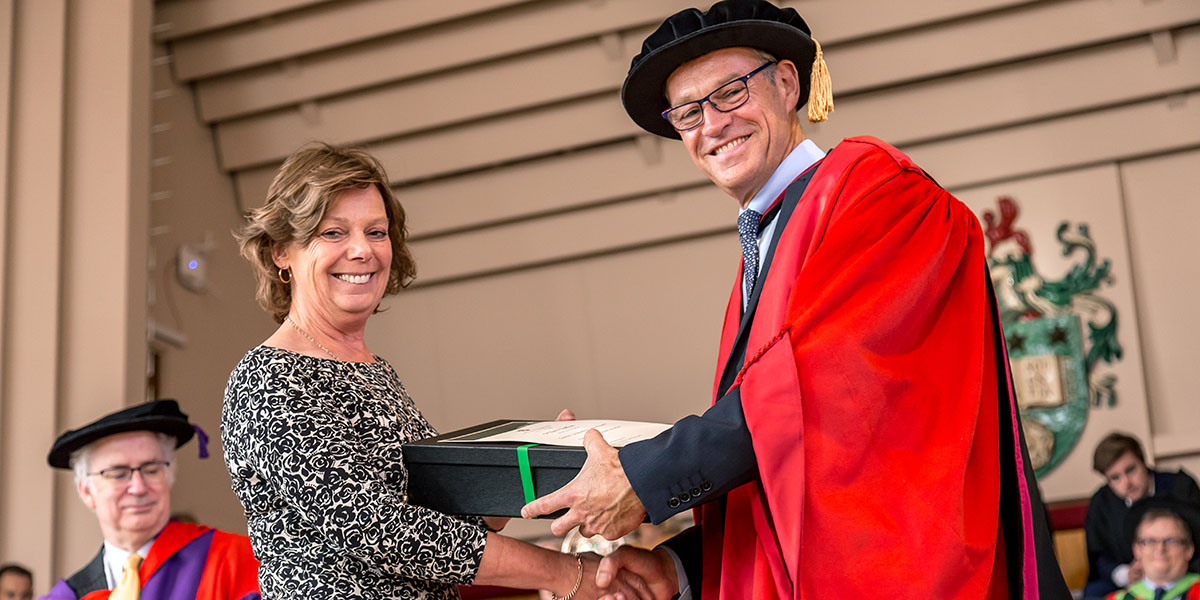 Dr Karen Needham receiving her prizing from Professor Paul Stewart.
Karen has been a strong advocate of the importance of high-quality teaching within protected time for herself and colleagues, safeguarding enthusiastic tutors, engaged students and a robust teaching programme for the future.
Godfrey Pell has worked within Assessments on the MBChB programme for 15 years. The reputation of Leeds' assessment practices on the MBChB has grown to the point that we are now world leaders. To a very great extent, this success has been a result of the scholarship, research and hard work of Godfrey over this time, bringing recognition and prestige to the School and University. Godfrey's work has included the development of quality assurance good practice as a result of a long-running programme of high quality published research. In addition, important and world-leading assessment design innovations have been led by Godfrey, working with colleagues – most importantly the move to a sequential testing model of assessment in the OSCEs. Godfrey's work has resulted in a better experience for weaker students, and better diagnostic assessment. The reliability and fairness of these assessments is also strongly valued by students. The widely acknowledged move to sequential testing has led to a wider move to such models at a number of medical schools around the UK, and potentially beyond.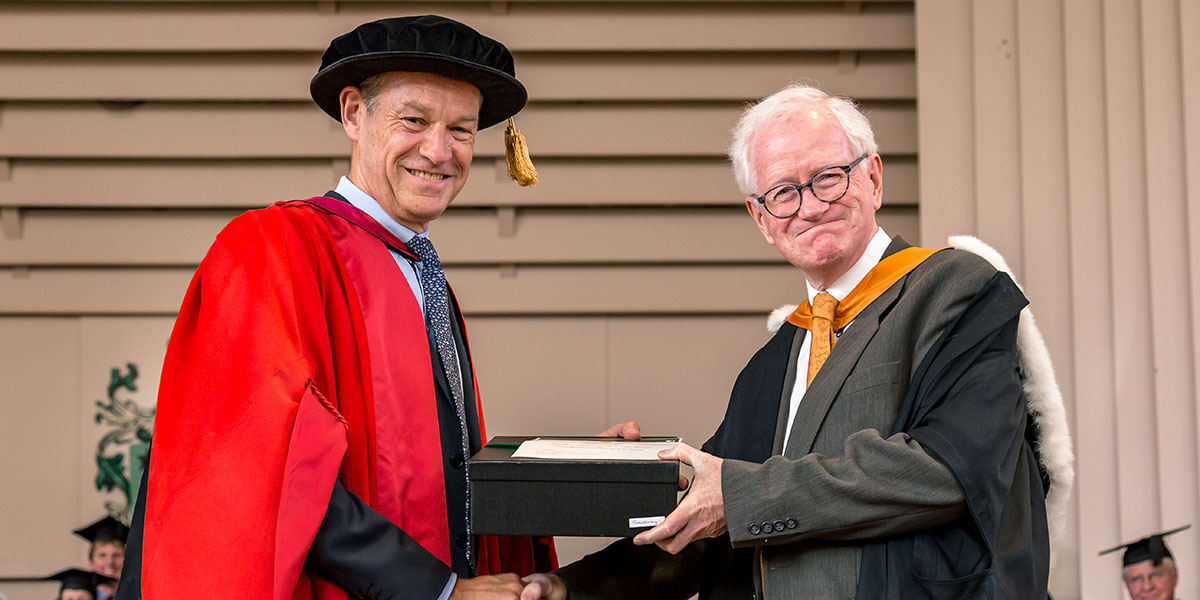 Godfrey Pell receiving his prizing from Professor Paul Stewart.
Godfrey also contributed to developing the reformed MBChB curriculum (2010) and was a very successful IDEALS tutor, with excellent feedback from his tutor groups. Godfrey's reputation is highly regarded in medical education assessment research and practice, both in the UK and internationally, increased by his contributions to numerous workshops and presentations at national and particularly international conferences.
Presentation of the awards took place at the School of Medicine Professionalism Ceremony on 26th October 2018. The ceremony is held each autumn at the University for Year 3 students and Year 2 Physician Associate (PA) students as they start their clinical placements. There is a procession of guests into the Great Hall and during the ceremony, the Dean of Medicine makes a presentation to the winners.