Technologies in Medical Education
Group summary: The Technologies in Medical Education research strand has a focus on research into developing and evaluating technologies to enhance learning and teaching.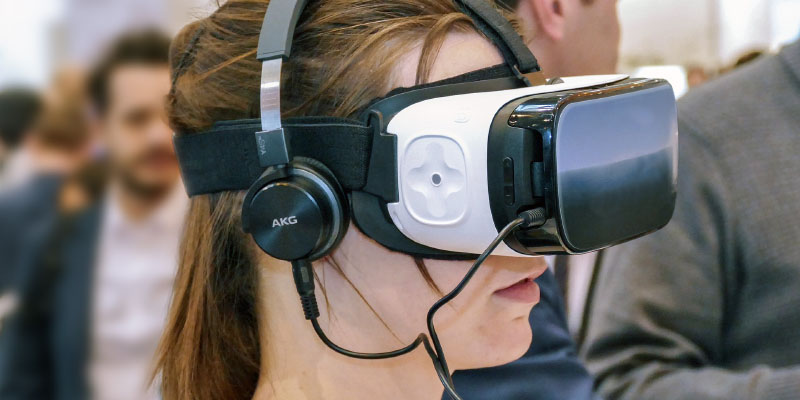 What we do
This research strand has a focus on using technologies to enhance learning and teaching. We have an established reputation in pioneering technological solutions to innovate medical education. This includes a range of technologies – from e-books and multimedia, to mobile systems and personalised learning. From virtual and augmented reality, to artificial intelligence and big data. We engage in co-design activities with students, educators, clinicians and patients to get insights into real world challenges and shape technology solutions to the needs of individuals and their practice. Working actively with academics from related disciplines (Computing, Psychology, Health Science, Education) as well as partners from industry, we identify areas where technology can play a key enabling role. This allows us to design and develop innovative systems, as well as to evaluate the potential and pitfalls of technology in medical education.
We take a holistic approach towards preparing doctors for tomorrow's challenges. This considers the broad ecosystem of medical education and training, centering around the empowerment of students, health professionals and patients. Our research spans several areas where technology can provide novel opportunities for innovating medical education, including informal learning, personalised learning, and immersive learning.
Our research
Below we highlight just a few of our current and past research projects. To find out more about our wider TEL research and innovation work please also look at our Technology in Medical Education website or get in touch with us.
Learning Layers
The Learning Layers project was a large-scale research project co-funded by the European Commission's 7th Framework Programme as part of the ICT-2011.8.1 Technology-Enhanced Learning call. LIME was a significant partner in a consortium of 17 institutions representing 8 different countries. This project ran from November 2012 – January 2017. The project explored how to use technology to support informal learning in the workplace. The LIME team led the healthcare sector work: exploring, co-designing and evaluating tools to support learning within the Primary Care workplace. This research addressed issues relating to informal learning, co-design, technology adoption, impact and evaluation. The LIME research within Learning Layers has already led to 6 peer-reviewed journal papers and 6 peer-reviewed conference papers, as well as leading to changes in practice and adoption of the tools both in the primary care context and beyond.
In November 2018 it was announced that Learning Layers had won the European Commission's Outstanding VET (Vocational Education and Training) Research Award.
More information on the project can be found on the Learning Layers Results website.
myPAL
myPAL (my Personalised Adaptive Learning) is a project that aims to better understand students' learning behaviour and to design interventions to support self-regulated learning. We are using a design-based research approach to guide this, by iteratively developing a personalised digital learning platform to present students with an overview of their learning activities and feedback. There are two intertwined strands to our work. In the analytics strand we are using AI approaches to analyse learning data in order to identify patterns and activities that may help us to better understand our students' learning behaviour. In the co-design strand we are working with students and tutors to design and explore how different visualisations and prompts can be used to support students in using the myPAL overview to plan and manage their learning. This work has received funding from the Office for Students (formerly HEFCE) Catalyst Fund.
More information and links to publications can be found on the myPAL project website.
Teaching with Virtual and Augmented Reality
Since 2017 LIME has been investing in resources and partnerships that focus on the use of immersive technologies that can be used for teaching. Augmented and Mixed Reality enables us to teach topics such as anatomy and clinical skills to groups of students using holograms of patients or images of the human body. We are also able to use Virtual Reality techniques to provide students experience of areas of clinical practice that are normally difficult to access. These techniques are useful in the simulation of specific conditions and the teaching of specific clinical skills to medical students.
Collaboration has been key in this area. Through partnerships with organisations and institutions such as Pearson®, Medical Realities®, Leeds Teaching Hospitals Trust and Aristotle University of Thessaloniki, we have been able to pilot and develop immersive, interactive learning resources and evaluate the value of these new technologies in the teaching of medicine.
ALPS
The Assessment and Learning in Practice Settings (ALPS) Centre of Excellence in Teaching and Learning (CETL) was led by LIME and funded by HEFCE between 2005 – 2011. It was a highly collaborative project involving 5 Higher Education Institutions, 3 commercial partners and 16 health and social care professions; as well as a wide range of partners including Yorkshire and the Humber Strategic Health Authority, practice networks and professional bodies.
The ALPS mission was to explore ways to ensure that students from courses in Health and Social Care were fully equipped to perform confidently and competently at the start of their professional careers. To achieve this ALPS undertook research and development work to identify, evaluate and support excellent practice in assessment and learning in practice settings. The research focus was on workplace learning, interprofessional learning, patient and carer involvement and mobile learning.
A ground-breaking strand of this work was the development of an approach (technological and pedagogical) to using mobile technologies (smartphones) to support students' learning whilst on placement. This work won multiple national and international awards and had a direct impact on the student experience, as this use of mobile technology to support learning (the mobile curriculum) was adopted by the School of Medicine and continues to be supported and further developed.
Further information can be found on the ALPS website.
Funding
Academic collaborators
Industry partners
Key publications
Coulby, C., J.C. Laxton, S. Boomer, N. Davies, K., 2010. 'Mobile Technology and Assessment – A case study from the ALPS programme' in Work-based mobile learning: concepts and cases. A handbook for academics and practitioners ed. Pachler, N. Pimmer, C. Seipold, J. Peter Lang, Oxford.

Coulby, C., Hennessey, S., Davies, N. and Fuller, R., 2011. The use of mobile technology for work‐based assessment: the student experience. British Journal of Educational Technology, 42(2), pp.251-265.

Ley, T., Cook, J., Dennerlein, S., Kravcik, M., Kunzmann, C., Pata, K., Purma, J., Sandars, J., Santos, P., Schmidt, A., Al-Smadi, M. & Trattner, C., 2014. Scaling informal learning at the workplace: A model and four designs from a large‐scale design‐based research effort. British Journal of Educational Technology.

Bamidis, P.D., Dimitrova, V., Treasure-Jones, T., Poulton, T. and Roberts, T., 2017. Augmented Minds: Technology's role in supporting 21st Century Doctors. In Workshop on European TEL for Workplace Learning and Professional Development (TEL@ Work). Leeds.

Dimitrova, V., Mitrovic, A., Piotrkowicz, A., Lau, L. and Weerasinghe, A., 2017 July. Using learning analytics to devise interactive personalised nudges for active video watching. In Proceedings of the 25th Conference on User Modeling, Adaptation and Personalization (pp. 22-31). ACM.

Hecking T; Dimitrova, V.; Mitrovic, A.; Ulrich Hoppe, U., 2017. Using Network-Text Analysis to Characterise Learner Engagement in Active Video Watching ICCE 2017 Main Conference Proceedings, pp. 326-335.

Joynes, V., Kerr, M. & Treasure-Jones, T., 2017. Exploring Informal Workplace Learning in Primary Healthcare for Continuous Professional Development, Education for Primary Care 2017; 28 (4):216-222. doi:10.1080/14739879.2017.1298405.

Piotrkowicz, A , Dimitrova, V, Treasure-Jones, T et al., 2017. Quantified Self Analytics Tools for Self-regulated Learning with myPAL. In: Kravcik, M, Mikroyannidis, A, Pammer-Schindler, V and Prilla, M, (eds.) Proceedings of the 7th Workshop on Awareness and Reflection in Technology Enhanced Learning co-located with the 12th European Conference on Technology Enhanced Learning (EC-TEL 2017), Tallinn, Estonia.

Thakker D; Karanasios S; Blanchard E; Lau L; Dimitrova VG, 2017. Ontology for Cultural Variations in Interpersonal Communication: Building on Theoretical Models and Crowdsourced Knowledge. Journal of the Association for Information Science and Technology, 68 (6), pp. 1411-1428.

Piotrkowicz, A., Dimitrova, V., Treasure-Jones, T. and Roberts, T., 2018. The Concept of the" Quantitative Self" and Its Use in Developing Lifelong Learners. In Proceedings of the 2018 Annual Meeting of the American Educational Research Association. American Educational Research Association. https://youtu.be/5yIVbhYqgSQ

Smith, L., O'Rourke, R., Memory Van Beek, S. and Bickerdike, R.A., 2018. Local and global dimensions of a clinical skills e-book development project. In EC-TEL Practitioner Proceedings 2018, http://ceur-ws.org/Vol-2193/paper11.pdf

Treasure-Jones, T., Dent-Spargo, R. and Dharmaratne, S. 2018, September. How do students want their workplace-based feedback visualized in order to support self-regulated learning? Initial results & reflections from a co-design study in medical education. In EC-TEL Practitioner Proceedings 2018, http://ceur-ws.org/Vol-2193/

Treasure-Jones, T. and Joynes, V., 2017. Co-design of technology-enhanced learning resources. Clinical Teacher, Vol 14, pp1-6, doi:10.1111/tct.12733
Who we are
People
Group Lead
Professor Trudie Roberts