Establishing the Psychology learning community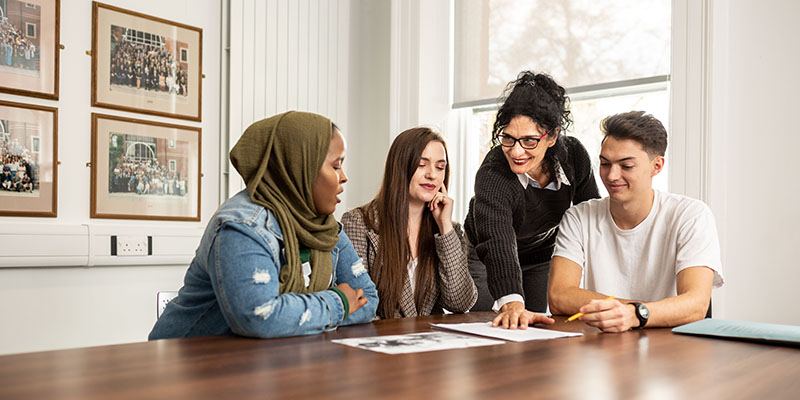 Students at the School of Psychology have been contributing to establishing and maintaining a Learning Community environment within the school for several years now.
The below examples have helped to tie together the strong learning community environment here at the School of Psychology.
Open minds
Open Minds is a student-led committee at the School of Psychology. Open Minds organises and delivers events that aim at getting high school students enthused and passionate about psychology and encourages them to consider applying to study the subject at university. The School of Psychology works closely with the University's Educational Engagement team and has a particular focus on engaging with students from schools where there is a low rate of progression to university. It is one of the committee's main aims to support wider and more equal access to higher education.

If you would like to find out more about Open Minds, please contact Charity Brown.

Please note: Due to the Coronavirus pandemic, we have had to suspend Open Mind activities for 20/21.
Psynapse
Psynapse is a yearly publication for both staff and students that started 6 years ago with the aim of bringing the department together. Student representatives have conveyed that the student body feels alienated from lecturers and researchers. A publication aimed at both groups provides a common-ground area with the opportunity to offer insight into both staff and students lives, and inspire more student involvement in the department. Bringing staff and students together creates a sense of community and increases support, encouraging the 'providence of excellence through learning and teaching' that the school strives to uphold.
The publication is run by a team spanning across all three year groups and Dr Gina Koutsopoulou, our Learning Community and Partnership Champion. There is an editor-in-chief, executive editor, assistant editor(s), creative and arts director, researcher(s), a lead writer, writer(s) and a photographer. The team of editors interview people, take photographs, design the format, with Dr Gina Koutsopoulou overseeing the process.
LUU PSYCSOC
The Psychology Society organises social, charity and careers events and a trip abroad each year for students. They contribute in being at the induction week at Riley Hall recruiting members, organising socials during induction week and throughout the year bringing freshers together to meet and socialise with students from other levels. Whilst also organising the yearly Psychology Ball which is the greatest and biggest social of the school with staff, postgraduates and students from all years. Last year the group won the Partnership Ward of Equality from the Faculty of Medicine and Health. This year we have set up the LUU PSYCSOC SPORT group alongside the Alumni. The Captain sits at the SSF.
PASS scheme
The Peer Study scheme provides students with the opportunity to seek educational support from other students. It is a chance to ask questions, get feedback and learn from others who have very recently completed the same or similar courses. They often run as weekly sessions, focusing on academic matters. Each Year One Personal Tutorial group is allocated two PASS leaders students from Level 2 and 3 who are able to share the information they gained during their first year. PASS mentors are volunteer undergraduate students in their 2nd or 3rd year who have undergone training to help equip them for their role and they meet Year one students every week. The programme is coordinated in the School of Psychology by Sarah Kelly and Dr Gina Koutsopoulou.
PGR students
Postgraduate researchers are an essential part of our research activity and are valued for their contributions to the academic community. Dane and Lucy, both PGR students at the School of Psychology have been specifically praised by Dr Gina Koutsopoulou for their outstanding contributions to teaching and learning, as well as sharing best practice with other students.
Student academic reps
Our student reps are in place for the SSF and work in partnership with LLU to develop projects to support students. Last year the student academic rep won the partnership award for this category from the Faculty of Medicine and Health. The latest example of their contribution has been the involvement with the School of Psychology partnership awards.
Informal networking meeting with returning placement students
Students who worked in industry last year accepted an invitation to formally chat and discuss their placement achievements to students interested in a placement and share advice. Interested placement students were invited to come along to ask questions and to network with students to find out what they could do and how to get there.