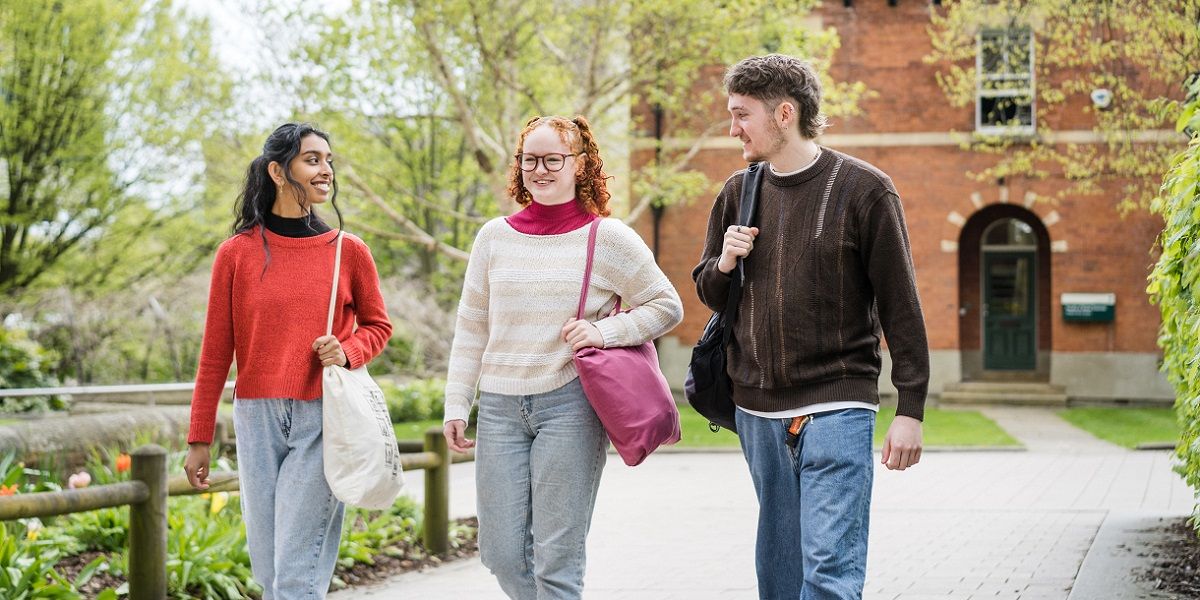 The School of Psychology has announced its Civic Award winners for 2022-23. The awards celebrate student achievements from the past academic year.
The Civic Awards are to recognise and celebrate undergraduate, taught postgraduate, and research postgraduate contribution to the School, University, and wider community as well as students' own personal development and achievements. Some areas covered by the awards include volunteering, research apprenticeships, enterprise, student support and student society involvement amongst others.
Civic Award Winners 2022 - 23
The awards celebrated the achievements of the following students:
Outstanding contribution to student education
William Sheppard
Outstanding contribution to delivering research
Sophie Bradshaw
Outstanding personal resilience and commitment to professional development
Alice Dunning
Outstanding dedication to personal and professional development
Charlotte Webb
Amy Somekh
Tmam Al Ghunaim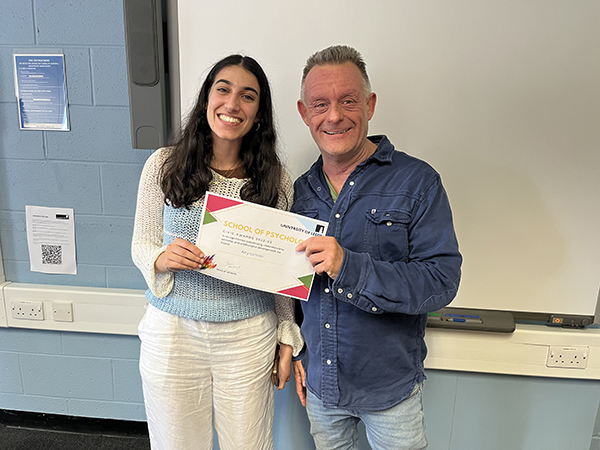 Amy Somekh with Professor Jason Halford, Head of School
Special contributions to developing the academic and learning community
PASS Leaders
Charlie Taylor
Imogen Youngs
Jack Wilson
Sarisha Toyne
Dominika Weilandt
Isabelle Baker
Nga Man Chan
Shadine Alsaeed
Flora Wingate
Emma Bailey
Eva Cleary
Olivia Bloom
Macie-Grace Coupland Nunn
Erin Blundell
Grace Cummings
Hannah Cohen
Jayda Elmesallamy
Grace Evans
Olivia Ferraro
Ema Gedeminskaite
Lucy McCullagh
Erika Grimbley
Kacey Jubb
Flo Harper
Ella Macartney
Ella Hilton-Buckley
Mia Huckstepp
Bethany Holden
Diya Mittal
Andreea Popescu
Maria Saab
Abbie Leadbetter
Katie Swabel
Anna Bainbridge
Sophia Long
Janna Al-Kaissy
Andreea Lupascu
Holly Allcard
Imogen Marks
Jessica Davison
Emily Matthews
Clara Fulton
Molly Nash
Sophie Gorman
Riddhi Pindoria
Rameen Haq
Kayleigh-Ann Redsell
Aoife McPolin-Hall
Isabella Rigley
Magdalena Romanowicz
Emily Manning
Charlotte Smith
Emma Strong
Hannah Lillis
Isabella Berlin
Sienna Wellington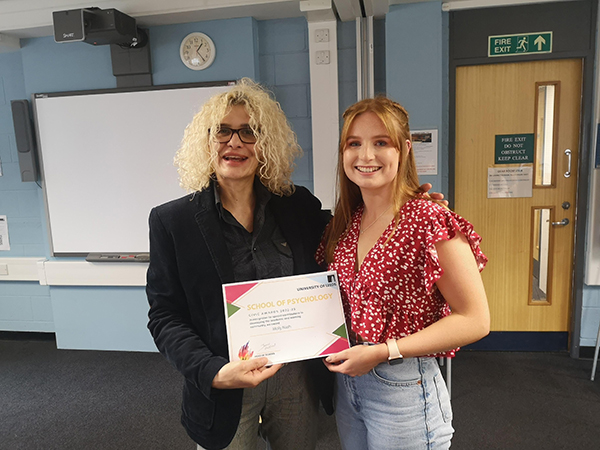 Molly Nash with Dr Gina Koutsopoulou
Outstanding contributions to building the student community
PSYCSOC
Grace Nevens
Bella Fenech
Alice Moran
Rachel Lawrence
Holly Gibson
Issy Maguire
Lucy McCullagh
Zoe Tomlinson
Lucy Melling
Sienna Wellington
Lucy Monk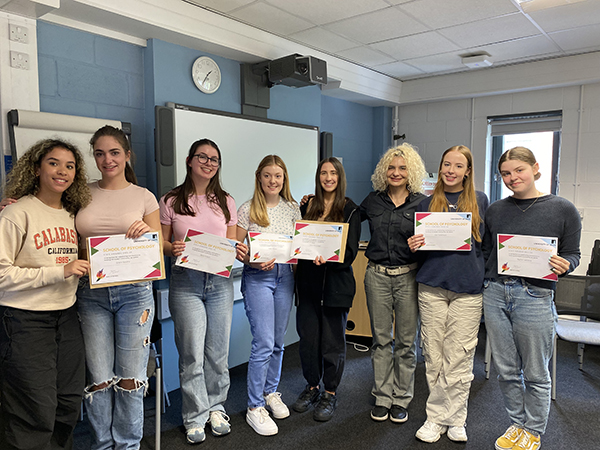 The PsycSoc Committee with Dr Gina Koutsopoulou
Leadership in student education
Course Reps
Anna Bainbridge
Olivia Small
Mariam Ahmed
Samah Shiraz
Zoia Ali
Christianne Anderson
Diya Mittal
Emily Ingham
Zoe Whitehead
Aliya Shafiq
Yizhi Xu
Beth Pitts
Yasmin Barker
Sadiqa Rakha
Amy McKay
Lucy Welch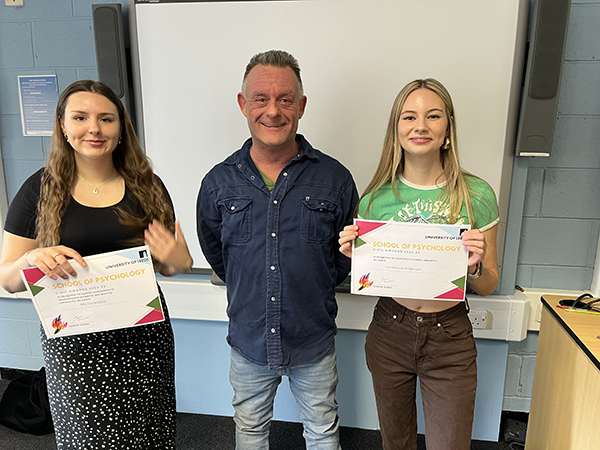 Mia Huckstepp and Christianne Anderson with Professor Jason Halford, Head of School
Special contributions to promoting equality and community
Haleema Hussain
Crystal Mason
Zoia Ali
Shanté Browne
Alisa Shah
Freshta Rasoul
Sharnel Wiggins
Syem Hussain
Temitope Obatusin
Ayesha Gul

Professor Jason Halford, Head of School has congratulated those that have received an award: "Our Civic Awards are a great opportunity to recognise and celebrate outstanding contributions from our students to the School and wider community, and it's fantastic to hear what an impact our students have had over the past year".

Congratulations to all of our Civic Award winners!