Weight stigma expert gives evidence to Government inquiry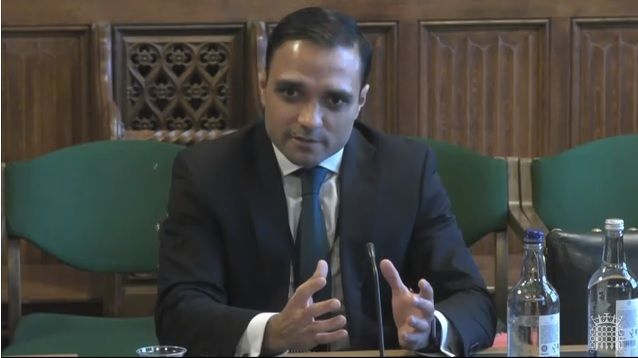 A Leeds expert has called on the Government to tackle weight stigma and introduce long-term policies that recognise the chronic nature of obesity.
Dr Stuart Flint gave evidence at the Health and Social Care Committee's first hearing in its inquiry into the impact of body image on physical and mental health, where there was a significant focus on weight stigma and discrimination.
Dr Flint is Associate Professor of Psychology in Leeds' School of Psychology, President of Scaled Insights, and an honorary academic for the Office of Health Improvement and Disparities, part of the Department of Health and Social Care.
The inquiry is investigating the impact of negative body image on mental and physical health and why weight stigma can be a barrier to accessing healthcare support.
It has become accepted that we think and, in some instances, treat people differently based on their body shape and size. Dignity and respect should be offered to everybody.
At the hearing, chaired by former Health Secretary Jeremy Hunt, Dr Flint spoke about the prevalence and pervasiveness of weight stigma. He described how the framing of obesity in policy and in the media contributes to the development and maintenance of weight stigma attitudes, which can lead to discriminatory actions.
He explained that children are reporting body image concerns from the age of three years old. Children's television characters with obesity are portrayed in a stereotypical manner including being gluttonous, slow, lacking friends and being socially inept; while in programmes aimed at teenagers, people living with obesity are shown as lacking intelligence, physically unattractive, and sexually undesirable.
He said: "These stereotypes are very evident and are targeted at age groups. This is critically important in terms of children and young people's development, as well as their physical and mental health."
Language in healthcare
Dr Flint said the framing of language around other health concerns such as cancer care was often very positive, as it should be. He said: "We are transcending feelings of hope and optimism. That is what we should deliver, and we know it is more likely to lead to behaviour change. But what we see in the framing of obesity is pessimism, anxiety, and fear – it doesn't lead to behaviour change. It leads to frustration and may lead to maladaptive responses.
"The combative language which we don't see when we are talking about other health outcomes is because weight stigma has become so ingrained in our society. It has become accepted that we think and, in some instances, treat people differently based on their body shape and size. Dignity and respect should be offered to everybody."
Stigmatising attitudes could even be seen among healthcare professionals, he said, which sometimes led to discriminating practices. People who experience weight stigma may disengage or avoid future healthcare, and these experiences can lead to maladaptive behavioural responses such as avoidance of physical activity settings and disordered eating behaviour, and may exacerbate health concerns.
Mental health issues
The committee also heard from James Brittain-McVey, campaigner and lead guitarist with The Vamps; Alex Light, journalist and influencer; and Nyome Nicholas-Williams, model and activist, about their own mental health issues around body image.
And the committee discussed the potential benefits and harms of including calorie numbers on restaurant menus. Dr Flint said reducing salt, sugar and high fat content was a better strategy. He said: "(Including calories on menus) is a population health intervention and requires much more evidence to really see whether it would be effective in this space."
Dr Flint added: "More than 100 different factors contribute to obesity. Telling people to eat less and move more is simplifying what is a complex health outcome. There is a need to shift the focus and to consider how we can address the well-known wider determinants that lead to obesity.
"We often think about weight change and behaviour as something that's very short term. The World Health Organization defines obesity as chronic, so it doesn't make sense to have acute solutions for a chronic outcome. As such we need longer-term support, to address the wider determinants of obesity, to address weight stigma and discrimination that is pervasive in society, and to have more empathetic, compassionate approaches that have been lost in relation to obesity."
Further information
For media enquiries contact University of Leeds press officer Lauren Ballinger via email: l.ballinger@leeds.ac.uk.
Dr Flint provided written evidence to the inquiry which can be read on the parliament.uk website.
The hearing is available to watch in full on the parliament.tv website.