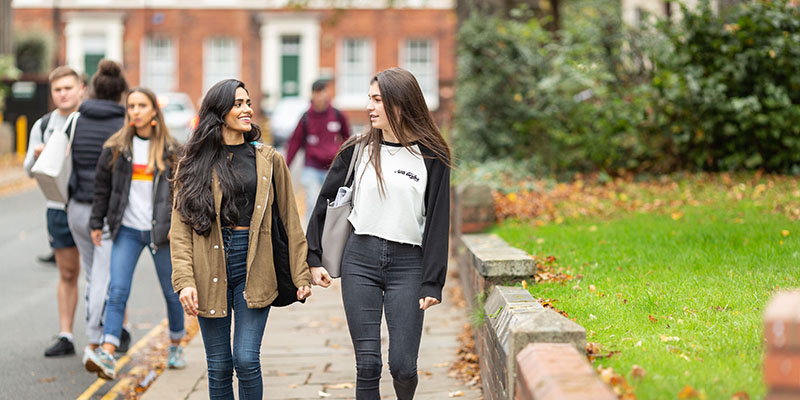 The School of Psychology has announced its Civic Award winners for 2019-20. The awards celebrate student achievements from the past academic year.
The Civic Awards are to recognise and celebrate undergraduate, taught postgraduate, and research postgraduate contribution to the School, University, and wider community as well as students' own personal development and achievements. Some areas covered by the awards include volunteering, research apprenticeships, enterprise, student support and student society involvement amongst others.
Civic Award Winners 2019 - 20
The Civic Awards celebrated the achievements of the following students:
Important contribution to research
Anjani Hathi
Outstanding services to student education and support
Lucy Prodgers
Dane McCarrick
Outstanding contributions to building the student community
Umar Aslam
Bethany Robinson
Ciara Ryan
Sophie Gerrard
Taja Myles
Lauren Atkinson
Taylor Barry
Emily Kennard
Caitlin Whitley
Outstanding contributions to enhancing communications between the student and staff communities (Psynapse Magazine)
Lou-Jayn Ali
Freshta Rasoul
Beth Sheridan
Hannah Mulcahy
Evie Cox
Alice Rodgers
Sarah Mahmood
Outstanding services to supporting the student body (Course Representatives)
Amy Veitch
Ellie Taylor
Heather Spinks
Poppy-May Davies
Amy Middleditch
Amy Murgatroyd
Michal Pelikan
Freya Thompson
Kerrie Norris
Sarah Alcock
Aliza Samnani
Emily Dean
Harriet Blaber
Rose Deacon
Laura Hardinson-Taylor
Kira Spiers
Maisie Hale
Special contributions to developing the academic community
Sheli Algranati
Laura Anderson
Alice Blair
Mary Borrett
Kate Bowman
Elizabeth Brooks
Evie Cox
Grace Cox
Phoebe Crutchley
Poppy-May Davies
Emma French
Saskia Freshwater
Ellen Frost
Elisha Gibson
Emma Godden
Chloe Grindey
Anjani Hathi
Alexandra Holgate-Stuckey
Melissa Hooley
Anne-Marie Howell
Lauren Hutchinson
Uzma Iqbal
Martha James
Emily Kennard
Emily Lampon
Paloma Lazar Garrido
Emma Lewis
Emily McGrath
Amy Miller
Elizabeth Mitchell
Soyeong Moon
Amy Murgatroyd
Cameron Overton
Nalisha Patel
Michal Pelikan
Caitlin Plant
Alice Rodgers
Maariyah Roker
Noorya Safi
Amber Seddon
Nishaat Shahid
Beth Sheridan
Kaja Sieczko
Jon Sissons
Sarah Slattery
Michaela Solomons
Heather Spinks
Isobel Steward
Sophie Taylor
Jessica Teed
Olga Tsigka
Alix Tyler-Hall
Eloise Vickers
Timothy Wong
Natasha Woodcock
Important contribution to student employability
Sheli Algranati
Elise Atkinson
Tayla Barry
Amanda Ciarka
Phoebe Crutchley
Annabelle Durrad
Fenella Ellison
Katie Exall
Ellen Frost
Anjani Hathi
Emma Lewis
Henry Longhurst
Megan McIvor
Amy Miller
Callum Rodgers
Maja Sandstrom
Michaela Solomons
Zoe Thompson
Outstanding contribution to research and commitment to personal development
Maariyah Roker
Kaja Sieczko
Ameera Bakr
Olga Tsigka
Soyeong Moon
Mary Borrett
Emily Eggett
Chloe Grindey
Outstanding contribution to research impact
Paloma Lazar Garrido
Outstanding contributions to student education and developing the academic community
Pauline Oustric
Outstanding contribution to the academic postgraduate community
Ruairi O'Driscoll
Outstanding contribution to developing the academic community
Alice Dunning
Inspirational role model
Lucy Prodgers
Outstanding contribution to student education
Brittany Sykes
Outstanding contribution to educational outreach and engagement
Emily Elliott
Rachel Nicholas
Georgina Walters
Jorden Porter
Jazmine Higgens
Brittany Sykes
Nia Tovey
Freshta Rasoul
Sumayyah Patel
Katarzyna Cwiertka
Aisha Rimi
Haleema Hussain
Zoe Pearman
Zoe Richardson
Besmir Meta

Professor Jason Halford, Head of School has congratulated those that have received an award: "Our Civic Awards are a great opportunity to recognise and celebrate outstanding contributions from our students to the School and wider community, and it's fantastic to hear what an impact our students have had over the past year".

Congratulations to all of our Civic Award winners!