Penn Smith wins the Leeds for Life Foundation Award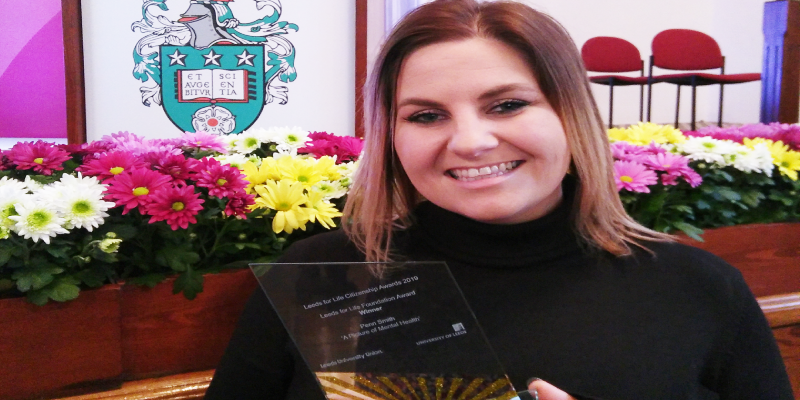 Psychology PhD student Penn Smith won the Leeds for Life Foundation Award at the Leeds for Life Citizenship Awards.
She was nominated for the award with two other projects funded by Leeds for Life this year. Her project 'A picture of mental health' is based on her PhD research supervised by Professor Anna Madill, and funded by Leeds and York NHS Partnership Trust / Leeds North Clinical Commissioning Group.
Penn created an exhibition of photographs by service users and staff at an innovative rehabilitation and recovery service for people with severe and enduring mental health needs. The photographs were taken to help service users and staff convey what it is like to engage with, and work within, the service. She displayed the photographs on World Mental Health Day in the Students' Union foyer, via a huge-scale poster which also provided information about mental health and recovery services. She also brought partner organisations Leeds Mind and Community Links into the student's union to engage with the students on the issue of mental health. In doing so she more than met the aims of the exhibition which were to (i) provoke conversation about how best to support people with severe and enduring mental health needs; and (ii) celebrate staff and services users at an innovative R&R mental health facility who took photographs to help convey their experience of the Service.

Congratulations Penn!