Dr Nick Preston
Position: Research Fellow
Areas of expertise: rehabilitation; cerebral palsy; developmental coordination disorder; movement disorders; development of new outcome measures; Rasch model; physiotherapy
Email: N.Preston@leeds.ac.uk
Phone: +44(0)113 392 2647
Location: Academic Department of Rehabilitation Medicine, D Floor, Martin Wing, Leeds General Infirmary Martin Wing, Leeds General Infirmary
Profile
I am a postdoctoral researcher with a background in adult and paediatric physiotherapy (Neuro-Development, Musculoskeletal, Orthopaedics, Neurological Wards and Respiratory Care (ICU, Cardiac ICU, Neonatal Intensive Care and Surgery) and in the community (schools, homes and clinics)).
I became involved in research when I took a short-term, part-time role at the Academic Department of Rehabilitation Medicine, University of Leeds. Working with psychologists, engineers,designers and children with cerebral palsy, I acted as the physiotherapy advisor on movement and rehabilitation of children with cerebral palsy, as well as managing the day-to-day aspects of studies to develop and test assistive robotic technology in homes and schools.
I completed my PhD, funded through an NIHR Fellowship, in 2014. This involved the development of a new measure of upper limb activity limitation for children with cerebral palsy (the Children's Arm Rehabilitation Measure) and the conduct of a pilot randomised controlled trial to investigate the benefits of home-based assistive computer gaming technology on upper limb arm activity limitation of children with cerebral palsy.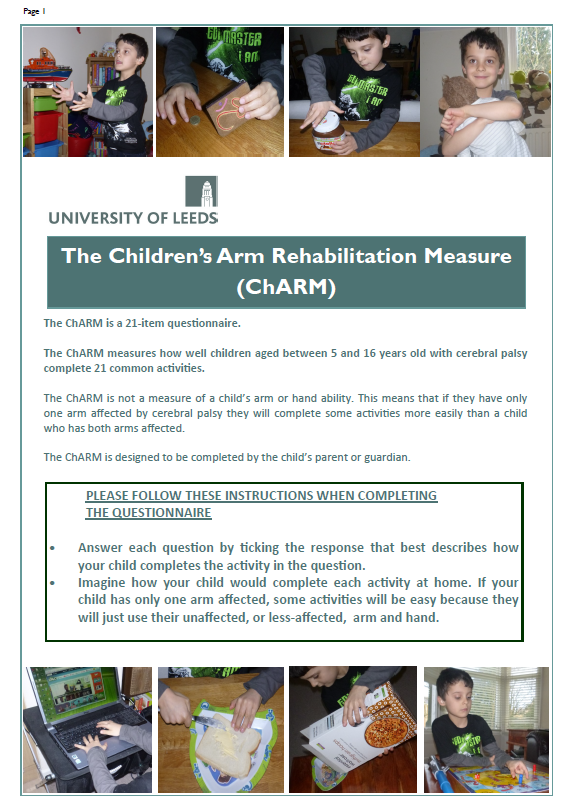 The Children's Arm Rehabilitation Measure
As a postdoctoral physiotherapist with a wide range of clinical and research experience, I am involved with several interesting research projects that have the potential to make a huge impact. These include orthopaedic projects and neurological research projects being conducted by MSc and PhD students.
I am also very fortunate to be involved with the Born in Bradford cohort study by the Bradford Institute for Health Research, where I am the lead of the Motor Skills theme within the Centre for Applied Education Research. The Motor Skills theme includes the development and testing of a new measure for evaluating children's fundamental motor skills, and a new evidence-based programme of activities to help children with poor motor skills. Up to six children in every classroom are profoundly affected by poor fundamental motor skills, which has a devastating impact on children's development and life chances. There is a large body of evidence showing how poor movement skills affect children's physical activity and their physical, emotional, social, psychological and educational development. Across the UK, few children (about 20%) meet government recommendations for levels of physical activity, and obesity is on the rise in school children – in Bradford, 10% of children are at risk of or have developed late-onset diabetes. My published systematic review found three well-conducted trials investigating physiotherapy activities that produced large effect sizes in the outcome measures evaluating the children's movement skills; these activities are the basis for the new programme, which is designed to be delivered in schools by school staff. Once this has been piloted in schools we will be conducting a large multicentre randomised controlled trial to evaluate the benefits on children's quality of life, academic progress, physical health and physical activity.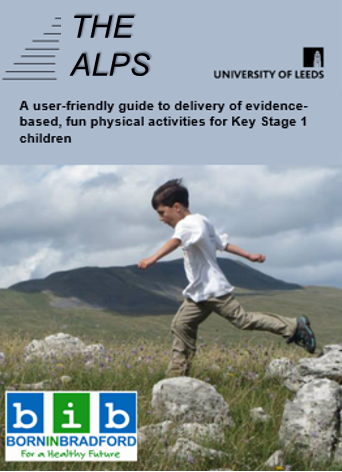 The Alps movement skills programme
Research interests
My current research interests include the development and testing of interventions to improve activity and participation of children with movement difficulties, the development of assistive technology and investigating its potential benefits for children and adults with functional limitations, and the development and psychometric testing of rehabilitation outcome measures.
I am fascinated by the statistical analysis associated with physiotherapy rehabilitation, including inference, cause and effect of treatments. I believe that the evaluation of treatment and research goals in physiotherapy rehabilitation across specialities is poor. I became aware of this in the particular area in which my PhD was focussed, but I see limitations with outcome measurement and the statistical analysis, presentation and conclusions of the measurements across research.
I am working to improve communication and collaboration with other physiotherapists and Allied Health Professionals (AHPs), through the Epiphany Club and the development of Critically Appraised Topics. I welcome approaches by AHPs and other professions interested in research and who need advice or supervision in their research projects.
In support of developing an 'Evidence Active Schools' Network, I am developing a similar venture to the Epiphany Club for teachers called the Socrates Club. This is in its infancy but I hope this will gain momentum in the next few months.
Qualifications
PhD
BSc (Hons) Physiotherapy
PG Diploma in Health Research
BTEC Diploma in Electronic Engineering
Professional memberships
Health Professions Council
Chartered Society of Physiotherapy
Research groups and institutes
Leeds Institute of Rheumatic and Musculoskeletal Medicine
<h4>Postgraduate research opportunities</h4> <p>We welcome enquiries from motivated and qualified applicants from all around the world who are interested in PhD study. Our <a href="https://phd.leeds.ac.uk">research opportunities</a> allow you to search for projects and scholarships.</p>