Inspire, create, and explore at Be Curious 2023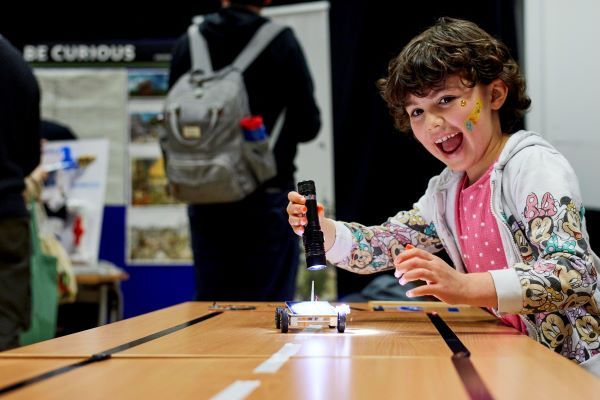 Be Curious, the annual University of Leeds family open day, is back for 2023.
On Saturday 13 May, 10am-4pm, the University will be open to the public for a day of free family-friendly activities. From fossils to microscopes, triangles to trees, there will be over 40 features in the programme this year, meaning more to explore.
Professor Simone Buitendijk, University of Leeds Vice-Chancellor and President, said: "We're delighted to once again welcome everyone to join in our popular Be Curious event. We value our position at the heart of our local community, and Be Curious is a fantastic opportunity for young – and not-so-young – people to learn more about the work that we do at the University of Leeds.
"While we hope Be Curious will educate, we really want the event to entertain and inspire. Everyone at the University is committed to supporting and engaging with young people across our city and region, giving them the opportunity to be creative and develop critical thinking skills."
As a part of the day's activities, Be Curious will hold a fun and interactive theatre workshop open to anyone aged between 9-16, held by stage@leeds young company. The organisation is an inclusive and accessible creative space for young people.
In addition, the Marks & Spencer archive will be open, giving the opportunity to discover the amazing collection with exciting hands-on activities and the chance to meet Percy Pig.
Dr Alexa Ruppertsberg, Head of Public Engagement with Research, said: "Be Curious is the highlight of our year. We love opening the doors to the University and welcoming families from across the city.
It gives young people a chance to interact with different new ideas and topics in a really hands on way, hopefully inspiring them to think outside the box. It is a fantastic opportunity for researchers to share their important work and the impact it will have on lives."

The programme is split into four areas of the University:
This year, Be Curious is delighted to be a Child Friendly Leeds Ambassador. There is no need to book, and all activities are free. The full line-up of events can be found on the Be Curious website.
Faculty of Medicine and Health Programme Highlights
Parkinson Court
Medicines Inside You
How can protein structures help us to find new medicines? Using virtual reality, climb inside a protein to see how medicines work in your body and learn about how new treatments for diseases are discovered.
Nanoparticles in Medicine: Therapy for the Future!
Nanoparticles have the potential to deliver medicine to diseased organs in the body. Come join us and learn how medicine loaded nanoparticles can be made!
Michael Sadler Building
Radiotherapy is RAD
Ever wanted to know what the word Radiotherapy means? Let us take you on a RAD journey where we uncover how we can harness the power of X-rays to fight cancer cells and make the body better again
Cracking the Medical Code
Come and see how we answer important questions about children and young people with cancer. Can you solve our riddles to crack the code and unlock a prize? Do we have the building blocks required?
The Chocolate Trial
In medicine, we use something called a clinical trial to answer questions. We'll be asking the question "Do different kinds of chocolate make us happier?" Come and help answer our question!
Healthy Hearts
The heart pumps blood around your body non-stop. When you're asleep when you're awake, always going. Learn about how the heart pumps blood around the body and why it's so important to keep your heart and blood vessels healthy.
Eat a Rainbow Every Day!
A plate full of colour is the best kind of plate: dark green broccoli, juicy red beetroots, bright yellow sweetcorn. They're all so good for you! Join us as we look at the colour of food and how it can have a big impact on your diet.
Brain Booth
Explore the brain with our portable EEG system! Learn how brain cells communicate to sustain life and make us thrive. You can also make a custom neuron to take home as a reminder of your experience.
Can AI help doctors understand ultrasound images?
Discover how doctors use sound waves to look inside your body and see exciting AI research in action. Learn to use an ultrasound scanner and see how AI can recognise veins, arteries and organs.
Further information
Picture Credit: Simon and Simon Photography.
For more information, please contact Corporate Communications Officer, Rebecca Hurrey on r.hurrey@leeds.ac.uk