Government's living with Covid-19 strategy 'flawed' as two million report long Covid and new cases soar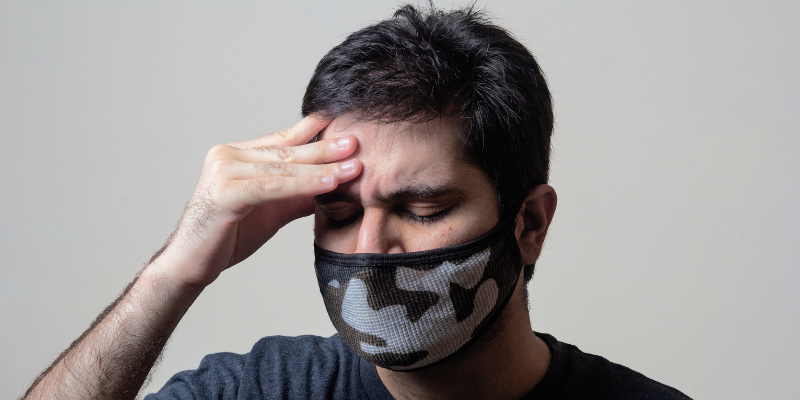 An estimated two million people in the UK have reported suffering from long Covid as new cases continue to soar.  
And a University of Leeds virologist has warned that any Covid infection has the potential to lead to long Covid, criticising the government's strategy of 'living with Covid' as 'flawed' and putting the vulnerable at risk.
The latest figures from the Office for National Statistics have revealed that an estimated 3% of the population were experiencing Covid symptoms for more than four weeks after the initial infection, as of 4 June 2022.
Long Covid was found to be adversely affecting the day-to-day activities of 1.4m people, with 21% (409,000) reporting that their ability of undertake their day-to-day activities had been 'limited a lot'. The most common long Covid symptom reported continues to be fatigue, experienced by 56% of self-reports. This was followed by shortness of breath (3%) loss of smell (22%) and muscle ache (21%).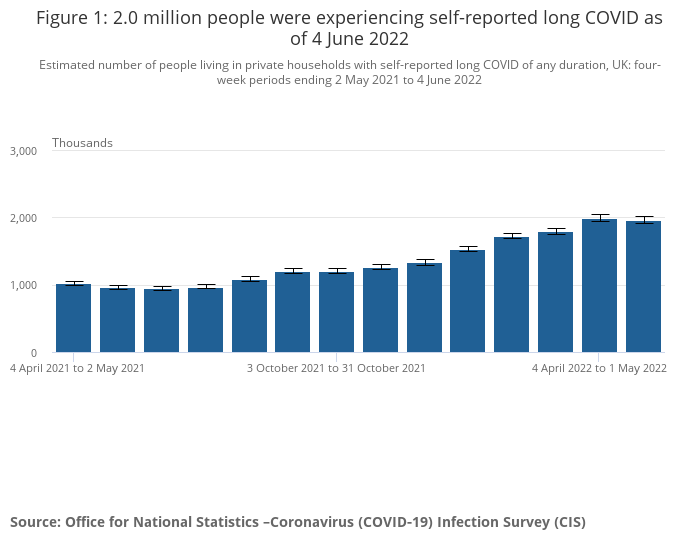 The ONS reports that 41% first had (or suspected they had) Covid at least a year ago, and 21% had the virus at least two years previously.
As a proportion of the UK population, the prevalence of self-reported long COVID was greatest in people aged 35 to 69 years, females, people living in more deprived areas, those working in social care, health care, or teaching and education, and those with another activity-limiting health condition or disability.
Meanwhile, 2.3 million people are estimated to have had Covid-19 at the end of June, according to the ONS. A 32% rise on the previous week, the I reports that this is the highest estimate for infections since late April 2022. However, it still falls below the record of 4.9 million, recorded at the peak of the Omicron BA.2 wave at the end of March.
Any severity of Covid infection can lead to long Covid.
Dr Stephen Griffin, associate professor in the University of Leeds School of Medicine, told the I that rising cases were 'sadly predictable' and warned that any severity of Covid infection can lead to long Covid.
He said: "This large increase in infections was sadly predictable given the past weeks showing the growth advantage of BA4/5 over BA2 and the R value remaining above 1 across the country. In the absence of any population scale mitigations, we are left relying upon vaccination to prevent infection and severe disease.
"Whilst the latter is largely successfully achieved, there remains a considerable minority for whom this does not apply, plus we should remember that any severity of infection can lead to long Covid. This is of particular concern given the massive prevalence and antibody evasiveness of Omicron."
Government's 'living with Covid' strategy 'flawed'
Dr Griffin criticised the Government and UK Health Security Agency's 'complete inaction' over rising Covid cases and said the 'living with Covid' strategy is 'flawed'.
He told the I that a lack of proactive measures was causing hospitalisations to track cases 'worryingly quickly', putting the clinically vulnerable at risk, with a 'worrying number' of people no longer testing, wearing masks or isolating when they are infected.
He said: "The notion that 'Covid is mild' may well serve the Government narrative saying that we should 'learn to live with' the virus, but by omission of action – or indeed barely acknowledging this wave – the strategy amounts to little more than ignorance, and disregarding a considerable minority of the UK population numbering in millions."
The Government is pretending that both our immunity and the virus are sufficiently stable to allow us to move past the pandemic
Dr Griffin added that Covid treatments and vaccines were not enough to prevent considerable harm by successive waves of Covid, without other measures including mask wearing and social distancing.
He criticised the lack of investment in making public spaces safer and said a focus on personal, instead of population scale risk' was an 'abandonment of public health'.
"The Government is pretending that both our immunity and the virus are sufficiently stable to allow us to move past the pandemic – sadly, neither criterion are correct," he told the I.