International Day of the Midwife 2021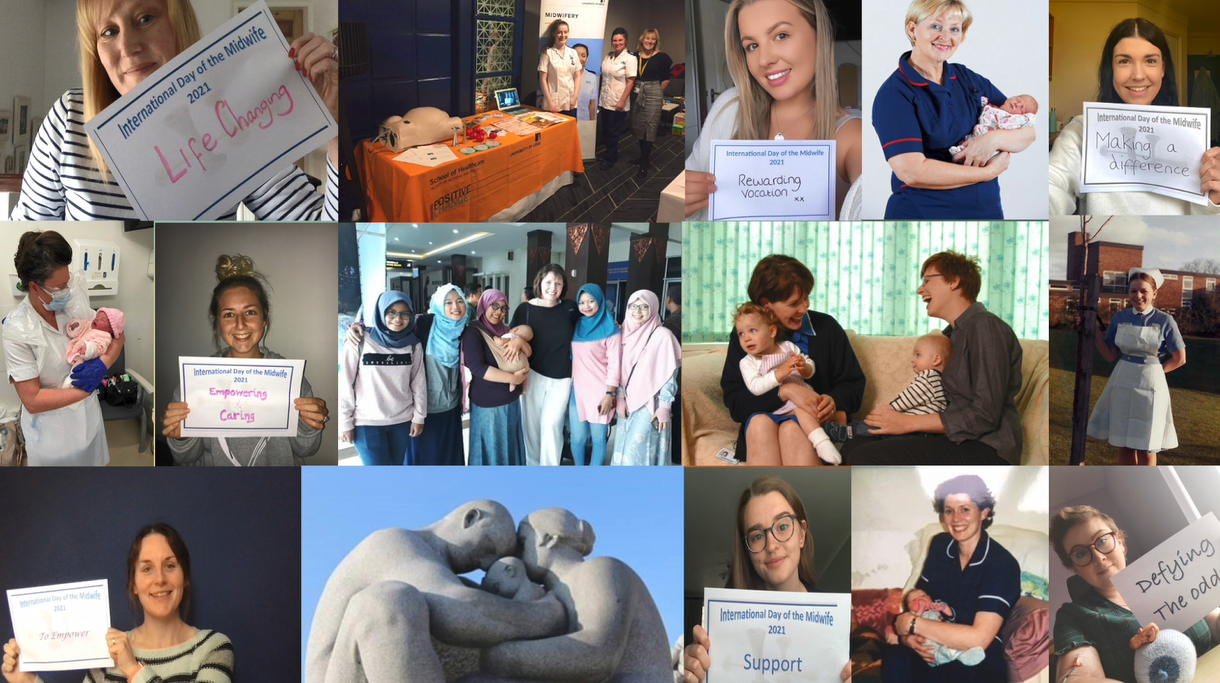 We're celebrating International Day of the Midwife with stories from our midwifery community.
Every year since 1992 on 5 May the International Confederation of Midwives (ICM) leads a day of global recognition and celebration of the work of midwives which is observed by more than 50 nations and co-ordinated by the ICM in partnership with its member organisations.
This year on International Day of the Midwife (IDM) coincides with the launch of the State of the World's Midwifery (SoWMy) Report 2021. Co-led by ICM, UNFPA, and WHO SoWMy 2021 brings the latest evidence on the critical importance of investing in quality midwifery care to the forefront of global health discussions. According to this report, increasing coverage of midwife-delivered interventions (health interventions that can be delivered in their entirety by midwives) by 25% every 5 years could avert 41% of maternal deaths, 39% of neonatal deaths, and 26% of stillbirths by 2035. That's 2.2 million deaths averted per year. Find out more via the ICM.
Midwifery at the University of Leeds is about more than just caring. It's about empowering women, being a leader, being innovative and making lives safer. We are passionate and resilient. We are advocates.
"When I was young, I was steered towards a career where I could contribute positively to society; my career has done that for me and hopefully for others. I became a midwife through 'happenstance'; perhaps it was my destiny. I became a research-midwife, midwifery-educator and leader and manager through opportunity; perhaps it was my destiny. Follow what feels right for you, so you can follow your destiny and be yourself." Professor Janet Hirst, Head of the School of Healthcare and Professor in Maternal Health Care
Watch our video to hear academic staff and students talk about why they chose to become midwives.
<iframe width="560" height="315" src="https://www.youtube.com/embed/6OlohSnKddY" title="YouTube video player" frameborder="0" allow="accelerometer; autoplay; clipboard-write; encrypted-media; gyroscope; picture-in-picture" allowfullscreen></iframe>
"I feel incredibly lucky to be supporting women and their families at such a poignant time in their lives. The most rewarding part of midwifery placement for me has definitely been receiving such positive feedback from the women and families I have been involved in caring for. It's such a special time of transition for them and being told that you have made a positive impact on their experience is incredible to hear and makes me feel extremely privileged."
"I'm a midwife in the LGI delivery suite in Leeds. I love the job and the profession, looking after women through labour, to birth. I love making sure the mother and baby are is healthy and birth is the best we can make it. It's special thing to be part of."
"I became a midwife after I was fascinated with embryology from a very young age after seeing a documentary on television. This lead to a science degree and maternity care seemed like the perfect mix between research and scientific communication for me. Caring for the mother and making a difference to women and their families is the most rewarding and satisfying thing."
Do you have the drive and ambition to become the best midwife you can be?
At Leeds, you'll learn first-hand from service users, carers and practitioners, and our leading academics.
Ranked 2nd in Yorkshire and the Humber for nursing and midwifery (The Complete University Guide 2021), we'll provide you with the outstanding education you need to grow and develop as a midwife.
Visit our course page to explore our BSc (Hons) Midwifery degree and learn more about midwifery as a profession.