Research collaboration to drive new innovations in surgery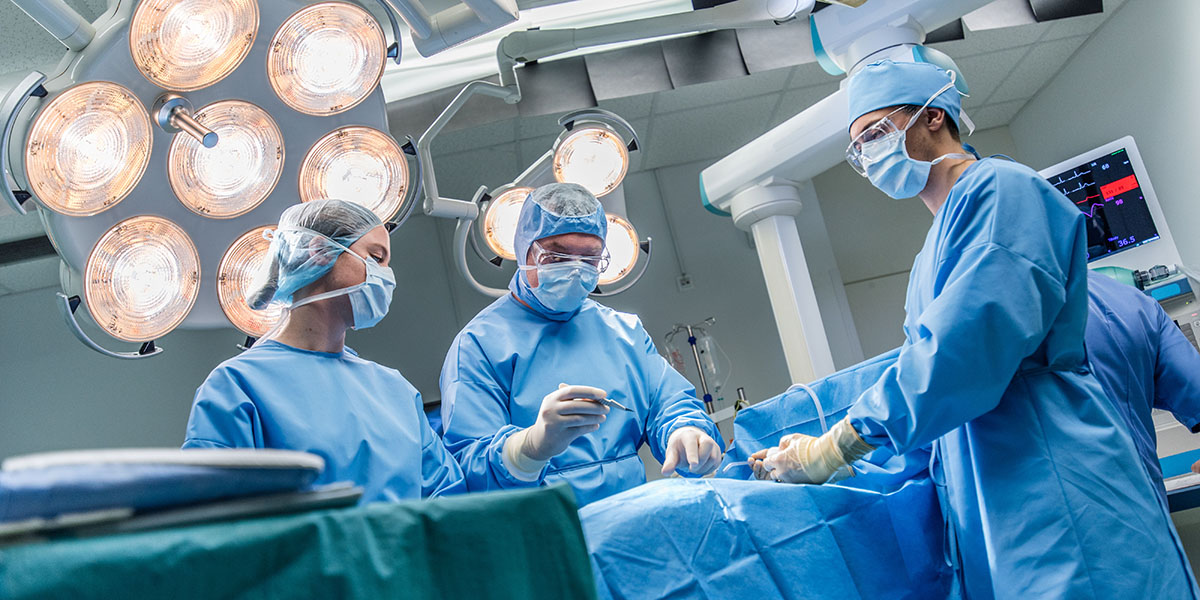 The Association of Surgeons of Great Britain and Ireland (ASGBI) is delighted to partner with the National Institute for Health Research (NIHR) Surgical MedTech Co-operative (Surgical MIC) to drive new innovations in medical devices, healthcare technologies, and technology dependent interventions that are translatable to the clinical setting to benefit patient care
The Association of Surgeons of Great Britain and Ireland (ASGBI) is delighted to partner with the National Institute for Health Research (NIHR) Surgical MedTech Co-operative (Surgical MIC) to drive new innovations in medical devices, healthcare technologies, and technology dependent interventions that are translatable to the clinical setting to benefit patient care. Through the NIHR Surgical MedTech Co-operative (MIC), the ASGBI can provide its members' and the wider surgical community with access to seed funding, academic support (biosensing, engineering, robotics, microfluidics, nanotechnology), consultation and advice to assist promising medical technology ideas from academia, industry, patients and the NHS through the technology development process towards commercialisation and patient benefit. Mr Iain Anderson, President of the ASGBI, said "The ASGBI is embarking on an exciting new phase of growth and development.
As we approach our 100th year, it is important we reflect on how far we have come, and how we can continue to advance surgery safely for the next generation." "Through our Strategic Business Collaboration with the NIHR Surgical MIC, we aim to support the development of new innovations to improve clinical outcomes safely and promote sustainability for the benefit of our patients." The Surgical MIC is one of eleven centres which are funded by the NIHR to act as a centre of expertise that focuses on clinical areas of high morbidity and unmet need for NHS patients. They support the development of medical technologies in the fields of colorectal, vascular and hepatopancreaticobiliary (liver, gall bladder and pancreas) surgery to improve healthcare and quality of life for patients. The Surgical MIC is hosted by the Leeds Teaching Hospitals, the second biggest healthcare provider in the UK, working closely with the University of Leeds, a leading UK University with strengths in biomedical research.
Professor David Jayne, from the University of Leeds and Leeds Teaching Hospitals NHS Trust, said: "This new collaboration will give surgeons across the country the opportunity to draw on academic expertise including robotics, biosensing and nanotechnology, so we can develop the next generation of medical technologies." Vee Mapunde, Programme Director at the NIHR Surgical MedTech Co-operative, said "We are funded to support and accelerate the clinical adoption of medical technologies that address an unmet clinical need and those that are likely to have an impact on patient care and health outcomes. This collaboration allows the Surgical MIC to reach a wider audience, and become a resource for surgeons. We are definitely looking forward to working with the ASGBI in advancing safe surgery and improving clinical outcomes." To mark the 100th year of the ASGBI, the NIHR Surgical MedTech Co-operative are supporting a special Surgical Innovations Prize to support colorectal, HPB and vascular MedTech concepts in conjunction with the 2020 Congress.
The prize will provide funding for prototype development, proof-of-concept work or early feasibility tests for technologies. Surgery plays a central role in the management of many medical conditions. It restores function following trauma and disability, palliates chronic disease, and is central to the treatment of many cancers. Around 4.7 million hospital admissions involve surgical care every year in the NHS, on average one every 7 seconds, and account for 11.2 million hospital bed-days.
The number of surgical procedures performed each year has risen by 27% over the past decade; a trend that is set to continue as the population ages. General Surgery, including colorectal, vascular, and HPB, accounts for the highest level of activity (1.3 million procedures/year). Mr Iain Anderson said, "This partnership will contribute to a sustainable future for the surgical specialty by promoting surgical innovations that can benefit clinical practice, and ultimately patient care." "ASGBI are delighted with this partnership and are grateful to the NIHR Surgical MIC for providing an array of resources to promote surgical innovations, and also innovation-related pipelines that are accessible to our members".