Leeds scientists get £2m grant from cancer research UK for clinical trials unit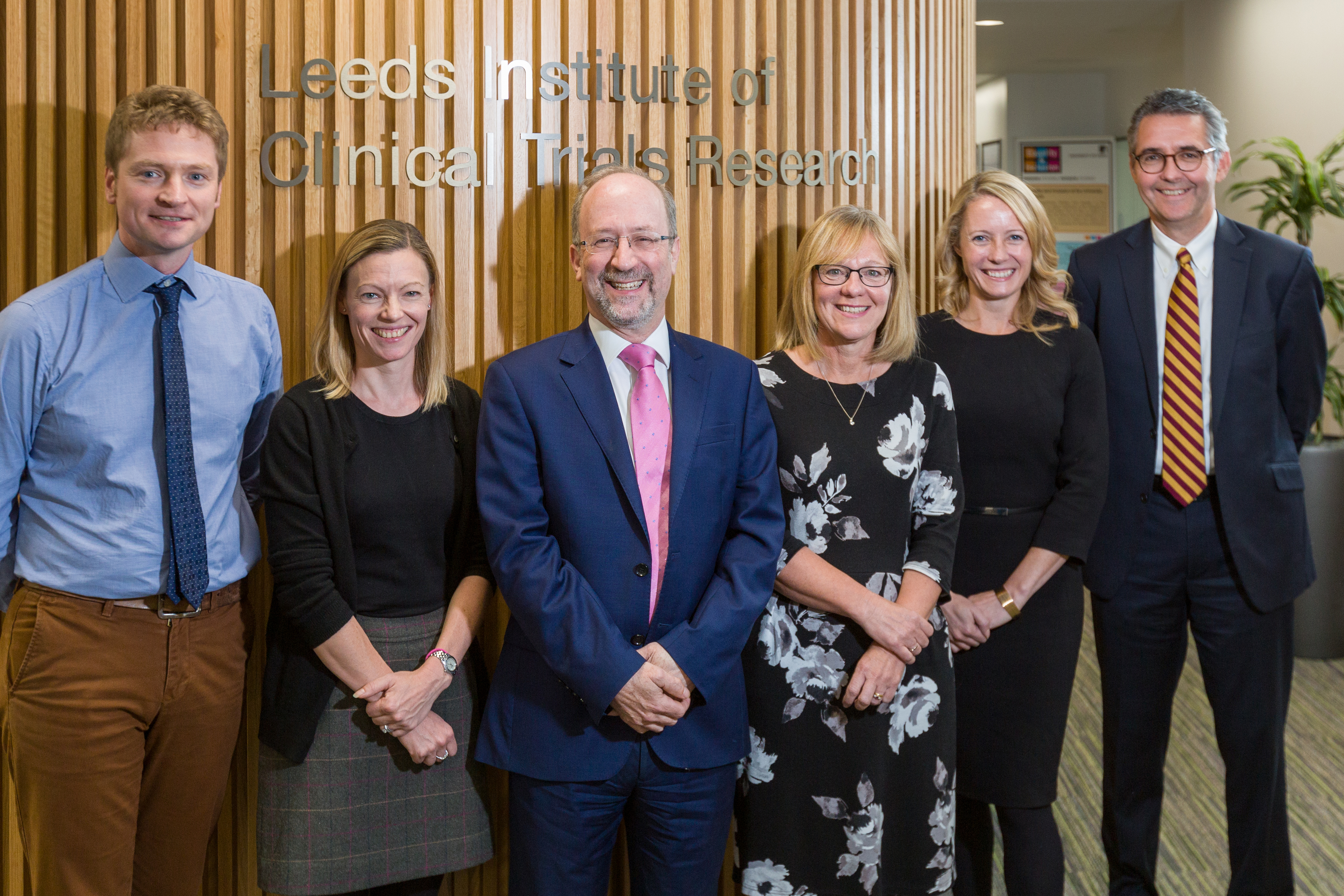 Leeds doctors and academics have received a major cash boost from Cancer Research UK for pioneering research into cancer.
The grant has created the first Cancer Research UK Leeds Clinical Trials Unit* which will allow doctors and scientists to continue researching and testing better and kinder treatments for patients.
Cancer Research UK is investing almost £2m over the next five years in ground-breaking work at the unit, which is based at the University of Leeds Institute of Clinical Trials Research.
This newly opened CRUK Leeds Clinical Trials Unit will focus on two main areas - patients who are treated with radiotherapy or have cancers of the blood - giving them more access to innovative treatments by significantly increasing the number of clinical trials.
It is one of eight Cancer Research UK's Clinical Trials Units in the UK, which specialise in the design, delivery and analysis of trials that bring the latest scientific developments to patients all over the UK. They're a vital part of the charity's research network, helping shape the clinical research landscape in the UK and internationally.
Professor Julia Brown, Director of the University of Leeds CTRU, and Lead at the new CRUK Leeds Clinical Trials Unit, said: "We are delighted and very proud that Leeds has been given this investment by Cancer Research UK, which will allow us to pursue an ambitious scientific research programme at a much faster rate.
"Our aim is to improve cancer survival rates and clinical trials are vital to finding new, effective treatments for cancer patients. This grant will enable us to increase the number of clinical trials that we undertake, with our focus on applying the latest understanding of cancer biology to identify and evaluate new ways of treating the disease.
"The money from Cancer Research UK is being allocated over the next five years and will build on the strong track record our clinical trials team already has in identifying innovative and effective treatments in radiotherapy, in particular for brain, lung and rectal cancers, and for blood cancers, such as myeloma and chronic lymphocytic leukaemia.
"When the new trials are up and running it is likely to mean that thousands of additional cancer patients, not just in Leeds but across the UK and throughout the world, will be entered into clinical trials and be able to access new treatments."
Every year, around 29,900 people are diagnosed with cancer in Yorkshire and The Humber. ** The Leeds Cancer Centre, one of the largest cancer hospitals in Europe, diagnoses and treats cancer patients from Leeds and the Yorkshire region and has an international reputation for leading and conducting cancer trials. In addition, Leeds Teaching Hospitals Trust is currently third in England and Wales for the number of patients taking part in all kinds of clinical treatment trials.
The CRUK Leeds Clinical Trials Unit will see a leadership team of around eight people brought together by Professor Brown that will include two leading cancer clinicians at the Leeds Cancer Centre, Professors David Sebag-Montefiore and Gordon Cook.
Professor Sebag-Montefiore, Clinical Director in the University of Leeds CTRU and Clinical Oncologist at the Leeds Cancer Centre said: "Clinical trials are of vital importance to improve radiotherapy treatments for patients by both improving cure rates and reducing long term side effects. This new investment will allow us to design smarter, faster clinical trials across a range of different cancers using new radiotherapy treatments including proton beam therapy and new drug treatments that can be combined with radiotherapy. For example, we are leading the PLATO trial that is using state of the art radiotherapy treatment to personalise radiotherapy for patients with anal cancer.
"At the moment, radiotherapy is second only to surgery in terms of its effectiveness in treating cancer. Major advances in radiotherapy treatment are taking place with the ability to better target the cancer and reduce the side effects to the surrounding normal tissues. Leeds is already recognised for its leadership of clinical trials using radiotherapy and the results have improved the long term success of cancer treatment and led to changes in the best treatment approach for future patients."
Professor Gordon Cook, Professor of Haematology and Myeloma Studies and Clinical Director in the University of Leeds CTRU, said: "Myeloma is a blood cancer that starts in bone marrow, the spongy tissue found inside the large bones of the body. Around 5,500 people are diagnosed with the disease in the UK each year. It's painful, causes disability and is incurable.
"Leeds has been the central hub for clinical trials in myeloma and now is developing newer trials techniques to gain even more progress. There has been real improvement in the number of people who are living longer with myeloma as a result of successive investigative studies that have been undertaken by the Leeds clinical trials team, which have changed the way the disease is treated, both in the UK and internationally. We have seen improved survival for younger, fitter patients from 20 per cent to 61 per cent five years after diagnosis. Furthermore, studies showed that the prognosis for all patients could be increased further if a bone remodelling drug called zoledronic acid is also used. The results from this ground-breaking science has influenced clinical guidelines and clinical practice throughout the developed world."
Across the UK, The Cancer Research UK Clinical Trial Units aim to bring better treatments to cancer patients in the UK faster through both adult and children's networks.
This funding follows a major review by the charity of all its Cancer Research UK Clinical Trials Units. This resulted in £45million being invested into eight units across the UK, including the new one in Leeds, and is one of the charity's largest investments in clinical research to date.
The review was conducted by an international panel of experts and the competition was fierce.
Nicki Embleton, Cancer Research UK spokesperson for Leeds, said: "This crucial investment recognises the fantastic research taking place in Leeds. It ensures researchers can take full advantage of our most promising scientific discoveries and translate them into new tests and treatments for patients.
"One-in-two of us will be diagnosed with cancer at some point in our lives - so it's reassuring to know that, thanks to our supporters, Cancer Research UK is able to fund some of the best and most promising research here in Leeds, to help more people survive.
Nicki continued: "Survival has doubled since the early 1970s and Cancer Research UK's work has been at the heart of that progress – but every step our doctors, nurses and scientists take relies on donations from the public and the tireless fundraising of our supporters."
For more information, visit www.cruk.org
For press enquiries please contact Nicki Embleton, Regional Media Relations 07775 916502